Alice Evans Sets Twitter Account to Private After Slamming Ioan Gruffudd's GF for Posting Couple Pic
The '102 Dalmatians' actress makes her page private after accusing Bianca Wallace of putting 'a stake' in her heart by showing off her blossoming romance with the 'Forever' alum.
AceShowbiz –Alice Evans has decided to keep her Twitter posts for herself and her followers only. The "102 Dalmatians" actress has set her account to private after she slammed her estranged husband Ioan Gruffudd's new girlfriend Bianca Wallace for posting their loved-up photos.
The 53-year-old actress took to her Twitter account on Wednesday, January 5 to repost Bianca's Instagram post that saw Bianca and Ioan holding hands during their trip to a beach in Nice, France. Along with the photo, "The Vampire Diaries" alum said that the snap was "sick" and "evil" and like a "stake in the heart."
"YEAH. This has been causing me quite a big amount of stress. I'm so happy for them," Alice sarcastically wrote, before adding, "It's like one long holiday. It's not that they don't deserve it- I hear B only is on vacay so why should she change." She continued revealing that the snap actually hurt her feelings, "It's the hurt – the real pain that this photo causes me."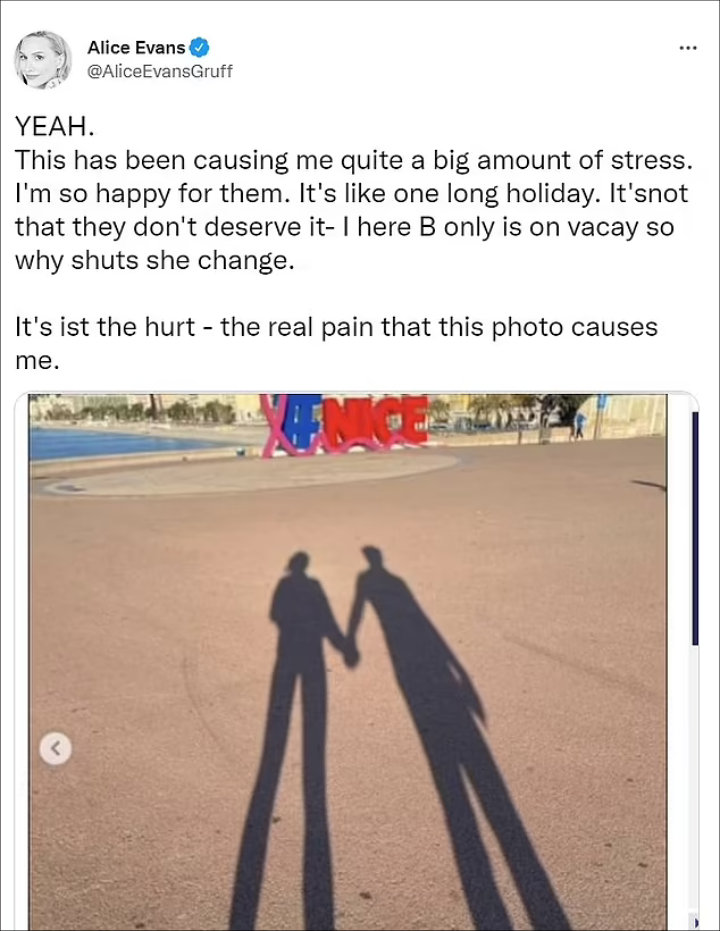 Alice Evans revealed that Bianca Wallace's Instagram post hurt her feelings.
In a separate Twitter post, Alice further lashed out at Bianca, writing, "Thank you and the recent 'shadow picture' in Nice." The "Liars All" star then alleged that Bianca "wants to put a stake in my heart."

Alice Evans stated that the loved-up pic is 'sick.'
"I've never seen such a lack of empathy," Alice pointed out. The mom of two, who tied the knot with Ioan in 2007, continued fuming, "Pity, because we could have all been friends if they'd played this right. I have no problems with forgiveness. But this is evil."

Alice Evans alleged that Bianca 'lack of empathy.'
Alice then revealed Ioan had come to the pair's former marital home in L.A. to collect his belongings. She also claimed that he told her he'd been accompanied by a police officer, but she believed Bianca was with him.
"Just got back and Ioan came and took all his stuff. He told me he came with a police officer but several witnesses said he came with a short dark haired woman! Yuk!" Alice tweeted. "I'll be so upset if she did. Guess I'll never know so I have to just forget it. He definitely said the 'off duty cop' (?) was male."
Alice then said that her housekeeper witnessed Ioan was accompanied by Bianca when he visited the marital home. She penned, "Gloria thinks so. He came to her house to get the key, even though I had hired to friends of mine to be there to let him in," stressing, "She thinks there was a woman in the car who didn't get out."
This wasn't the first time Alice publicly called out Bianca. In November, the former star of "The Originals" accused "creepy" Bianca of spending many months liking pictures of her little family before "stepping in and seducing the father."
Days earlier, Alice shared Bianca's Instagram post, in which the "Dora and the Lost City of Gold" actress told her followers that she was going to be away from her dog for two months. Alice captioned the screenshot, "How to be a good Mistress, Part One: 1) Don't send out silly… Instagrams like this when you're semi-naked and horse-teethed telling people 'I'm just going to miss the dog' BULL. S**T. You're going to sleep with my husband."
Source: Read Full Article