Big Sean & Jhené Aiko's Relationship Timeline Is A Total Rollercoaster Ride
I don't know about you, but I positively *live* for music industry power couples. Case in point: Big Sean and Jhené Aiko, who between them, have a handful of chart-topping songs and Grammy nominations. But beyond crushing it in their careers, they've also developed a powerful romance that just won't seem to quit. Fam — trust me when I say that Big Sean and Jhené Aiko's relationship timeline is quite the rollercoaster ride, and I'm about to bring you along with me for all the twists and turns.
Jhené and Sean have a long, complicated history. While they dated for about three years before officially calling it quits in March 2019, it appears as if they may have reunited at the end of 2019. Long before they were a couple, however, the two were friends and collaborators. In a candid interview with BBC Radio 1Xtra, Jhené explained how when Sean first asked her out, they only chilled together as friends because she still had a boyfriend at the time. Once her relationship ended (after she discovered her then-boyfriend was secretly married — yikes), she finally decided to shoot her shot with Sean. The only problem? Sean was already dating someone else (likely Naya Rivera). As you may or may not know, Sean went on to date Ariana Grande, and Jhené got married to Dot da Genius before their relationship would ever finally become a reality.
As they say, good things come to those who wait — and despite poor timing getting in the way of Sean and Jhené's connection, they finally found their way back to each other in 2016. Since then, there's been a few bumps but also many beautiful moments along the way. Here's a deep dive into the legendary love story that is Big Aiko.
May 2012: A Beautiful Friendship Begins.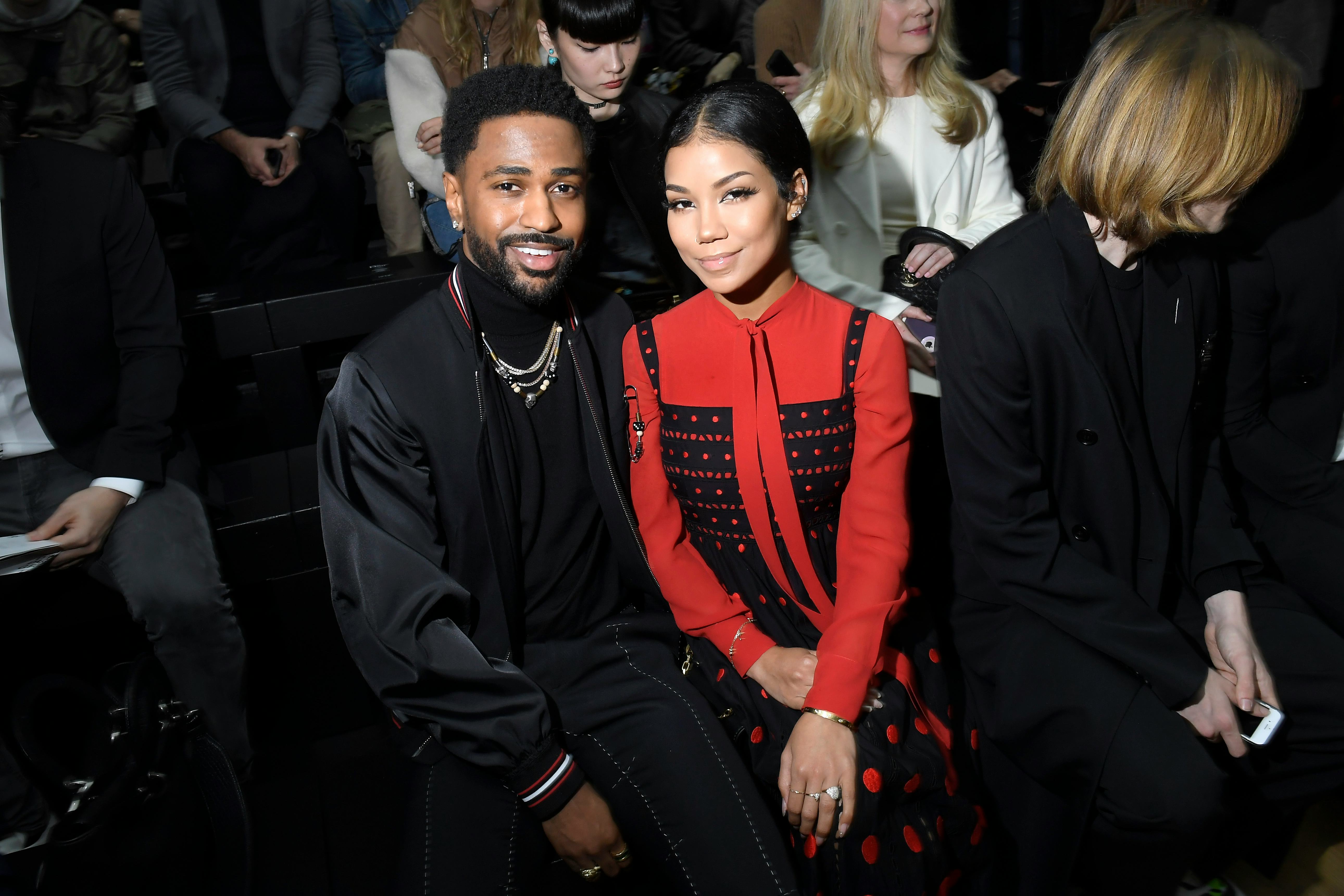 Speaking with BBC Radio 1Xtra, Jhené noted that she and Sean first became friends in 2012 — the year that her brother passed away from cancer. They had recently worked on "Beware" and "I'm Gonna Be" together, but their relationship was strictly professional up until that point.
As previously mentioned, Sean asked Jhené out to a Lakers game in May of 2012, and even though she was in a relationship, she figured — why TF not? After all, she told BBC Radio 1Xtra that she'd never been to a courtside game, and he seemed "cool."
Sean knew she had a boyfriend, but he later told Flaunt Magazine: "I didn't care."
"It was pretty obvious after a while it was a date," Jhené revealed to Flaunt Magazine. "We had never really been alone together. It was really fun."
The next day, photos were published on a blog calling Jhené "Sean's new Spanish girlfriend," so she tweeted "I'm not dating Big Sean LOL."
"And then Sean got mad at me like, 'You gonna play me like that?'" Jhené told Flaunt Magazine. "I'm like, 'But we're friends!'"
Sadly, by the time Jhené was finally single again, Sean no longer was.
"I took too long," Jhené explained in the interview. "I was like, 'That's cool. We're still friends.' We were performing together still and recording and all that."
As it turns out, that inconvenient timing turned out to be a blessing in disguise.
"We were forced to really, really get to know each other on a friendship level, you know what I mean?" she later told Billboard in an interview. "And to the point where he was even at my brother's funeral. We talk to each other on a friendship level throughout all of my relationships."
March 2016: They Release Their First Album Together.
By the spring of 2016, Jhené and Sean had quite a track record of epic collabs — they'd linked up for such bangers as "I'm Gonna Be," "Beware" (which also featured Lil Wayne), "I Know" and "Win Some, Lose Some." Then, in March of 2016, when they announced they were joining forces to form a new music group, TWENTY88, the music industry was *shook.* To boot, they also released a joint album (under the same title) on April 1.
A press release from Def Jam referred to the album as "the story of the highs and lows of a relationship, with insights into conflict, memories, love, sex, and more."
Y'all, Twenty 88 was a lot. In fact, it seems downright impossible for two people to share that level of explosive chemistry and emotional honesty without some deep attraction forming. So, it should come as no surprise that around the time of this release, the rumor mill was on fire that these two were more than just collaborators and friends. Still, neither one confirmed those rumors right away.
April 2016: They Drop The "L" Word.
In an interview with Billboard shortly after they launched TWENTY88, Sean and Jhené opened up about their relationship — and their statements definitely gave shippers hope.
"Jhené is more than just a friend," Sean said at the time. "I don't know how else to describe it — me and her are just cool like that. I love her and I know she loves me."
More than friends? Sounds like a dating confirmation to me.
May 2016: Big Aiko Appears Closer Than Ever.
Unsurprisingly, the above photo of Jhené sitting oh so comfortably on Sean's lap backstage raised more than a few eyebrows. Fans were still not 100% convinced that they hadn't taken their relationship to a new level. Not only that, but the duo had been caught leaving flirty comments on each other's Instagram posts — which notably included heart and water squirting emojis.
June 2016: They Kiss On Stage.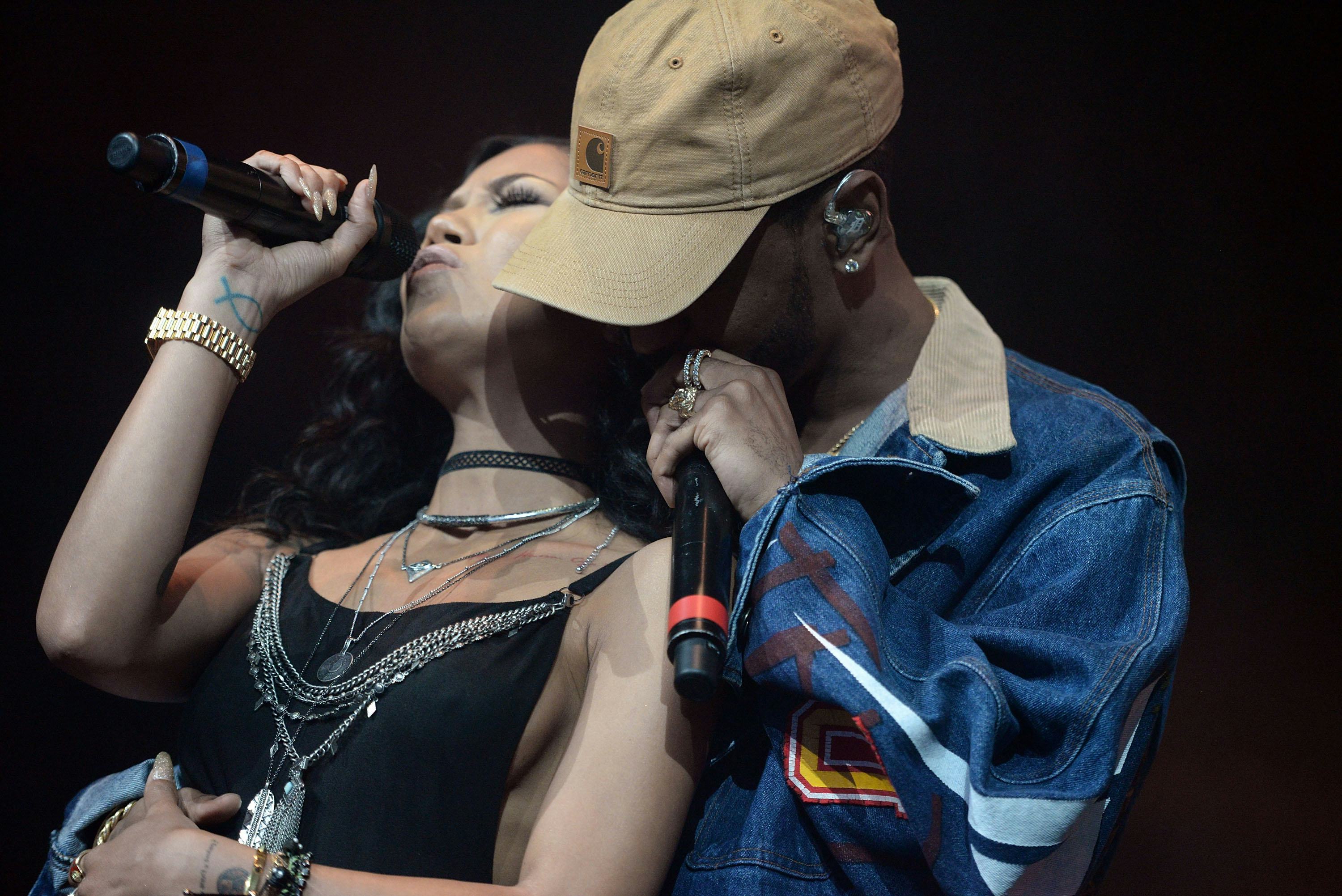 Shortly after the release of Twenty88, the two had embarked on a tour to promote the album — and during live performances, the sparks were flying. They even shared a smooch on stage at the Power 106 Powerhouse Concert on June 6.
August 2016: Jhené Separates From Her Husband And The Rumors Surge.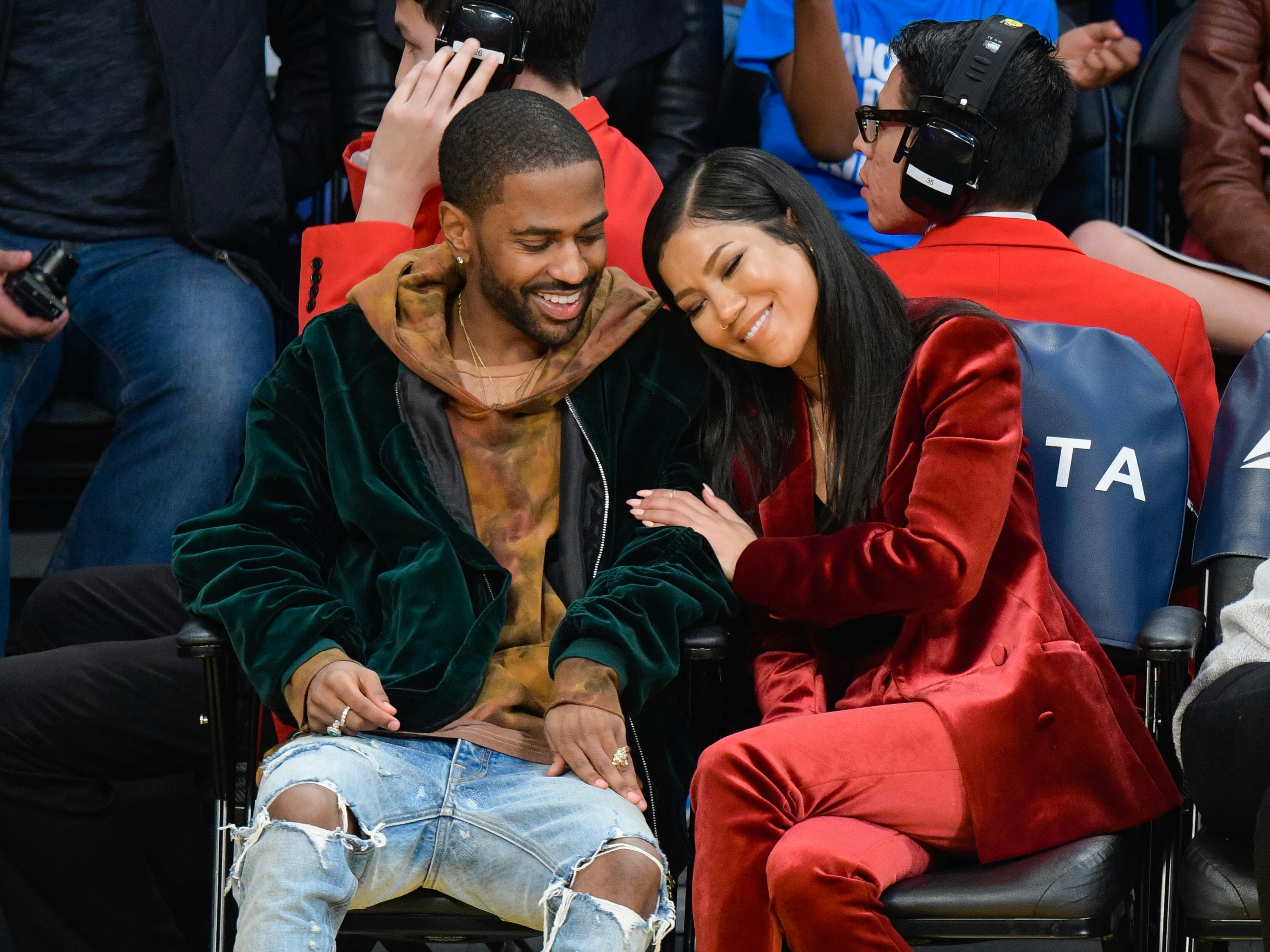 After under a year of marriage, Jhené filed for divorce from Dot Da Genius, citing "irreconcilable differences" as her reason on the filing.
By this point, she and Sean had also been photographed looking cozy together at numerous events, including NBA games, the iHeartRadio Music Awards and Coachella.
October 2016: Jhené Squashes Those Cheating Rumors.
#BigAiko seemed to be in full swing when rumors started spreading that they had broken up because Sean had cheated on her. Luckily, Jhené immediately set the record straight by sharing a (now-deleted) cute pic of them together on The 'Gram and adding one simple yet telling hashtag in the caption: "#mcm." Phew.
September 2017: Jhené Straight-Up Gushes About Sean.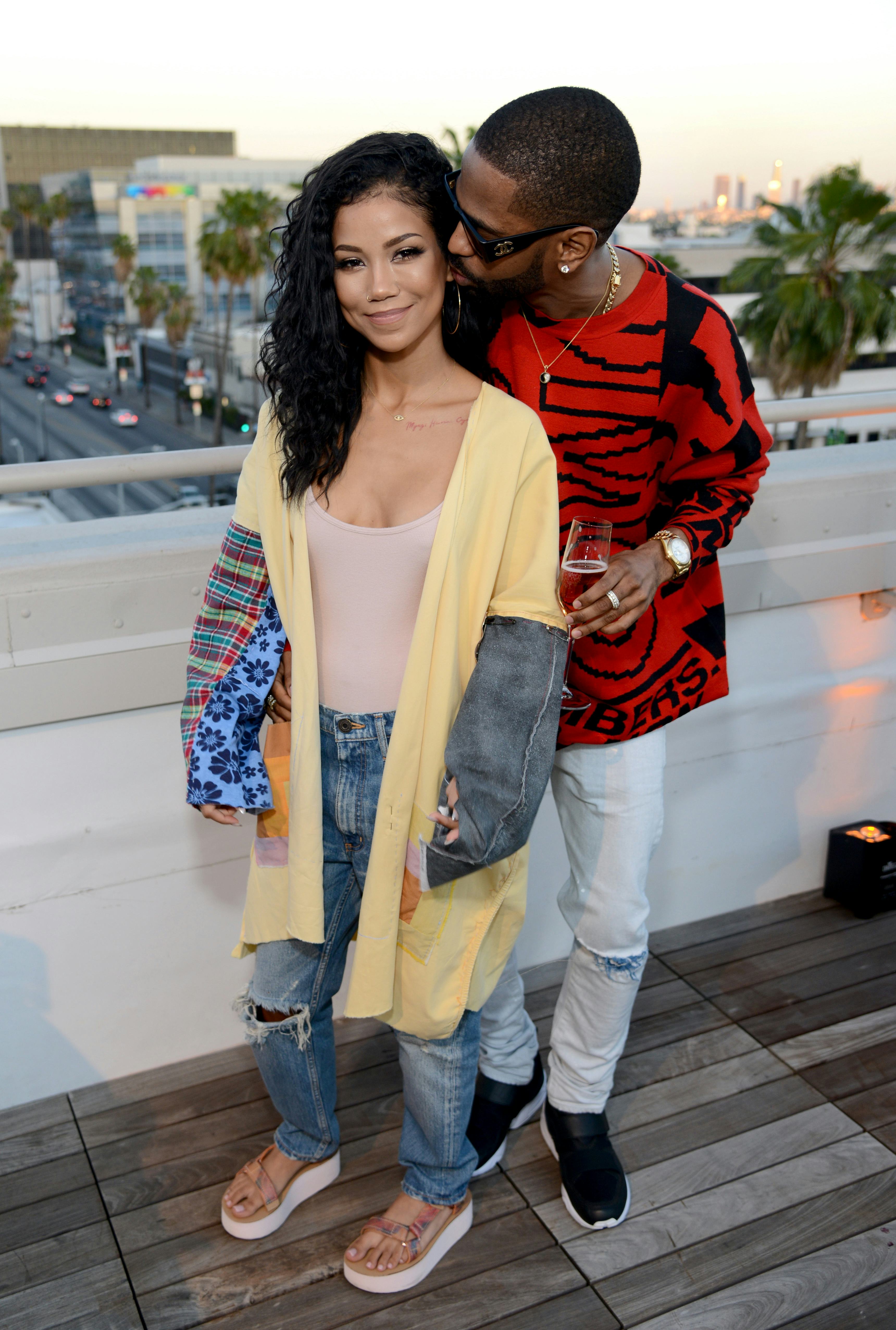 It was pretty clear that Jhené and Sean had fallen hard for each other at this point — their affection for each other was basically oozing out of every photo taken at public outings or posted on social media. Then, in a September 2017 interview, Jhené got real AF about her feelings for him, calling him the love of her life.
"The friends that I have become family," she explained to Billboard. "I don't have a bunch of friends. I literally have like two friends outside of my blood relatives. Everyone else that I call a friend is literally related to me by blood. So, Sean has become my family. I don't know what the future holds, but as far as my life goes right now, yeah, he's 'L-O-M-L.'"
I'm not swooning, you're swooning.
October 2017: Jhené Gets A Tribute Tatt.
In October of 2017, Jhené finalized her divorce from Dot Da Genius — and she wasted no time before expressing her love for Sean to the world. Fresh off ending her marriage, she was spotted with a new tattoo on her arm — of Sean's face. Yes, it's true — her left tricep was now occupied by a sketch of Sean smiling and sporting a tuxedo and bowtie. If that doesn't prove her feelings were running deep, I don't know what will.
February 2018: The Sexual Vibes Are *Strong.*
Things took a steamy turn on Feb. 9 of 2018, when Sean posted a pic of himself on IG, inspiring Jhené to get a little NSFW.
Her raunchy comments included: "I wanna hump that face" and "How you look up at me right before I sit on ur face."
BRB, I'm sweating.
November 2018: Jhené Covers Up *That* Tatt.
So, remember that tattoo of Sean's face? Well, about a year after Jhené got that sucker inked on her arm, she appeared to have it covered up by an epic swirling galaxy scene with a rocketship and twinkling stars. A pic of the new version, which didn't feature even a hint of Sean's face, was shared on IG by the tattoo artist, Miryam Lumpini. The cover-up instantly triggered rumors that they'd called it quits.
However, Jhené tried to clear things up via a string of (now-deleted) tweets. When fans asked why she got rid of the Sean tatt, she reassured them it was merely for aesthetic reasons.
She told one fan: "It didn't match with the dragon sis," and added in another post: "Don't let this distract you from the fact that i also covered my buddha and Bible verse… but still love and respect Buddha AND Jesus lol. have a good day, kids." In a separate tweet, she also stated: "NEW ART! NO BEEF! ALL LOVE!"
As eagle-eyed fans observed, she didn't really flat out deny that they'd split up — she merely clarified that there was "no beef" between them.
Its also worth noting that this was the same month when Ariana Grande dropped the "Thank U, Next" music vid with a super flirty shoutout to Sean. While reminiscing about her exes, she sings: "Thought I'd end up with Sean / But he wasn't a match" and in her Mean Girls-inspired Burn Book, she's written under a pic of him "So cute. So sweet. (Can still get it.)"
No word on how Jhené felt about Ari so glaringly hitting on him, and TBH, it's unclear whether they were even still together at this time. But still — the timing of that bold move with the tattoo cover-up definitely seemed sus.
December 2018: Jhené & Sean Reportedly Call It Quits.
While Jhené didn't confirm their breakup until months later, a source exclusively told Us Weekly that they ended things in mid-December.
"I wouldn't say it was amicable," the insider explained. "But now they are civil towards each other."
March 2019: The Split Is Official.
Though many fans knew this was coming, it was still devastating when Jhené confirmed that she and Sean had called it quits. On the bright side, she made it clear that there was no bad blood between them. When a fan predicted that she might trash Sean on her next album, she responded to set the record straight.
"Me and Sean are good," she wrote in an IG comment. "I've got tons of love for him … I know you all love the drama and would like to think everything I do or say is about him, but I've been through plenty of other things and situations that I pull inspiration from when I sit down to create a song. Have a good day."
These comments came just a month after Sean was spotted leaving a Los Angeles studio with his none other than his ex, Grande.
April 2019: Jhené Proves That She's Still Got Feels.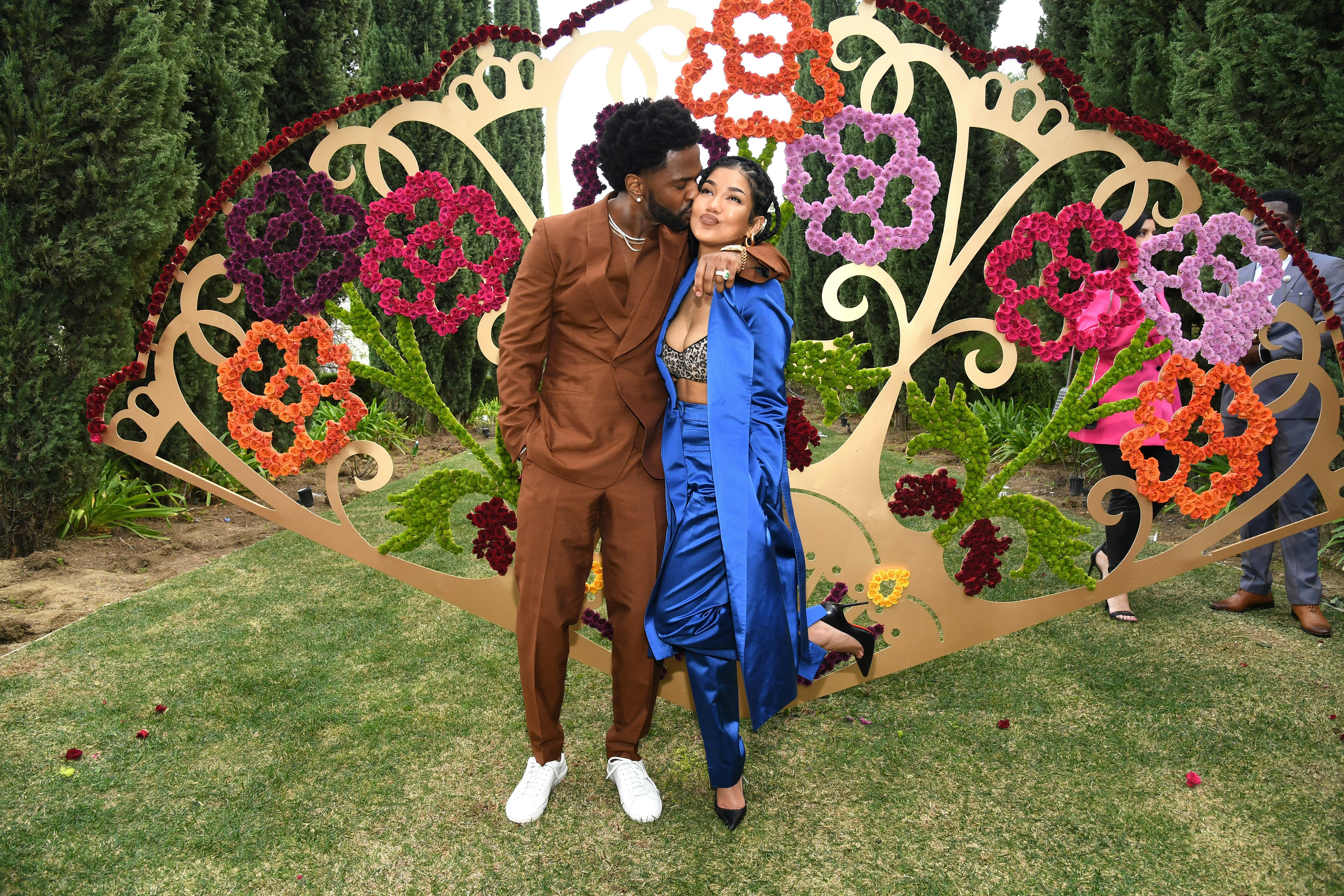 Even though Sean and Jhené's romance appeared to be over, Jhené made it clear that her feelings were still strong when she left a comment on his IG tribute to deceased rapper Nipsey Hussle. She wrote:
"You are so special. To me. To the world. While we're both still on this planet I just want to say… I love you beyond measure. Even tho I get big mad and u trigger the fuck out of me. U make me feel. And I appreciate that. Because I thought I was dead inside. My ego has no say when it comes to you. And my heart has been broken a thousand times just to expand. It always finds room for you."
While reflecting on their time together, she added: "I love you from this life to the next and all the other lives we've known each other before. Imma always talk my sh*t. But Imma always have ur back."
IMO, this sounds like a love story that's not quite finished yet…
May 2019: Jhené Drops The Emotional Breakup Ballad "Triggered."
When Jhené released "Triggered" in early May of 2019, it was pretty clear who the song was about. The freestyle rap runs the gamut of all the feelings that are typical for someone fresh off a breakup, from anger and sadness to longing and desire. While the lyrics have Sean written all over them, she did clarify that it was "NOT a diss song."
"I share about one percent of my whole being with the internet," Jhené explained to Essence in an interview at the time. "Even in my songs, that's literally one moment that I'm talking about or when I felt that way … People hear a song like 'Triggered' and they're like, 'Oh, do we hate him now?' In the grand scheme of things that was like a moment."
As for how Sean felt when he finally heard it, Jhené admitted that he was pretty stunned.
"He was just like, 'Wow, I'm not your friend,'" she told Essence. "I was like, 'Well, I was feeling that in the moment. This is just a song.' … Those are the things that I may feel, and I know that they are irrational and coming from just an angry emotional place, but that's what's so beautiful about art is that you can just throw paint on a blank canvas, and do something crazy and that's your release. You didn't hurt anyone, you know? I feel like, especially because we have a personal relationship, and a true friendship, that's why I could play it for him, and be like, 'Yeah, sorry. I kind of went really hard, but don't think that this is a personal letter to you.'"
Evidently, there were no hard feelings about the song. Because later that same month, she shared a pic of her and Sean hanging out at the beach — with no caption, just to keep fans guessing.
July 2019: Jhené Shows Her Support For Sean.
Right after Sean released his new song "Single Again," (which he enlisted Jhené to lend some vocals on), Jhené tweeted it out to show her support. Sean responded with appreciation — and, notably, wrote: "I love you unconditionally." Talk about #ExGoals, am I right?
November 2019: Their New Collab Sparks Rumors Of A Reunion.
Here's where things start to get a little confusing. On Nov. 14, 2019, Jhené released a new single "None of Your Concern," featuring — who else? — her ex, Sean. There's a lot to unpack in that tune, like the fact that Sean admits he's not over her when he says, "You know there's not a day in these modern times, you haven't crossed my mind." Also, there's the fact that he brags about making his ex climax nine times in one day while they were dating.
That's not all — the duo was soon spotted on an adorable lunch date, and in photos obtained by TMZ, Jhené is sitting on Sean's lap and he holds her tenderly as they gaze out at the coast. That same month, they were seen together at Jhené's Sound Bath Journey event in Los Angeles, and again in Hawaii (where her great-grandmother is from).
December 2019: They Party Together.
When Sean and Jhené showed up to Diddy's legendary 50th birthday bash, they definitely looked like a couple — and they stayed by each other's sides most of the night. In one photo from the evening, Sean is seen with his arm wrapped around her affectionately.
January 2020: They Ring In The New Year Together.
Spending NYE with someone is kind of a big deal — not only because there's always the potential for a midnight kiss, but also because the person you choose to kick off a new year with is usually pretty special. So, when Jhené posted a pic to her Instagram Story that shows them making silly faces at Jay-Z and Beyoncé's New Year's party, fans understandably freaked out.
Later that month, she shared a photo of them at the Roc Nation brunch with a playful caption.
February 2020: They Spend V-Day Together In Disneyland.
In case you're wondering what the cutest Valentine's Day ever looks like, here are Sean and Jhené posing in front of the Magic Castle in matching Mickey Mouse sweatshirts. Jhené revealed in her IG post with this photo that it was Sean's first trip to Disneyland, which made it an extra momentous occasion. They even got a couple's caricature done, and TBH, it's pretty impressive.
Sean reportedly also shared a video of Jhené chatting away on their drive to the theme park, which he captioned: "She love to talk, n I love her."
BTW, later that month, Sean defended his lady in an interview with Joe Budden, who had previously claimed that her music didn't demonstrate growth as an artist.
"I feel like with R&B music she really helped drive that sound," he told Budden. "She's one of the pioneers of that style of R&B. When I'm with her I see the respect that her peers give her."
Set 'em straight, Sean.
March 2020: Sean Shows Jhené Big Love On The 'Gram.
OK — so at this point, Jhené and Sean still haven't confirmed that they're back together. Still, he posted a couple of sweet messages in March 2020 that seem to serve as the perfect proof.
After Jhené dropped her third album Chilombo, on March 6, he spread the word on IG by posting the album cover with the caption, "congrats baby, you earned this one." Sounds like a proud boyfriend, right?
Then, in celebration of her 32nd birthday, he shared a throwback pic with a heartfelt caption. It read: "Always proud but never surprised cause I know how great you are at everything you do. Even tho we gotta be inside n quarantine, you even make that sound good. I Love you from da past life to the next."
April 2020: Sean Hints At A Possible Proposal.
Are you sitting down? Good. Because during an Instagram Live session in April of 2020, Sean and Jhené let fans catch a glimpse of their relationship firsthand — and not only were they flirting up a storm, but they even talked marriage.
Here's how it went down. When Sean told her, "You look good!" Jhené replied, "Why don't you marry me?" And Sean reassured her, "It's in the works. Don't even trip."
That's not all, either. The duo also elaborated on why their relationship has likely endured through the years.
"I think we help each other grow," Jhené told Sean. "We remind each other to read, meditate and take our vitamins."
Jhené went on to say that her prior relationship was toxic — and her bond with strong is much healthier and happier.
"I don't think [Sean and I] have ever really argued," she stated, and Sean added: "We're too cool for that."
More like this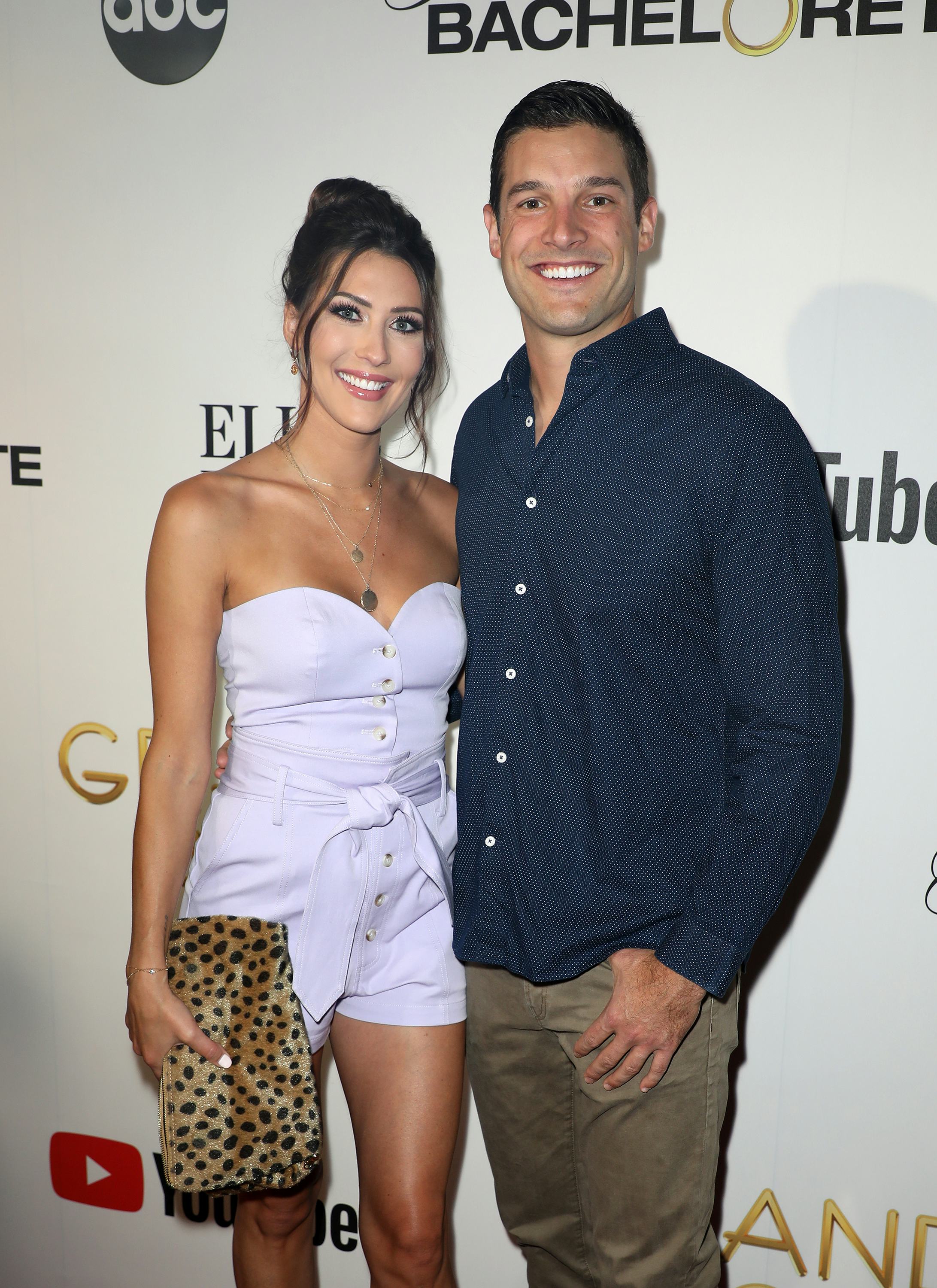 Becca Kufrin & Garrett Yrigoyen's Relationship Timeline Is A Rollercoaster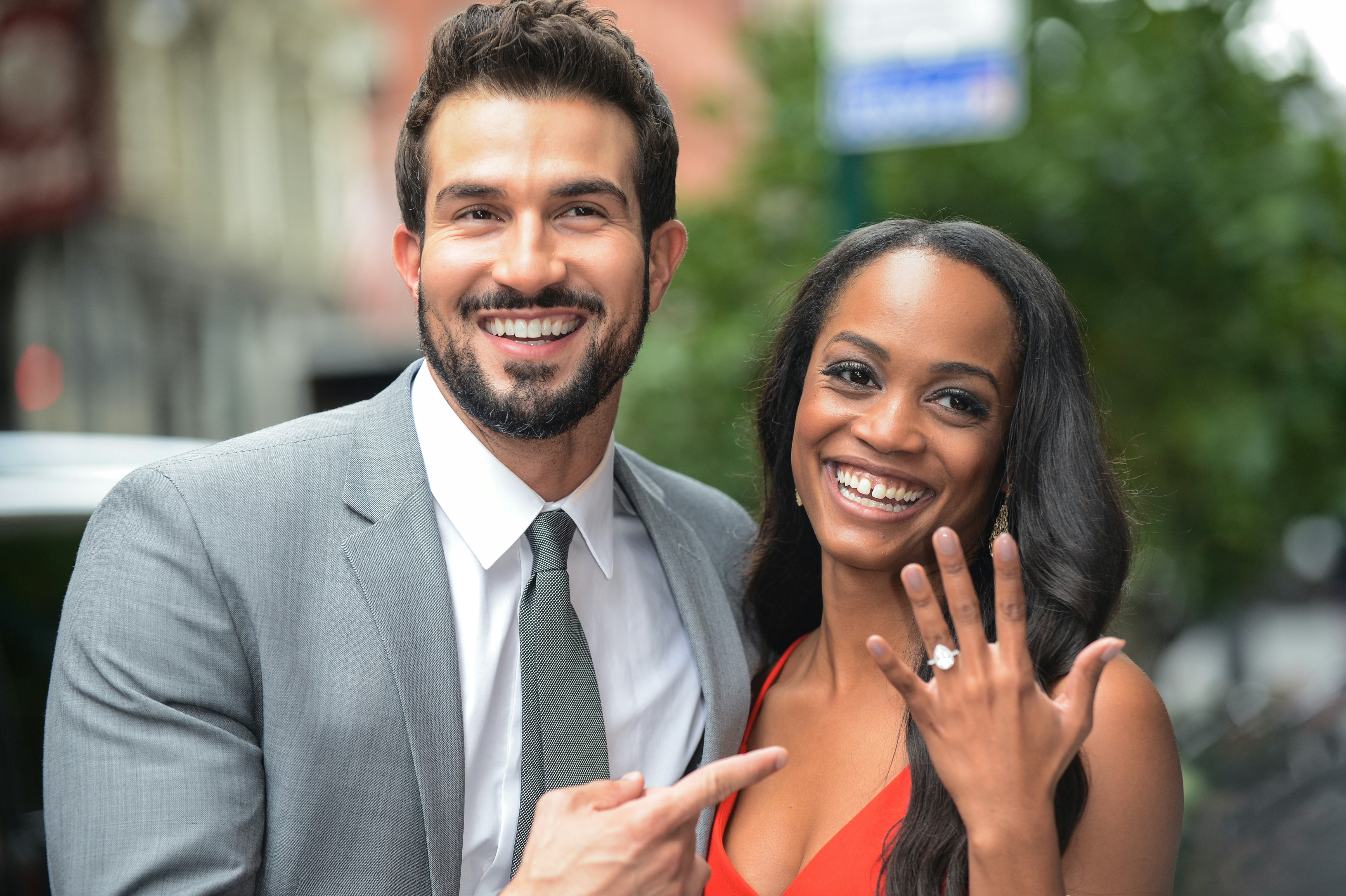 Rachel Lindsay & Bryan Abasolo's Relationship Timeline Couldn't Be Cuter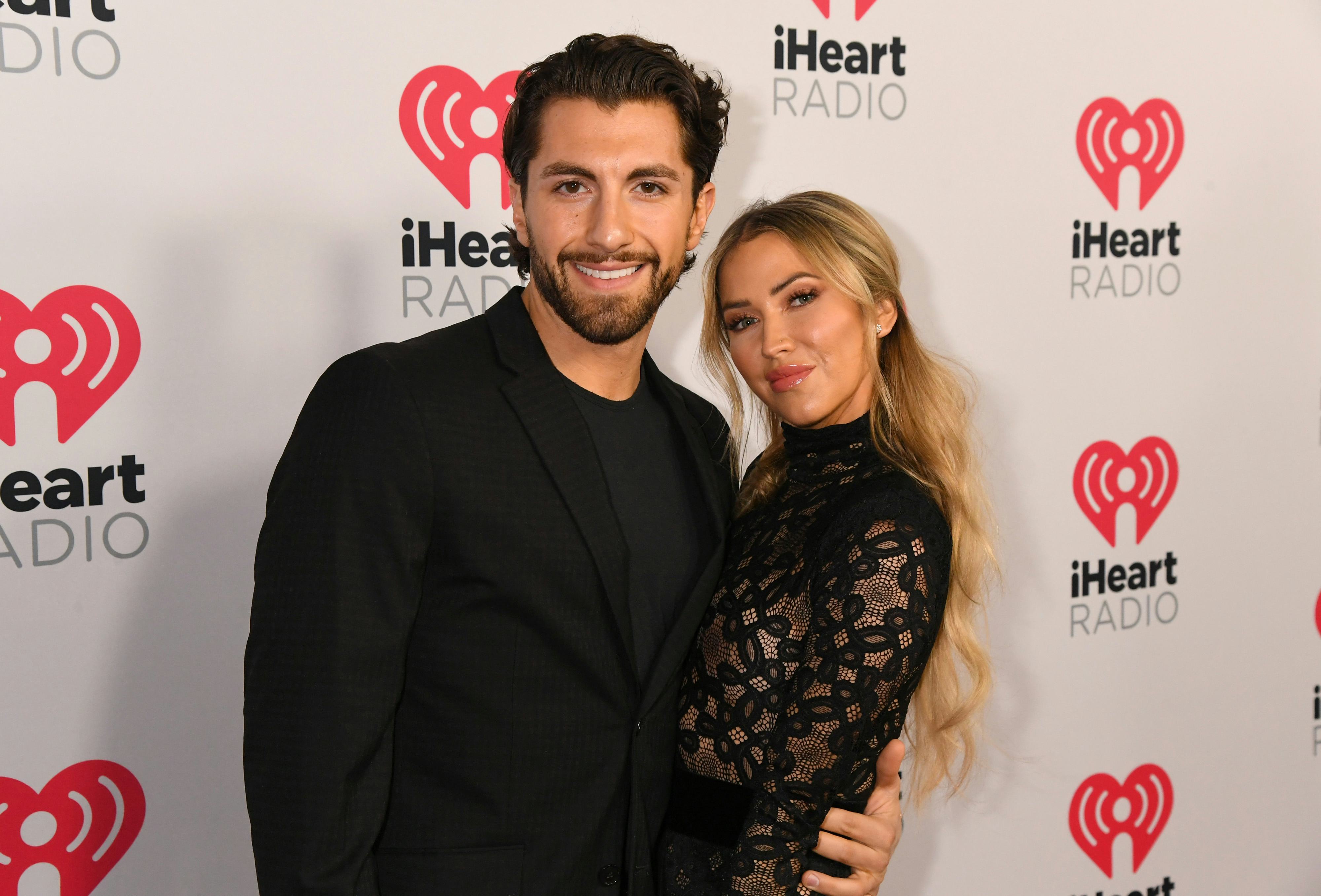 Kaitlyn Bristowe & Jason Tartick's Relationship Issues Are So Relatable
Stay up to date
Don't miss a thing with the Elite Daily newsletter.
Source: Read Full Article