Bobby Shmurda Quits Sex After His Penis Got Injured by a Woman's Tongue Piercing
In addition to candidly speaking up about his very personal injury, the 'Hot N***a' rapper shares a 'new rule' of hooking up with women, noting that he is 'no longer talking to girls' who have jewelry in their tongue.
AceShowbiz –Bobby Shmurda has gotten candid about his very personal injury. The "Hot N***a" rapper has revealed that he's forced to quit sex for six months after his penis got injured by a woman's tongue piercing.
Making use of his Twitter account on Sunday, April 25, the "Bobby B***h" spitter wrote, "Had the worst day ever," alongside a facepalm emoji. He later added, "Not having sex for 6 months," along with a series of crying face emojis.
While it wasn't entirely clear what went down that led to Bobby's announcement, he tweeted six hours later, "I am no longer talking to girls with [tongue and ring emoji]." In his post, the 27-year-old hip-hop artist, whose real name is Ackquille Jean Pollard, called it a "new rule."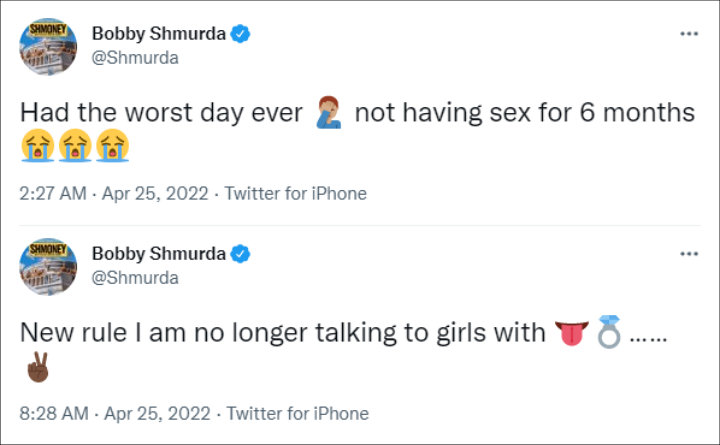 Bobby Shmurda got candid about his penis injury.
Later, one Twitter user claimed Bobby "found out he got aids," but the emcee was quick to hit back and warn the said person not to make jokes about AIDS. "I don't have aids homie," he responded. "God bless the people that do though. I don't think that's a subject to be joking on. they're people really are out here losing their lives."
In January, Bobby made headlines after he was publicly called out by Wack 100 for his twerking habit. At the time, the manager of Blueface trash-talked him in a conversation posted by DJ Akademiks on Instagram. "You know what, amma be real. I don't know what kind of fans he got. He only had one song," Wack said.
"I think he f**ked up. He shoulda dropped… When that n***a got out he was finna let something go. I don't know what he was thinking running around," Wack shared his thoughts. He then predicted that Bobby's new album would fail because of his dancing and twerking habits. "I think the n***a gon' go double wood. On top of that, he losing the streets with all that disco money dance he doing," he raged.
Seemingly responding to the criticism, Bobby turned to Twitter to share his two cents. "Y'all do know that no matter what ANYONE says imma live MY LIFE the way I WANT #shmurda," he wrote in the since-deleted post.
Source: Read Full Article