Emma Stone Once Confessed the Downside of Dating This Marvel Star
Romances among co-stars have been a thing since the early days of Hollywood. And fans love to learn more about what these relationships are really like. Cue Emma Stone's 2013 comments about her experience dating Andrew Garfield, her co-star in The Amazing Spider-Man movies. These days, Stone is happily married. But she found it tricky making it work with a Marvel superhero.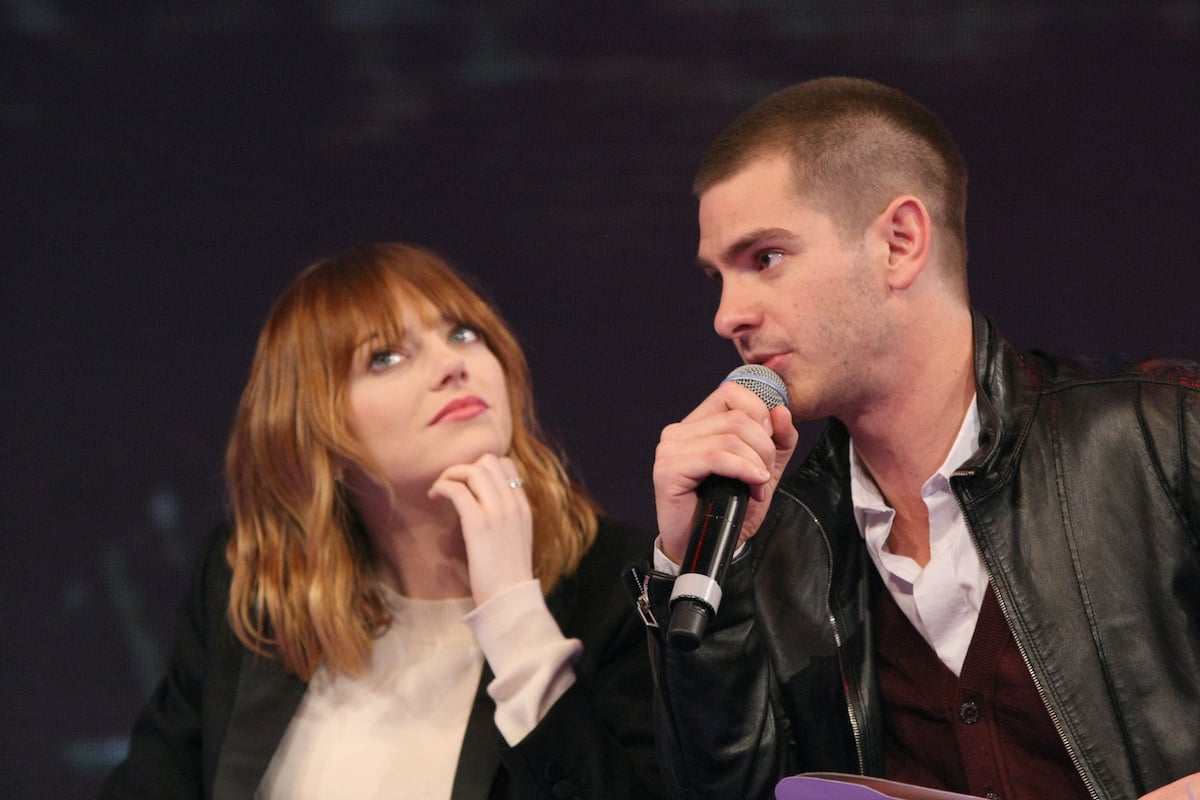 Emma Stone fell for her 'The Amazing Spider-Man' co-star
During the making of Sam Raimi's Spider-Man trilogy, Kirsten Dunst and Tobey Maguire reportedly dated for a while. But that coupling was far from the last time the webslinger's movies would inspire real-life romance. In fact, Stone and Garfield also became an item during the production of The Amazing Spider-Man. And the couple seemingly remained together until 2015.
Although neither star ever revealed a clear reason for Stone and Garfield's break-up, they apparently ended things amicably. In 2017, Stone began dating comedian and writer Dave McCary (Saturday Night Live). The couple married in 2020 and, according to Us Weekly in January 2021, Stone and McCary are expecting their first child later that year.
She once revealed the downside to dating Andrew Garfield
For some people, dating a superhero sounds like a dream come true. But as Stone told The Independent in the midst of her relationship with Garfield, there is a distinct downside. After all, maintaining a relationship with another actor doubles the amount of attention a couple attracts, Stone admitted.
"It makes being in Los Angeles a lot less fun, because a lot of photographers live there. So that's a little different. And if I look at blogs or comments — which I have made the mistake of doing, and it's the dumbest thing you can do — the cynic in me just goes nuts. So if I don't look at it, and I just keep focused on myself internally, it's all right. Nothing is different because I know my truth, and that's what matters."
Stone and Garfield made efforts to keep their personal lives private. Even while promoting The Amazing Spider-Man 2, the actors refrained from talking much about their romance. Take their incredibly awkward appearance on The Ellen DeGeneres Show, for instance. Stone and Garfield squirm and try to play off the rumors, as DeGeneres attempts to get them to fess up.
Emma Stone and Andrew Garfield will likely reunite in the MCU
The way things are looking, it seems likely Stone and Garfield could be reuniting on screen soon. Marvel Studios' Spider-Man 3 will reportedly involve a multiverse storyline. And many stars from previous versions of the franchise are either confirmed or rumored to appear. So it's possible — though, so far, unofficial — Garfield's Spider-Man might have a key role.
And considering the star power behind Stone, her Gwen Stacy could turn out to be even more pivotal to the future of Spider-Man on film. After all, Gwen becomes Spider-Woman in some of the comics. So some fans believe Stone could be in line to play just such an alternate version of her Amazing Spider-Man character, setting the stage for a Spider-Gwen movie.
Source: Read Full Article