Eurovision Winner Damiano David 'Ready' to Take Drug Test After Denying Doing Cocaine on Live TV
The lead singer of Italian rock band Maneskin claims he looked down because his bandmate Thomas Raggi had broken a glass, which is confirmed by the event organizer, the European Broadcasting Union.
AceShowbiz -Eurovision winner Damiano David will prove that he is clean from drugs. After the lead singer of Maneskin denied rumors suggesting he was doing cocaine on live TV, the Italian rock band stressed they are "ready" to get tested.
"We are really shocked about what some people are saying about Damiano doing drugs," the band wrote on Instagram Story on Saturday, May 22. "We really are AGAINST drugs and we never used cocaine. We are ready to get tasted [sic], cause we have nothing to hide. We are here to play our music and we are so happy about our Eurovision win and we wanna thank everyone for supporting us. Rock'n Roll never dies. We love you."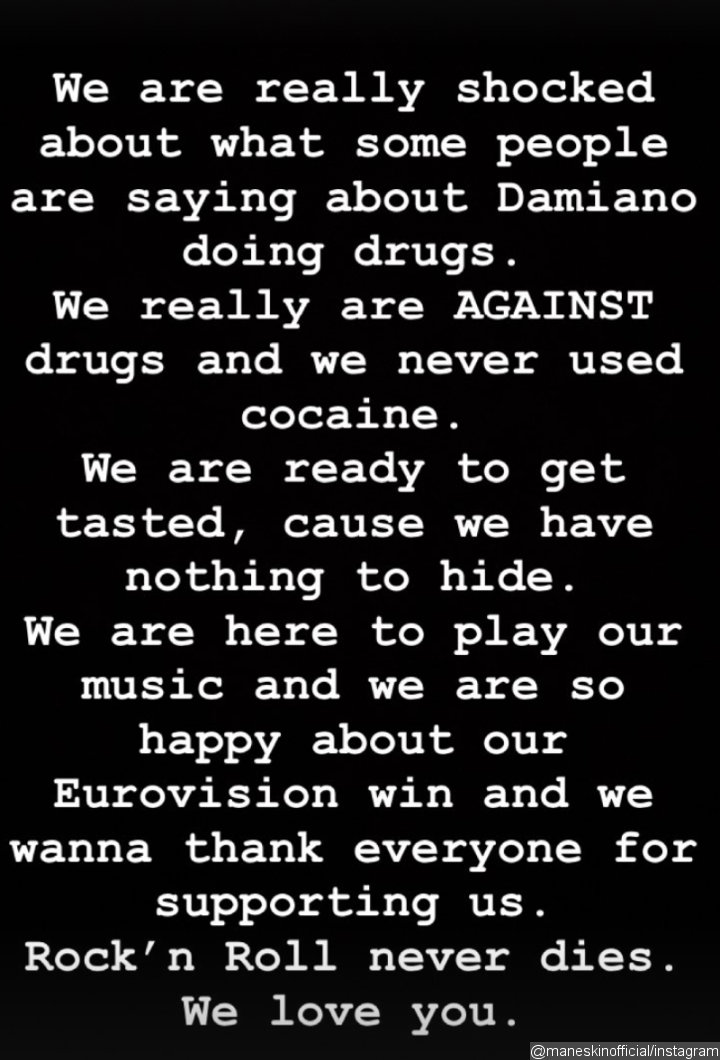 Manekin stated they are 'ready' to take drug tests.
David was rumored to be using cocaine after he was captured looking down at his table while his bandmates cheered and waved the Italian flag. He, however, claimed that he ducked his head because he was looking at a broken glass. "[Guitarist Thomas Raggi] broke a glass," he told reporters at a press conference after the competition. "I don't use drugs. Please guys, do not say that. Don't say that, really. No cocaine, please, do not say that."
The event organizer, the European Broadcasting Union, has since released a statement regarding the issue. It stated, "We are aware of the speculation surrounding the video clip of the Italian winners of the Eurovision Song Contest in the Green Room last night. The band have strongly refuted the allegations of drug use and the singer in question will take a voluntary drug test after arriving home. This was requested by them last night but could not be immediately organized by the EBU."
"The band, their management and head of delegation have informed us that no drugs were present in the Green Room and explained that a glass was broken at their table and it was being cleared by the singer," the statement continued to read. "The EBU can confirm broken glass was found after an on site check. We are still looking at footage carefully and will update with further information in due course."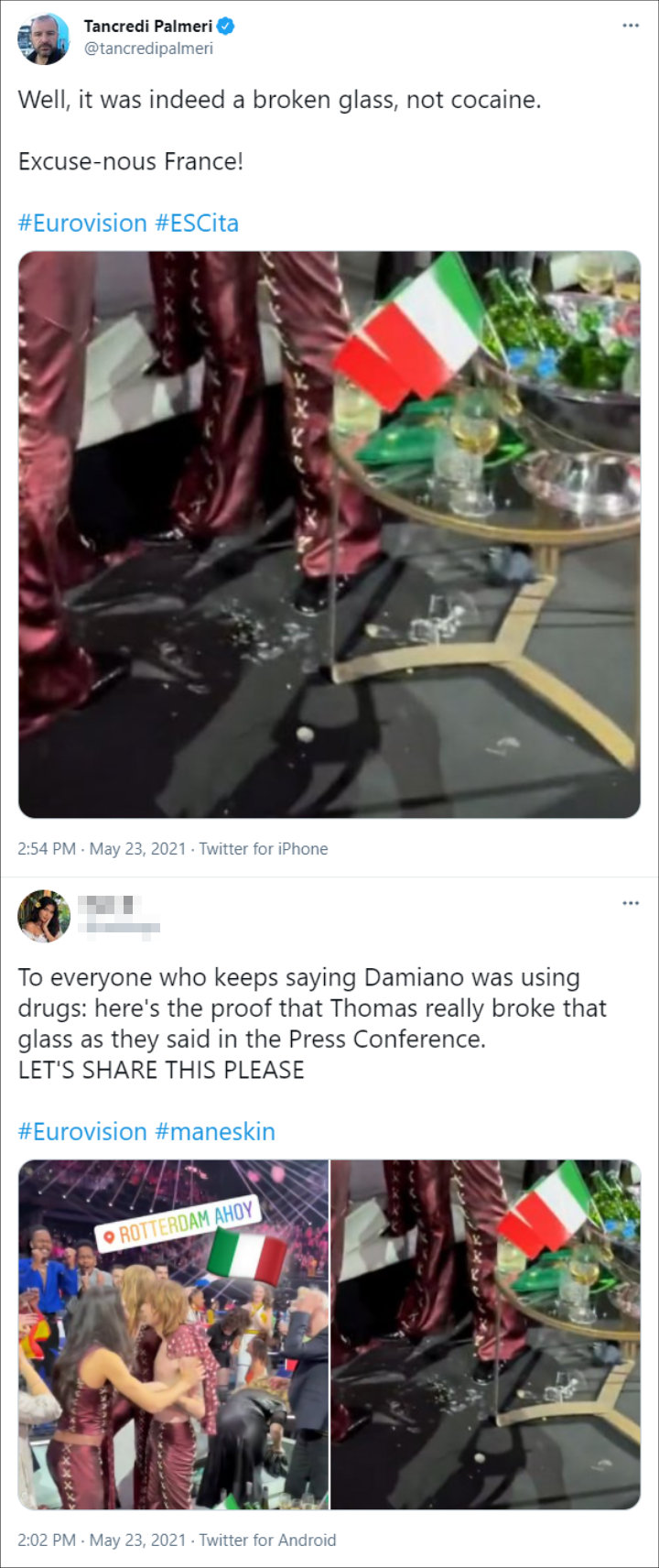 Damiano David's fans shared pictures of the broken glass around Maneskin's table.
David's fans on Twitter also shared several pictures of the broken glass around the group's table. One user in particular wrote, "Well, it was indeed a broken glass, not cocaine." Another penned, "To everyone who keeps saying Damiano was using drugs: here's the proof that Thomas really broke that glass as they said in the Press Conference. LET'S SHARE THIS PLEASE."
Source: Read Full Article