Gigi Hadid and Zayn Malik Share First Family Photo With Newborn Daughter
Gigi Hadid and Zayn Malik made sure their newborn daughter's first Halloween was a special one. Gigi, Zayn, and baby girl dressed up as a video game character, a Harry Potter Slytherin, and The Incredible Hulk, respectively. The most exciting part was that Gigi posted a selfie of the three of them to her Instagram Story.
In case you haven't been following Zigi news closely, this is the *first* family photo they've shared. Even though bb's face is covered (most likely in an attempt to preserve her privacy), they still look adorable together in their costumes.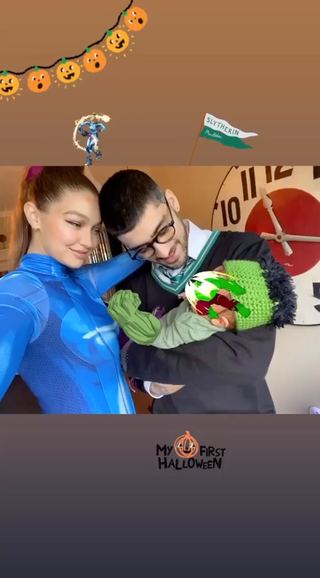 Gigi and Zayn confirmed the birth of their daughter on social media in September. Zayn posted the exciting news on Twitter with a sweet statement dedicated to his daughter. "Our baby girl is here, healthy & beautiful 🙏🏼❤️ to try to put into words how I am feeling right now would be an impossible task," he shared on September 23. "The love I feel for this tiny human is beyond my understanding. Grateful to know her, proud to call her mine & thankful for the life we will have together x."
According to E! News, Gigi gave birth in New York City, and a source said that both her and Zayn's moms were by her side throughout the "holistic-based" labor and delivery. "Everything went smoothly and she is recovering at her penthouse," the insider revealed. "Gigi is on a high and can't believe they created an angel. She's truly so in love and has had many emotional moments while holding her baby girl."
https://www.instagram.com/p/CFgSR7mHV7y/
Meanwhile, "Zayn was very emotional when their baby girl was born. It was an emotional and special moment for him. He expressed that he is forever changed and would never disappoint her or Gigi. He wants to be the best father possible and is so excited."
Source: Read Full Article