Inside O.J. Simpson's Connection To The Real Housewives Of Beverly Hills
Depending on who you believe, O.J. Simpson either got away with murder or was part of one of the biggest potential criminal justice railroads in history. Either way, Simpson is now a pariah in Hollywood circles thanks to the murder of his ex-wife, Nicole Brown Simpson, and her friend, Ronald Goldman. 
Unfortunately, nothing is ever sacred in Hollywood — not even a brutal murder — and Nicole's murder is no exception. One of Nicole's closest friends, Faye Resnick, often appears on "The Real Housewives of Beverly Hills" as a friend of the main stars. And although many fans would love to see her as a full-time housewife, she told Bustle in 2018 that she is happy with her occasional cameos. She happens to be a friend of Kris Jenner, too, and has appeared on "Keeping Up With the Kardashians" since 2015, per IMDb. This is either great television, a horrible macabre reality, or both. 
Let's take a closer look at O.J. Simpson's connection to "The Real Housewives of Beverly Hills" — if you have the stomach for the drama, that is.
Faye Resnick addressed the OJ connection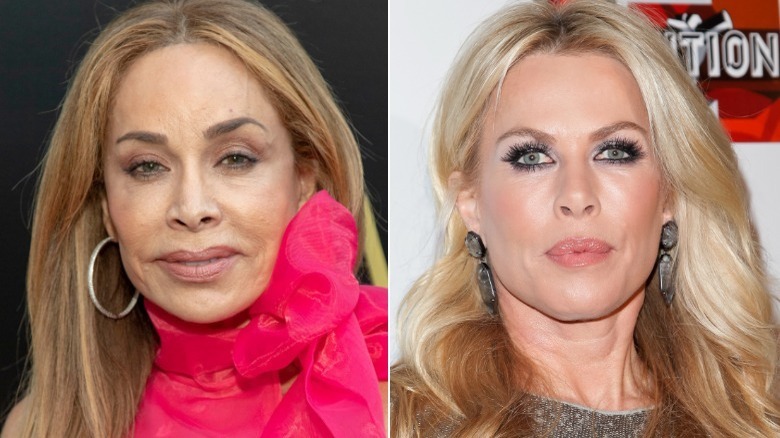 Back in 1994, Faye Resnick — who is considered a friend of the show on "The Real Housewives of Beverly Hills" — wrote a book about her friend Nicole Brown Simpson. The book, which was called "Nicole Brown Simpson: The Diary Of A Life Interrupted," also mentions former Beverly Hills housewife Kathryn Edwards. Per Bustle, Faye said that Nicole told her that she was having an affair with Marcus Allen, who would go on to marry Kathryn. 
"At times we were worried that O.J. might take revenge on Marcus by telling his fiancée Kathryn about the affair with Nicole. That would have been a disaster, because Kathryn was a sweet woman who was well aware of Marcus' womanizing and might have felt she had to call off the wedding," she wrote in the book. Faye also brought up Kris Jenner in the book for maximum messiness. "Kris said, 'Whatever you do, don't go out with Marcus Allen. He's the biggest womanizer in the world and don't forget he's engaged to Kathryn. She turns a blind eye to his fooling around, but it hurts her when he does it publicly,'" she wrote.
Needless to say, when Kathryn confronted Faye on the show in 2016, it did not go over well. However, all was eventually forgiven, because in February 2016, Kathryn told Andy Cohen she had moved on from the unpleasant situation. "I think Faye is in a much better place and I'm really all about letting bygones be bygones," she said. 
Source: Read Full Article