Joe Jonas Says Diplo 'Ruined' His Wedding To Sophie Turner — & Miley Cyrus Asks The Jon
What happens in Vegas stays in Vegas… unless Diplo's there, apparently.
As we reported, the EDM artist shared Joe Jonas' surprise Las Vegas wedding with Sophie Turner with the world earlier this month when he live-streamed the entire ceremony on his Instagram.
When asked about the not-so-secret nuptials on the U.K.'s Capital Breakfast With Roman Kemp radio show, the Sucker artist confirmed that his guest was not asked to be the videographer for his vow ceremony.
Video: Billy On The Street Finds Out If NYC Cares About The Jonas Brothers!
When pressed by one of the hosts on whether Diplo "ruined" his nuptials, the newly married 29-year-old laughed and confirmed that the producer live streamed the event without their knowledge, explaining:
"Diplo did. Yeah, he ruined it. I love Diplo, but he loves his 'gram more than a 13-year-old. He posts every five seconds. He literally, like, live-streamed with dog face filters."
But at the end of the day, they decided to forgive him.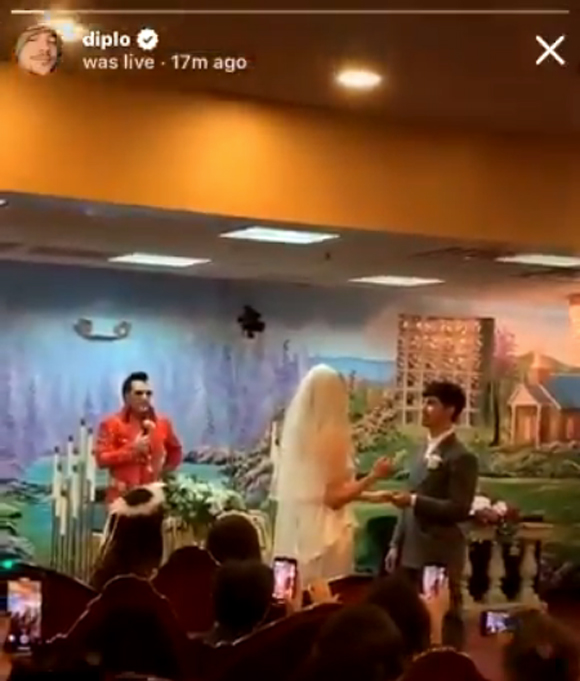 He added:
"We just laughed, we loved it. We thought it was ridiculous. And I just love that he was walking into the chapel and he's like, 'Going to hit this wedding real quick,' ."
Despite the public's instantly finding out about it, the newlywed said his May 1 wedding (which was officiated by an Elvis impersonator) was still "lit," and revealed that he and his Game of Thrones star wife would be going on a honeymoon sometime in the near future.
Video: JoBros Return To TV After A DECADE To Perform 'Sucker'!
He shared:
"We've got plans that we'll be hush-hush about. We'll make time for that."
As fans know, Joe is the last of Jonas Brothers to tie the knot: Nick Jonas wed actress Priyanka Chopra late last year, and Kevin Jonas has been married to Danielle Jonas since 2009. While all three are now sporting wedding rings, some fans still like to remind the band about those other rings they used to wear.
By "other rings" we mean those purity rings, and by "some fans" we mean Miley Cyrus!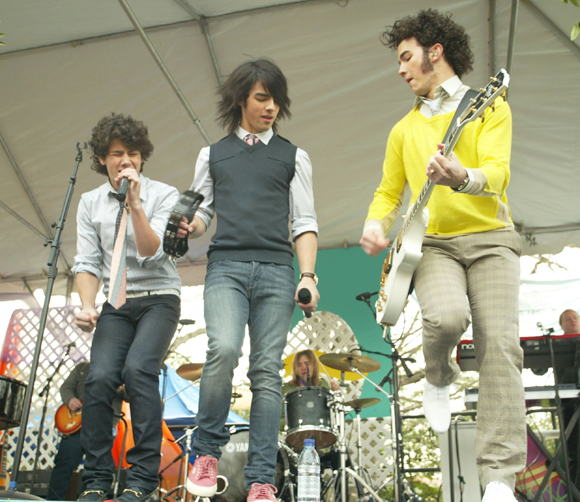 Lest we forget, the former Disney stars wore the bands early in their career, which symbolized their promises to abstain from sex and stay pure until they got married. By 2014, however, Nick had confirmed he was no longer wearing the ring, and Joe revealed he lost his virginity at 20.
Miley reminded the trio of their days of abstinence when she asked them a question during an interview on Capital Breakfast, posing:
"Did it feel so good taking off your purity ring and did it feel so good taking off your purity ring—you know what I'm saying?"
The JoBros were played back the question during their own Capital Breakfast interview. In response, Joe replied simply:
"Um yeah?!"
LOLz! Nothing else needs to be said about that!
Watch a clip of the siblings' interview (below) for more.
Source: Read Full Article