John Paul Jones Is "Not Thrilled" with Tayshia Adams After She Shades Him on Podcast
Looks like there's trouble in paradise (hahaha, jokes) between John Paul Jones and his ex-girlfriend Tayshia Adams. The pair recently announced their very amicable split, but apparently John Paul Jones didn't take too kindly to Tayshia going on Rachel Lindsay's podcast Bachelor Happy Hour and spilling tea about their relationship.
According to Us Weekly, John Paul Jones unfollowed Tayshia on Wednesday (he's since re-followed her), and a source told the outlet "John is not thrilled about Tayshia publicly airing her grievances on a podcast."
The source added, "JPJ broke up with Tayshia. He saw her one time after his move to Los Angeles on Friday, October 25. JPJ did not make the move to L.A. for Tayshia. He ultimately moved to L.A. to pursue his acting career. He has been auditioning like crazy and is excited for his next chapter."
Honestly not sure why John Paul Jones is shocked that Tayshia would talk about their relationship considering its foundation was a literal reality show, but more to the point she didn't really say anything that bad about him!
"I would never badmouth John. We both have our flaws. I think communication is a really big deal," she said. "I learned from a previous relationship that I'm very much so over communicative, but that's all I can do. What he can do is listen to that and try to navigate that relationship with that information I'm giving him. If you're choosing to have that stuff go in one ear and out the other, that's on you."
Oh and she also said that she told JPJ "I just want you to experience a little more life. I feel like you just need to live a little bit and learn a little bit because I feel like I can only do so much.'"
Okay fine this is all kinda shady.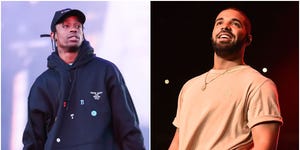 Source: Read Full Article