Kanye West Calls Out Kim Kardashian & Kris Jenner For Trying To 'Lock' Him 'Up' I
We say this with nothing but love, but Kanye West appears to be spiraling right now and his latest viral rant has us seriously worried about him.
One day after his bizarre South Carolina presidential campaign rally where he went on about politics and religion, criticized Harriet Tubman, and broke down in tears while discussing abortion, the rapper took to Twitter and made a series of bombshell claims about his wife, Kim Kardashian West. Seemingly confirming reports his mental health and bid for the White House are causing a huge strain on their marriage, he slammed his famous family.
The 43-year-old music mogul went on several different tangents during his tweet spree on Monday, but one of the messages that stood out the most was the claim that Kim and his mother-in-law Kris Jenner "tried to bring a doctor" to "lock" him up at some point. For this reason, he said that Jenner and her boyfriend Corey Gamble — referred to as "calmye" –were no longer allowed around his children:
"Kriss don't play with me you and that calmye are not allowed around my children. Ya'll tried to lock me up."
Speaking more about his kids, he added that 7-year-old North West would never be allowed to pose for Playboy as her mother did back in 2007 and he also referenced Kim's old sex tape with her ex-boyfriend Ray J:
"I put my life on the line for my children that North's mother would never sell her sex rape ."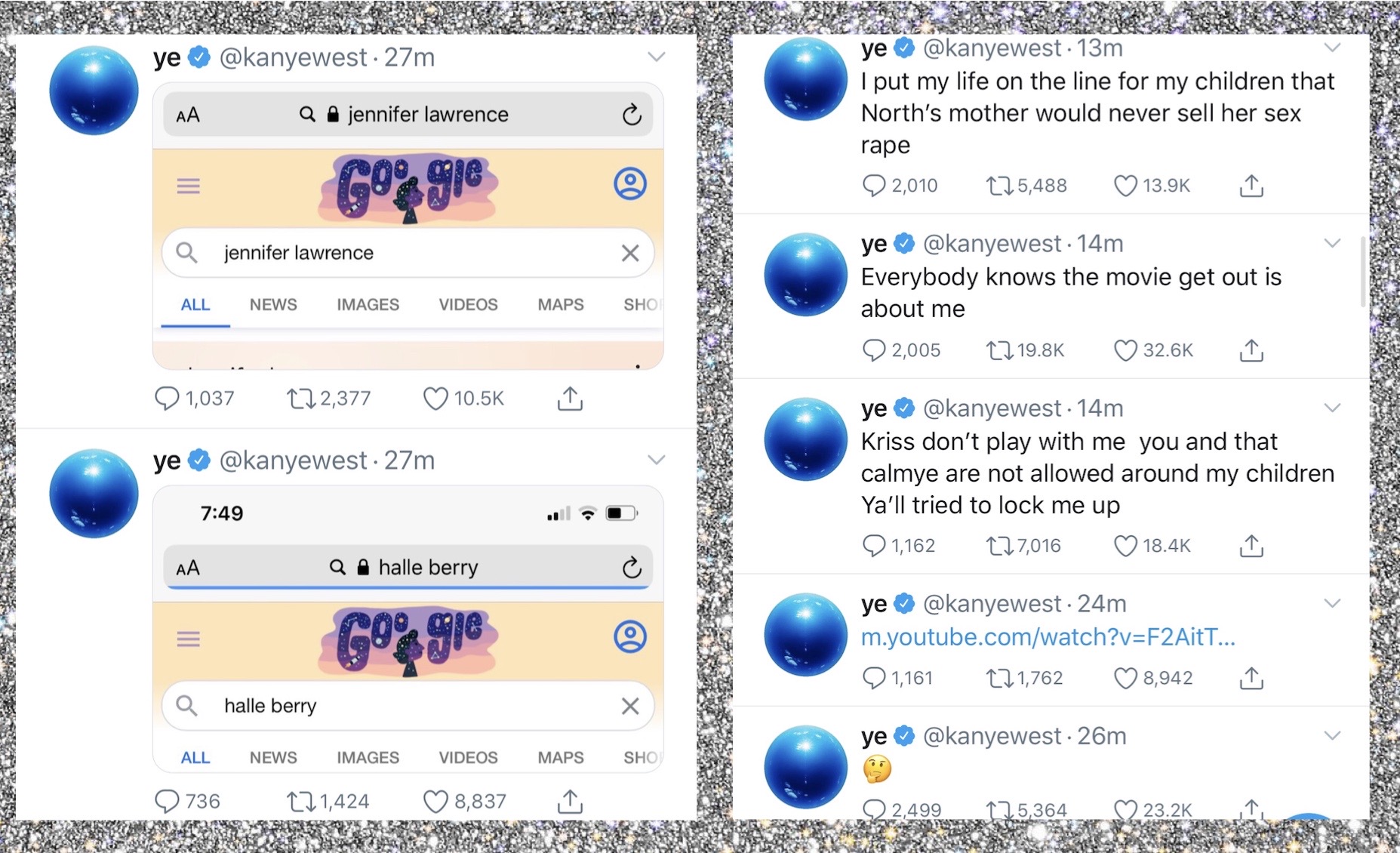 He then compared himself to the former president of South Africa, Nelson Mandela, who spent 27 years in prison before becoming the country's first Black leader, tweeting that if he ever got taken away, "y'all will know why."
Kanye continued by taking a shot at Shia LaBeouf who "never showed up" to a supposed photo shoot for his Yeezy partnership with Gap and even said Vogue editor-in-chief Anna Wintour looked at him "like was crazy" for collaborating with the brand. At one point, he included random Google searches of Halle Berry and Jennifer Lawrence, as well as tweets referencing old drama with Pusha T and Drake.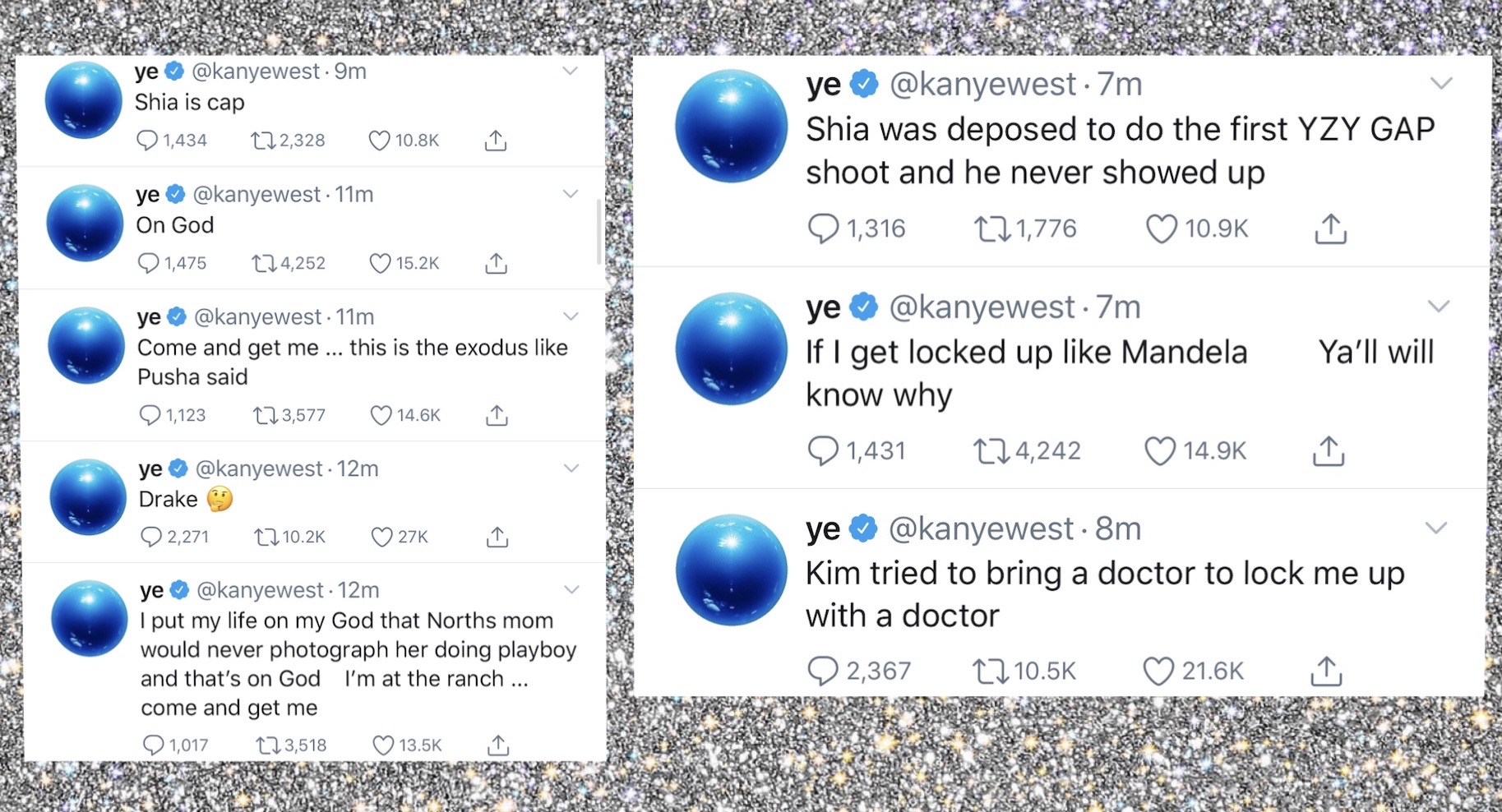 At one point, the Jesus Is King artist directly asked Kim and Kris to contact him and shared a glimpse of his text messages with the momager: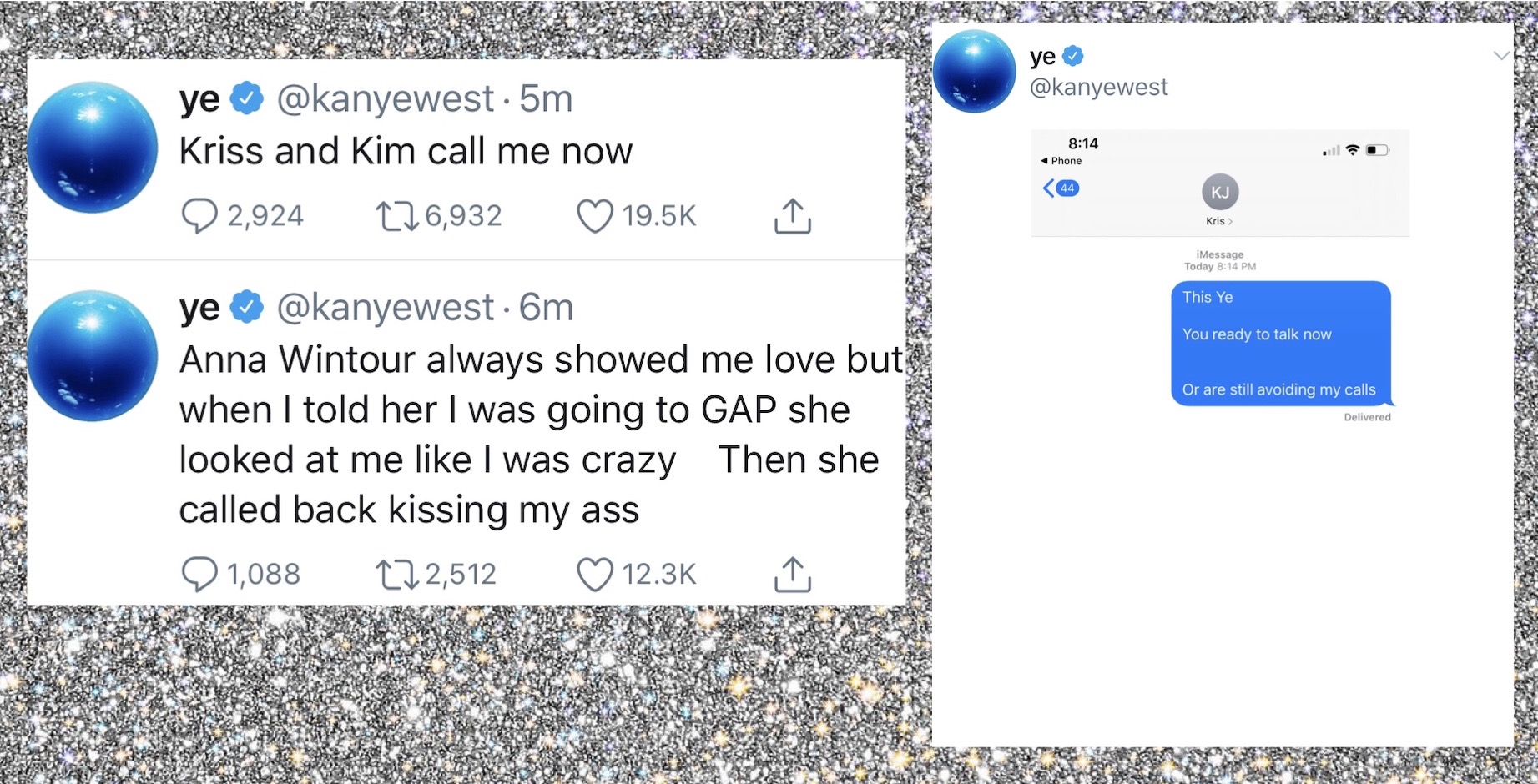 He also made several references to the movie Get Out and noted the Jordan Peele horror thriller is about his life:
"Kim was trying to fly to Wyoming with a doctor to lock me up like on the movie Get Out because I cried about saving my daughters life yesterday"
West alleged that NBC "locked up Bill Cosby" and claimed the broadcast network along with E!, which airs the Keeping Up with the Kardashians series, would no longer have a say in their family's business: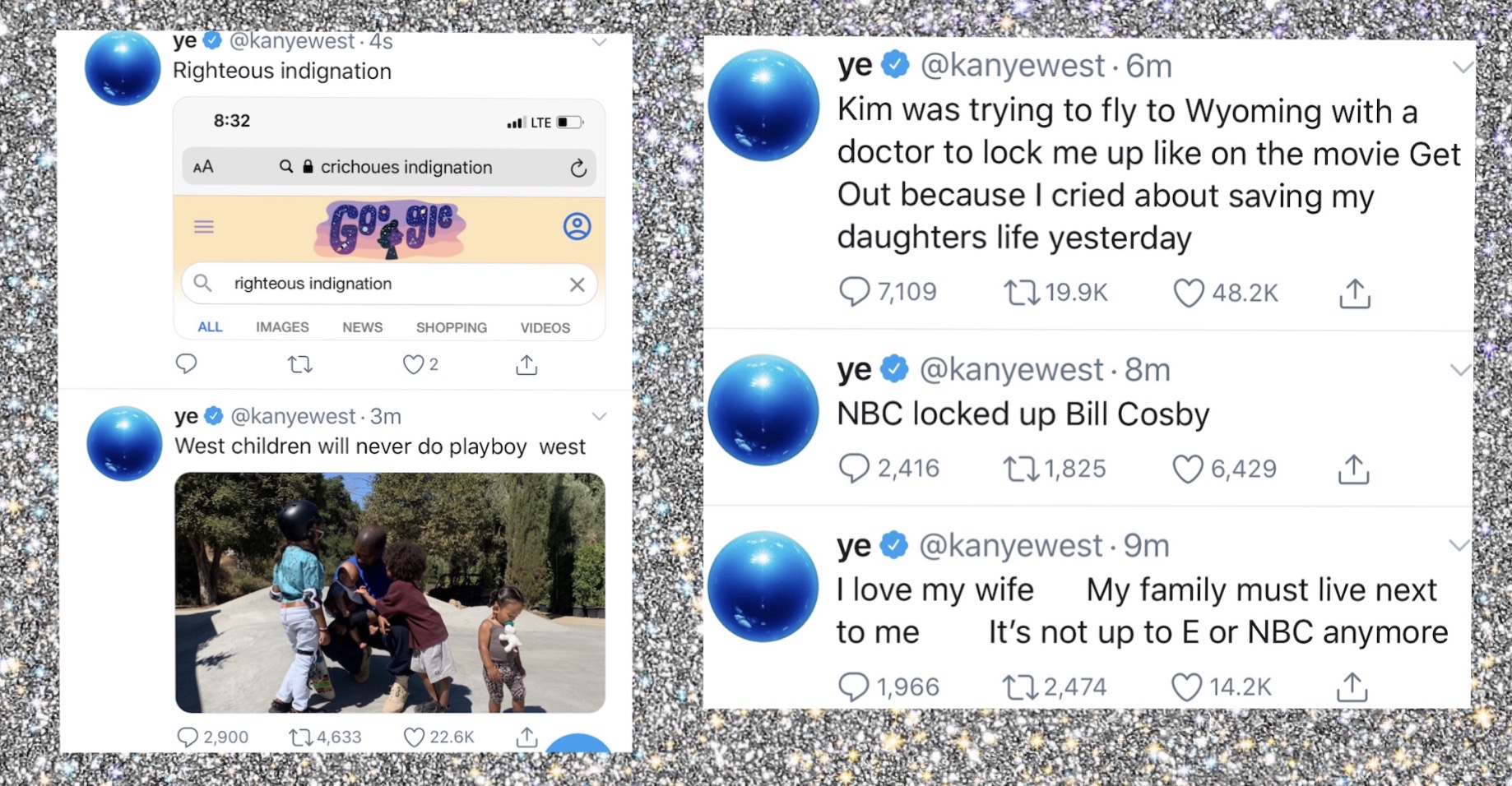 To cap things off, Kanye shared a screenshot of his upcoming studio album titled, DONDA, which is a nod to his late mother's name. He also told followers he will "focus on the music now" and seemingly stopped tweeting for the night. Almost all of his messages have since been deleted.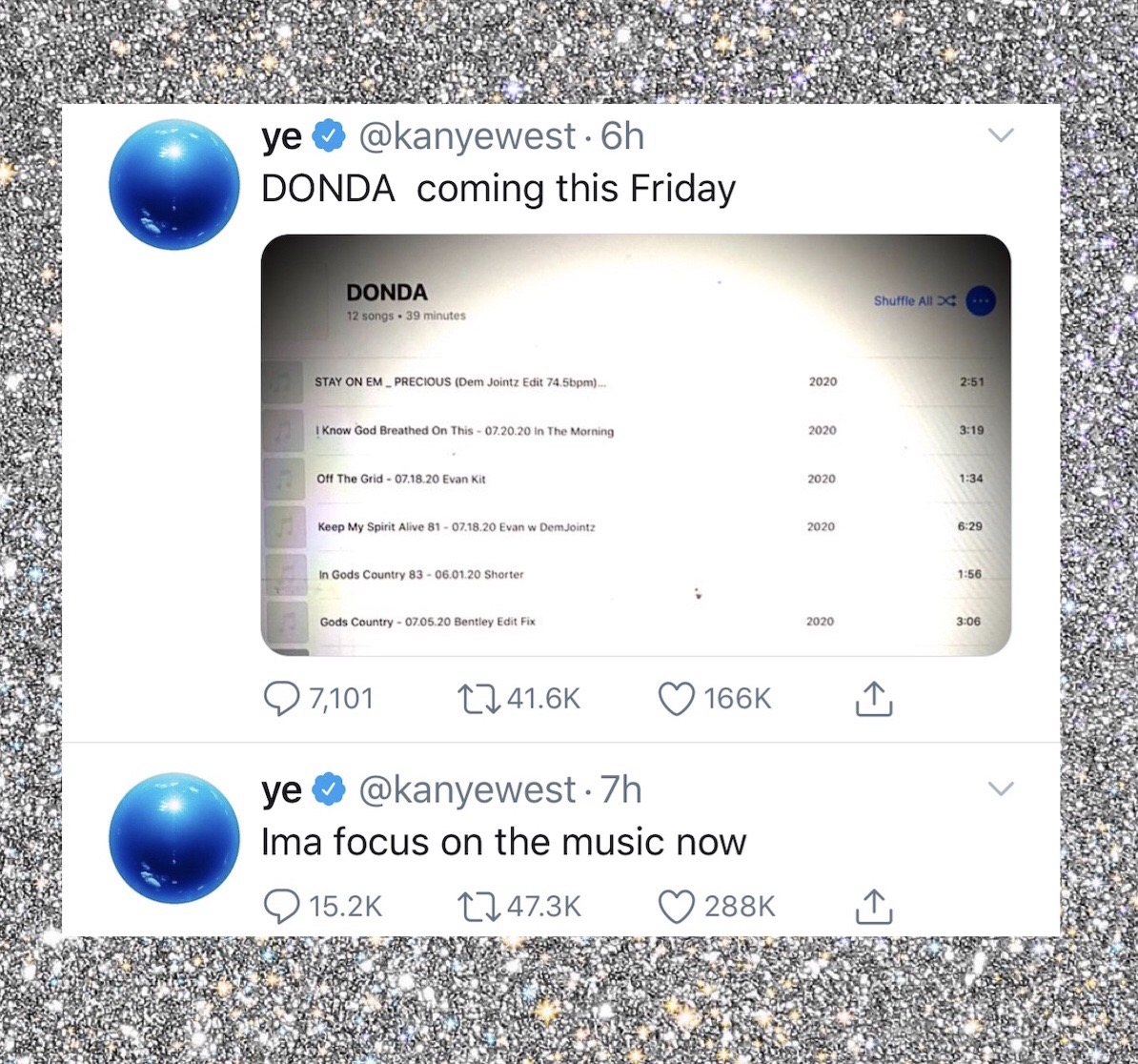 Wow. Incredibly concerning stuff here, Perezcious readers…
While social media had a field day trying to interpret these tweets and get a few jokes off, too, we'd like to reiterate that Kanye does struggle with bipolar disorder. This isn't funny. The mental illness can take on many different forms and this appears to be a particularly bad episode for the star right now. Think about the short and long-term implications something like this could have on his family, career, and more.
We are keeping 'Ye and his family in our thoughts as they work through this incredibly difficult time together.
Related Posts

Source: Read Full Article