Kylie Jenner Got Some Backlash After Showing Off Her Many Luxury Cars on Instagram
Whether or not Kylie Jenner is a self-made billionaire is debatable (and a few months ago Kylie even admitted that maybe she's not toootally self-made), but one thing that isn't up for debate is that fact that Kylie is a billionaire and can afford crazy things, like a mini Louis-Vuitton-monogram-covered Lamborghini for her daughter Stormi, who, reminder, is a toddler.
Another thing that Kylie can afford? Adult-sized cars, and a lot of them. Yesterday Kylie shared an Insta of her posing with six of her luxury cars, including two Range Rovers, a Rolls Royce, a Porsche, a Lamborghini, and a Ferrari. And while some followers applauded Kylie's car collection, writing things like "Hard work pays off happy for you" and "wow legendary," other people were not so impressed with Kylie showing off her wealth.
freaky friday
A post shared by Kylie (@kyliejenner) on
Some commenters thought that six luxury cars were maybe not the best use of money, and wrote things like:
And while, yeah, some of those are wonderful ideas about how Kylie could use her money for the greater good, it is her money and she can do what she wants with it, even if that means buying 14 more cars and then also showing those off on Instagram. What do you think?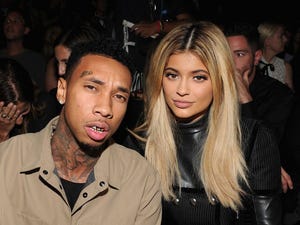 Source: Read Full Article