Kyrie Irving Defended by Ex-NBA Player Etan Thomas After Thanksgiving Message Sparks Debate
The seven-time NBA All-Star is receiving bitter responses after he says he doesn't 'celebrate Thanksgiving' and that the turkey-centric holiday is 'not a holiday' for him.
AceShowbiz –Kyrie Irving continues becoming controversial figure as of late. Following his anti-Semitic scandal, the seven-time NBA All-Star sparked debate after saying he doesn't celebrate Thanksgiving and now his pal Etan Thomas defended him.
On Thursday, November 24, Kyrie's team Brooklyn Nets won 112-98 against the Toronto Raptors. Kyrie was able to score 29 points in the win. Following the victory, Kyrie was interviewed and asked about Thanksgiving.
In response, Kyrie casually said, "I don't particularly celebrate Thanksgiving but anybody getting together with their families, blessings to all you guys." The 30-year-old basketballer went on to say, "Enjoy the holiday, not a holiday for me, but please enjoy the food for me."
Upon learning of Kyrie's response, many quickly slammed the athlete. "Seriously. Why would he say that. And with that look on his face also. Like he just can't help himself. Has to be center of attention. Always has to say something controversial," one person tweeted.
"Literally all the man has to do is say 'Happy Thanksgiving yall'. I dont celebrate Christmas but I still wish people a merry Christmas all the time. But I guess the difference is I just know the world doesn't revolve around me," another said. Someone else simply wrote, "Just say happy thanksgiving and move on freak."
Weighing in on the issue, former NBA player Etan defended Kyrie's stance on Thanksgiving. "They know Kyrie Irving doesn't celebrate Thanksgiving and they know exactly why because he has explained his connection to his Native American heritage and the celebrated slaughter of his people," he tweeted. He later slammed the media for "being very intentional right now with Kyrie."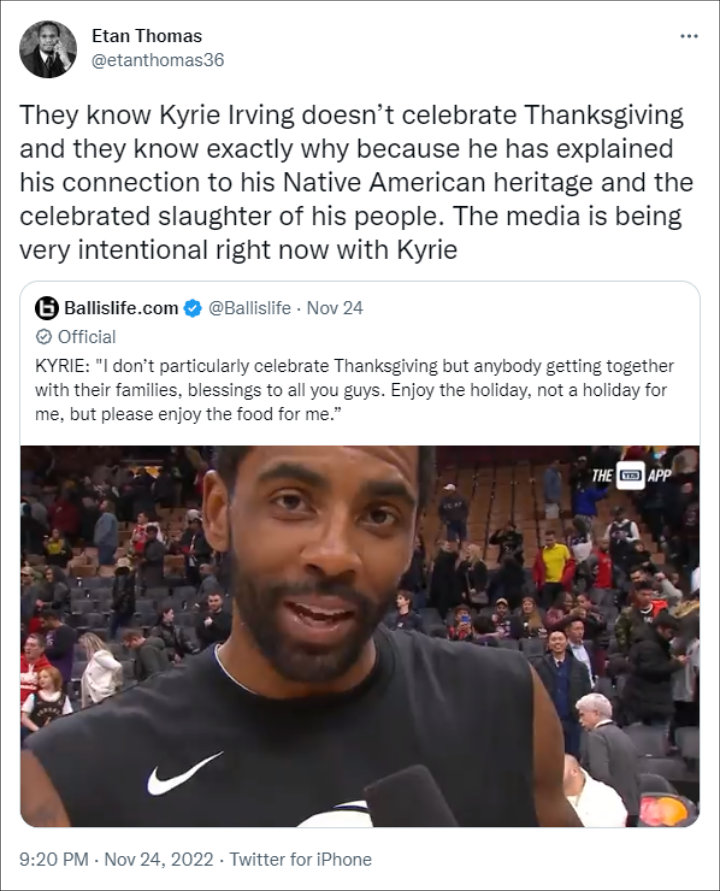 Etan Thomas defended Kyrie Irving after he said that he doesn't celebrate Thanksgiving.
Late last month, Kyrie came under fire after tweeting a link to the "Hebrews to Negroes: Wake Up Black America" documentary, a movie that is said to promote anti-Semitism. He was later suspended by the Brooklyn Nets on November 3.
Later, Kyrie issued a sincere apology over his anti-Semitic controversy. Not stopping there, Kyrie made a hefty $65,000 donation to the family of Shanquella Robinson, a woman who tragically died during a birthday trip with several friends in Cabo, Mexico. Kyrie also gave away $50,000 to Devin Chandler's family. Devin was one of the three football players who died in the University of Virginia shooting.
Kyrie's suspension ended on November 20 as the star point guard suited up for the Brooklyn Nets game against the Memphis Grizzlies. Then, in his first interview since returning to the field, Kyrie opened up about being "harshly" criticized on social media. "I would like to be on a platform where I could openly share how I feel," he said, before adding that he wants to share his opinion "without being harshly criticized or being labeled or dealing with outside perceptions that have nothing to do with me."
You can share this post!
Source: Read Full Article