North West Debuted Her Braces on TikTok and the Video Will Make You Nostalgic
Ready to be transported back to your middle school life vibe? If not, then you should probably close this story now because North West, debuted her braces and the video will trigger some nostalgia for any former members of the Orthodontia Club (which is kind of like the Breakfast Club, but with way more people and instead of being bonded by a Saturday in detention, we're bonded by things like the phantom pain of spacers, quasi-PTSD about retainer-induced drool, and the unique satisfaction of color-coordinating your rubber bands for holidays and seasons).
North, who is currently eight years old, debuted her newly metaled mouth on TikTok (as you do in 2021, obviously), on the account she shares with her mom, Kim Kardashian. The video is just four seconds long, but it thoroughly conveys its intended message, which is that North got her braces and would like the world to know that she's excited about this fact.
Just how "thoroughly" is this message conveyed? Well, the answer is three-fold: First, there's the caption on the video, which reads, simply, "I got my braces." Then, there's the audio track—original audio of North, gushing, "Oh my gosh, I got my braces!" And, finally, there's the clip itself, which features North in a close-up selfie video, beaming for the camera and showing off her beloved orthodontia (her rubber bands are purple and black—a classic color combo choice). Everything about the post says "BRACES" and "EXCITED ABOUT IT."
Anyone who was excited to begin their journey to proper teeth alignment will feel for North, but nothing about the clip is quite as nostalgia-inducing as the end, when North does what everyone does for hours (days? Weeks?) after getting braces and instinctively runs her tongue over them.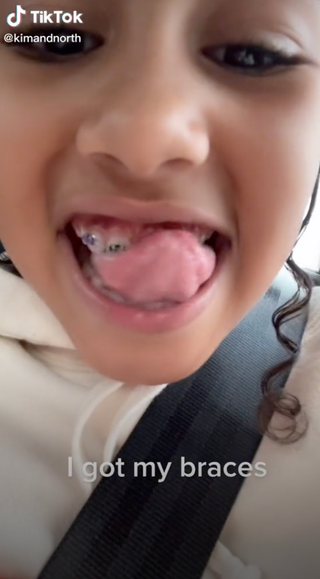 Been there, North.
Source: Read Full Article