The Most Bizarre Things About The Night Stalker
The following article includes mentions of murder, sexual assault, domestic abuse, child abuse, suicide, and drug use.
On St. Patrick's Day 1985, a mysterious man with black hair, black clothes, and a black heart broke into the Los Angeles home of 34-year-old Dayle Okazaki. He cornered the terrified woman, shot her in the forehead, and left her body on her kitchen floor. Okazaki's roommate, Maria Hernandez, pulled into the garage and interrupted the crime. Wrong place, wrong time. The so-called "Night Stalker" — originally dubbed the "The Walk-In Intruder," then "The Valley Intruder" — pointed his gun once again. Hernandez raised her hands to cover her face. The gun went off, but somehow, miraculously, the bullet bounced off her car keys. The gaunt gunman, described as having hollow eyes and rotting teeth, would raise the weapon again. Hernandez stood her ground, and the man lowered his weapon and calmly walked away from the bloody scene. He left behind only a size 12 Avia shoe print, and a baseball hat emblazoned with the logo of the hard rock band, AC/DC.
Those who watched Netflix's 2021 docuseries, "Night Stalker: The Hunt for a Serial Killer," learned that more bodies would pile up into the hot summer of 1985 until police finally identified the Satan-worshipping, heavy metal-loving, Coca-Sola swilling specter, Richard Ramirez, as their killer. Murdering at random — as many as 16 lives — he slew the young, old, men, and women. His crimes evolved from child abductions to the slaughter of strangers in their homes, and his patternless MO terrified the City of Angels during his brief reign of terror. 
These are the most bizarre things about the Night Stalker.
The Night Stalker slept in a cemetery as a child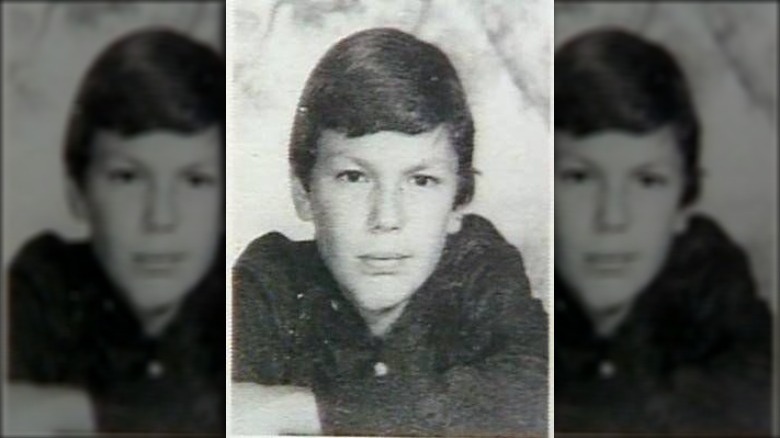 Research suggests that violent psychopaths aren't simply born that way, and according to experts, the childhood of Richard Ramirez seemed like bootcamp for a serial killer.
Ramirez, who grew up with a "physically abusive" father, was diagnosed with epilepsy in grade school and was using marijuana daily by age 12, per The New York Times. The pre-teen had fallen under the sway of a cousin named Miguel Ramirez, who'd come home from serving in the Vietnam War. Miguel "showed Richard photos of Vietnamese women he said he had raped, tortured and killed," per the Times, likely fusing in the pre-pubescent child's mind sex with violence, according to criminologist Dr. Scott Bonn (via A&E). At age 13, Richard, often high from sniffing glue, witnessed Miguel fatally shoot his wife in the face — for which Miguel served seven years behind bars. Richard dropped out of high school and began committing burglaries, now under the tutelage of an older brother, and selling the stolen merchandise to finance a spiraling cocaine addiction. According to family friends, however, Richard was already a withdrawn "loner" by age 9, and was described by neighbors as "sick." He also mysteriously began spending his nights in local cemeteries. 
By the time of his arrest for multiple murders in 1985, his incredulous father blamed journalists for his son's blood-soaked reputation. "The media turned him into a monster," Julian Ramirez said (via The U.S. Sun). "He's really just a poor boy who was raised to believe in God."
If you or anyone you know is struggling with addiction issues, help is available. Visit the Substance Abuse and Mental Health Services Administration website or contact SAMHSA's National Helpline at 1-800-662-HELP (4357).
If you or someone you know is dealing with domestic abuse, you can call the National Domestic Violence Hotline at 1−800−799−7233. You can also find more information, resources, and support at their website.
Richard Ramirez may have had a mystery child accomplice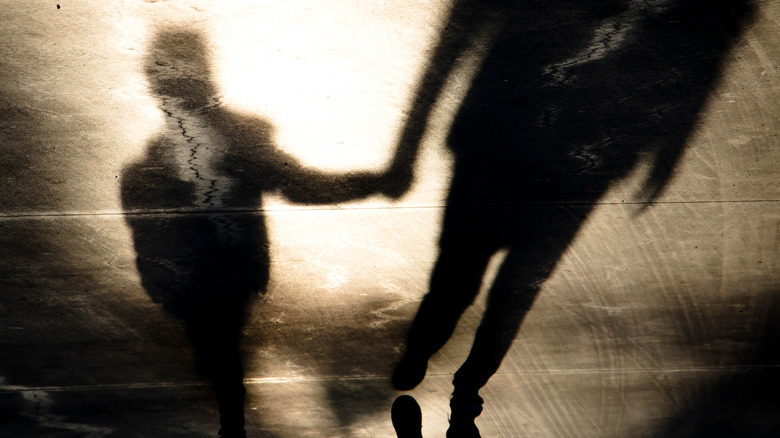 Richard Ramirez's most brutal slaying was on April 10, 1984, when he broke into an apartment building, raped, stabbed, and hung a nine-year-old girl named Mei "Linda" Leung from a water faucet in the basement of her family home. Police called the scene reminiscent of "Christ on a cross," per the New York Post. But one of the most gut-wrenching details of this story is the Night Stalker's supposed child accomplice.
Ramirez was not implicated in this Bay Area murder until 2009, when DNA evidence finally identified him as the culprit, as well as identifying a "second suspect," according to police (via the New York Post). "This case is classified as 'open' due to the second-suspect issue," San Francisco Homicide detective John Miller explained. Semen found in a handkerchief near the victim's body was traced to a convicted felon, but the man was a juvenile at the time of the crime and his name was not released. However, police have since been "downplaying" the possibility that Ramirez had a child sidekick, per SFGATE, as they can't otherwise connect the second suspect to the scene. They admittedly can't rely on the sample, either, as the San Francisco Police Department's crime lab manager declared the trace evidence "never should have been uploaded to the criminal database because incomplete profiles can result in false positives." 
For all investigators know, the mystery child may just be another victim, whose life of crime began with trauma at the hands of Richard Ramirez.
If you or someone you know may be the victim of child abuse, please contact the Childhelp National Child Abuse Hotline at 1-800-4-A-Child (1-800-422-4453) or contact their live chat services.
If you or anyone you know has been a victim of sexual assault, help is available. Visit the Rape, Abuse & Incest National Network website or contact RAINN's National Helpline at 1-800-656-HOPE (4673).
The Night Stalker had no clear MO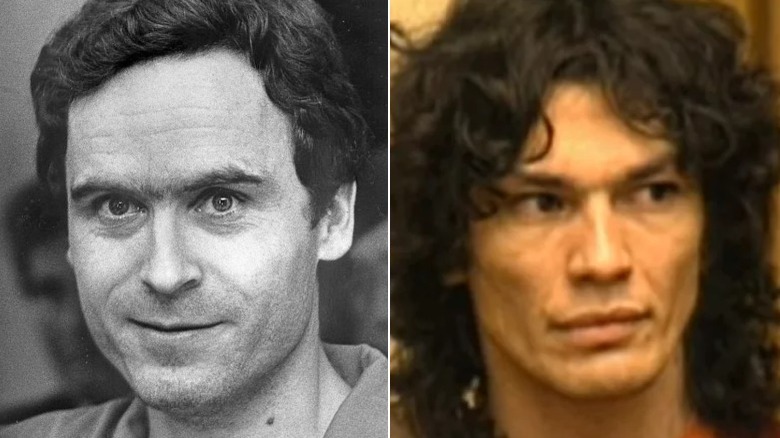 Serial killers are often creatures of habit — or maybe more aptly, creatures of compulsive fetish. Ted Bundy's victims, for example, were all so similar, that if you lined up their photos, they could all be sisters, according to criminologist-author Christopher Berry-Dee (via the Daily Mail). Richard Ramirez, on the other hand, had no such sensibility. He ruthlessly abducted and abused children, but would also sexually assault the elderly women he found sleeping in their homes with equally vicious enthusiasm.
"There is this tendency to think that serial killers are one-size-fits-all and that's absolutely not true," criminologist Dr. Scott Bonn said, per A&E. Ramirez was in it for the thrills, then — a "disorganized killer" — and wouldn't decide what he was going to do until he entered the home of one of his victims, explained Bonn.
What Ramirez wanted, foremost, was to see the distress in his victim's visage, at least according to co-lead investigator on the case, Gil Carrillo, per the Netflix documentary "The Night Stalker: The Hunt for a Serial Killer." Of Maria Hernandez, the Ramirez victim who deflected a bullet with her keys, Detective Carrillo explained that Ramirez could have easily "walked up right behind her in silence and killed her," but added, "He didn't. He intentionally slapped the top of a car so that she could turn around and see him." Carrillo also noted that it is this psychological detail from several crime scenes that first led him to think a serial killer was loose in Los Angeles.
If you or someone you know may be the victim of child abuse, please contact the Childhelp National Child Abuse Hotline at 1-800-4-A-Child (1-800-422-4453) or contact their live chat services.
If you or anyone you know has been a victim of sexual assault, help is available. Visit the Rape, Abuse & Incest National Network website or contact RAINN's National Helpline at 1-800-656-HOPE (4673).
Richard Ramirez attempted three murders in one night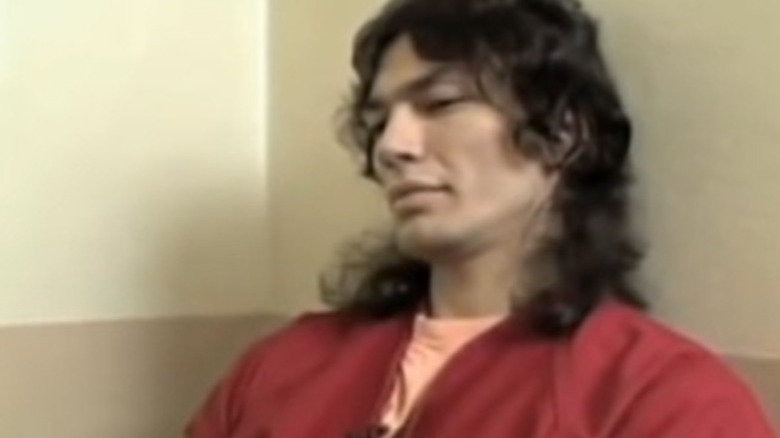 An organized killer like Ted Bundy took at least a half-decade — and possibly much longer — to escalate his violence from cautious abductions in the Pacific Northwest to his finally bloody rampage at the Chi Omega Sorority in Tallahassee, Florida. Richard Ramirez, disorganized and reckless from the jump, needed far less time to become unhinged by what the fictional yet insightful serial killer, "American Psycho's" Patrick Bateman, called his "nightly bloodlust."
On March 17, 1985, Dayle Okazaki and Maria Hernandez were not the only targets of the marauding murderer the Los Angeles Times was then still calling "The Valley Intruder." Ramirez may have calmly walked away from that first scene — possibly frustrated, or just turned off, by the resolve of Hernandez, whom he let live — but his needs apparently had not yet been fulfilled.
Hours later and only two miles from this first attack, Ramirez pulled a woman named Tsai-Lian Yu out of her vehicle and shot her to death. The 30-year-old student was left on the ground alongside her car in the "well lit" neighborhood of Monterey Park, again recounted the Los Angeles Times. Her Chinese relatives stoically called her death a "very painful subject," but otherwise declined detailed comment on "this misfortune that has visited upon our family."
The Night Stalker thought he was protected by Satan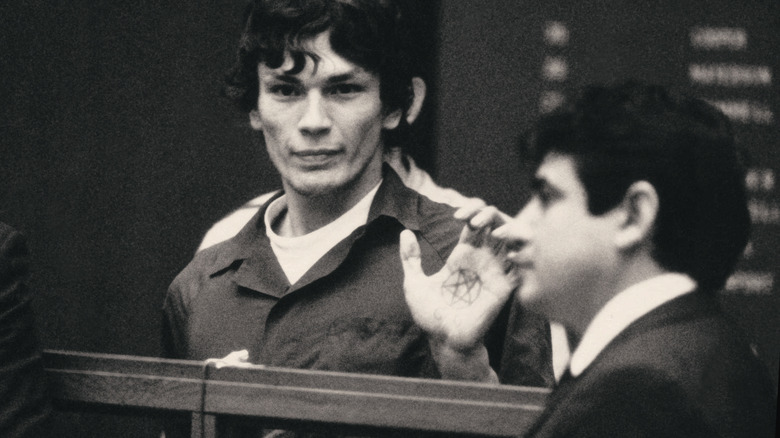 Detectives realized law enforcement had a near-miss apprehending Richard Ramirez before his rampage even got going when they began looking at old abduction reports. One file stood out, explains Netflix's "Night Stalker: The Hunt for a Serial Killer." 
A victim had fought off a man who then fled in a yellow Toyota, but was pulled over by a motorcycle-mounted officer for a traffic violation. The suspect had no ID. He was pulled out of his car, but as the officer went to retrieve his citation book, an APB regarding the attempted abduction, including a description of the car, came over the motorcycle's radio. The man defiantly drew a pentagram on the hood of the vehicle and fled. The car was taken for processing, but then oddly abandoned by LAPD in the hot sun for weeks, burning away all fingerprint evidence.
The pentagram, though, connected the case to other Ramirez crime scenes. Recall the hat left at the first scene: A classmate of Ramirez later told The New York Times that the killer was obsessed with AC/DC's "Highway to Hell." At a preliminary hearing after his arrest, Ramirez flashed a pentagram drawn on his hand, exclaiming, "Hail Satan!" At trial, a victim testified that he'd made her "swear upon Satan." In a video interview, Ramirez would call Satanism "undefiled wisdom instead of hypocritical self-deceit," adding, "It is power without charity. Satan admits to being evil. … We are all evil in some form or another."
How Richard Ramirez's rotten teeth played a role in his arrest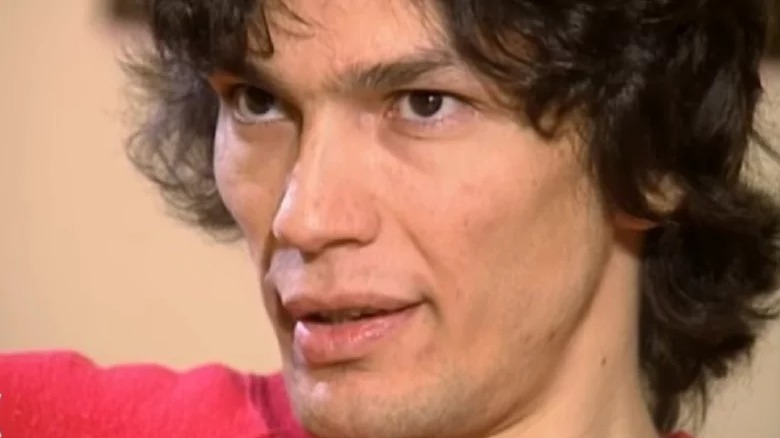 Richard Ramirez was like a primordial archetype of a boogeyman. His tall, slender figure, piercingly sharp jaw, impossibly high cheekbones, and black eyes must have cut a striking figure for the homeowners he ambushed. You could almost picture his chiseled features striking a severe pose astride a high-fashion runway — if it weren't for that smile as seemingly rotten as his soul.
The Night Stalker's famously foul teeth were a function of his utterly unchecked ID. After killing a Bay Area couple, Ramirez cleaned out the family's fridge, threw up on their floor, then pleasured himself among the mess. Legendary Los Angeles Homicide Detective Frank Salerno noted in Netflix's Ramirez docuseries (via The Wrap), "The interesting thing is how comfortable he got after killing somebody — he would take the time to have a snack. That's a pretty sick individual."
From a young age, Ramirez apparently lacked any semblance of self-control — common in highly compulsive psychopaths. "All he would ever eat were chocolates and Pepsi," recalled childhood friend and classmate Ray Garcia (via UPI). "He'd never brush his teeth. I used to tell him to close his mouth or brush his teeth." By the time of his trial in 1989, Ramirez was missing several teeth — a distinctive feature that aided in a police sketch which helped to catch him, per A&E. Ramirez was, however, able to have his smile fixed while behind bars, thanks to the taxpayers in California he terrified.
The Night Stalker eluded police at his dentist's office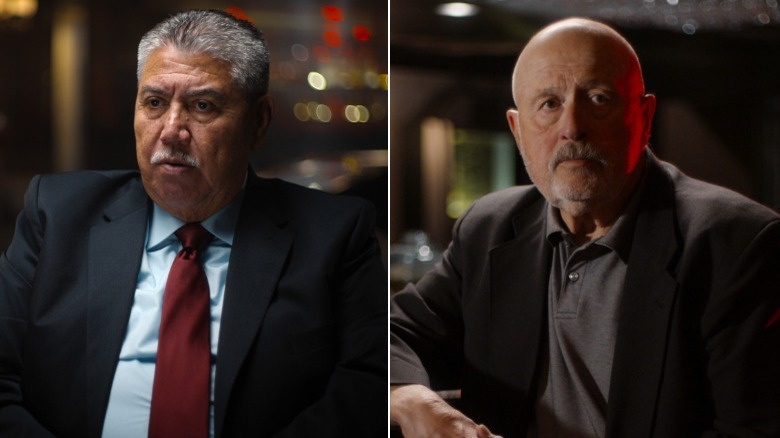 Given the fact Richard Ramirez couldn't be bothered to stalk a toothbrush once in a while, maybe it's no surprise that police nearly nabbed him while the killer was trying to resolve the pain from all that dental damage.
As previously mentioned, Ramirez was nearly captured during a routine traffic stop, but scribbled a pentagram on the hood of his stolen vehicle before escaping on foot. But the killer also left another clue behind: a business card from a Chinatown dental office. Homicide detectives interviewed the dentist and learned that their suspect had an impacted tooth. Given this painful condition, authorities figured they'd simply pounce when their suspect showed up for his next appointment.
Officers were placed in the waiting room, but were quickly pulled for budgetary reasons — and the very day police cleared out was when Ramirez showed up, according to Netflix's "Night Stalker" doc (via the Daily Mail), raising the possibility that the elusive killer was somehow able to spot two plain-clothes cops sitting in a dental office all day pretending to read "Highlights For Children." Police didn't abandon the lead entirely, though. They set up an electronic alarm for office employees to trigger when the mystery stalker came in. It's unclear why this contraption was put in place, given the invention of the telephone. But as Detectives Gil Carrillo and Frank Salerno (pictured above) admitted to Netflix, their system failed to fire, and Ramirez evaded capture once again.
Richard Ramirez's roommate blamed drugs for his murder spree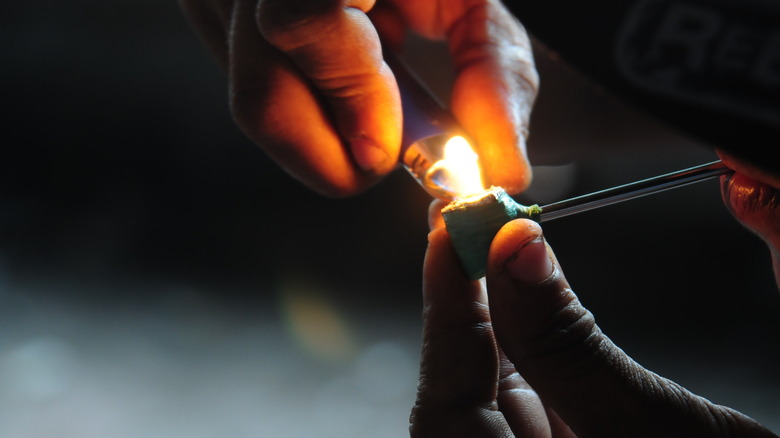 Given how Richard Ramirez was already being described as withdrawn by the age of nine, it's no surprise that there's not exactly a flood of friends who've come forward since his capture with the usual pablum about how quiet he was and that they never suspected.
Ramirez did, though, have at least one adult acquaintance. A few years before his murder spree began, the future "Valley Intruder" shared a room with a man in his early twenties named Earl Gregg Jr. If you think you've had bad roommates, Gregg told the Lompoc Record (via the Orlando Sentinel), "The drugs and maybe the satanic cult made him snap." Gregg said that he noticed a huge change in Ramirez around 1983, when the future serial killer moved to Los Angeles and started injecting cocaine. He told the Los Angles Times that the heavy drug use also made Ramirez "susceptible to people talking about Satanism. … He was a follower, not a leader." 
However, this befuddled former flatmate also strangely said that Ramirez "seemed like a good person," but admitted, "Even though we were friends I still knew I couldn't trust him. … There's something about him. … If I had a thousand dollars sitting there, I wouldn't leave the guy alone with it." Gregg also revealed that Ramirez was far too shy to approach women in everyday life and recalled his odd fixation with guns and knives.
If you or anyone you know is struggling with addiction issues, help is available. Visit the Substance Abuse and Mental Health Services Administration website or contact SAMHSA's National Helpline at 1-800-662-HELP (4357).
A 13-year-old boy helped to catch the Night Stalker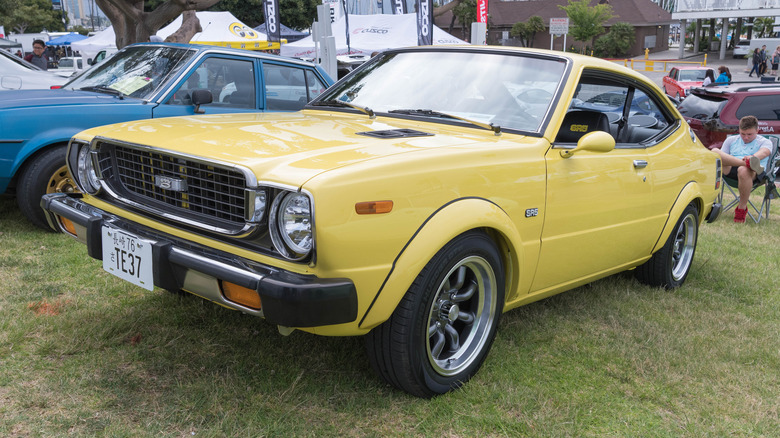 About five months after the "Valley Intruder" slayings started, Richard Ramirez was skulking outside the home of 13-year-old James Romero. The boy was restless in the hot August heat and went outside to retrieve a pillow locked inside a truck parked in front of his home. He got distracted and began fiddling with a bike in his garage, recounts Los Angeles Magazine. That's when heard a rustling in the dark. 
"All of a sudden, I hear footsteps in the gravel. Crunch, crunch, crunch, crunch. I could hear the footsteps literally stop — right where I'm sitting," Romero told CBS News many years later. That's when the boy came face to face with this monster of the night. "He looked right at me," Romero recalled, noting that he was able to slip inside and wake up his parents, who promptly called 911. Ramirez bolted, but not before the fearless teenager was able to get a look at the killer's car and even grab a partial license plate.
Police came running and were able to connect the sighting with the larger Night Stalker case. Investigators would return to the Romero house with photos of cars until James was able to positively identify the vehicle, a 1976 Toyota Corolla. The killer had also finally left his prints behind inside. Richard Ramirez was identified, and soon the Valley Intruder's face would be plastered all over Los Angeles — the first step to bringing him to justice.
The Night Stalker was nearly beaten to death by a crowd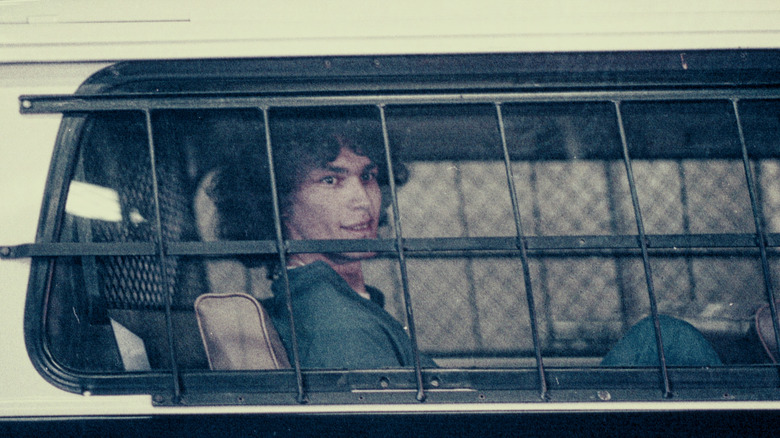 The frightening thing for denizens of Los Angeles in 1985 was the indiscriminate nature of the Night Stalker and his horrible crimes. It's fitting, then, that it was an angry mob of Angelinos who actually captured Richard Ramirez — and when they did, they took their pound of flesh.
By September 1, 1985, photos of Ramirez were plastered everywhere. A store owner at an L.A. liquor store spotted the wanted killer picking up a newspaper, looking at his own photo, and then taking off. Shoppers gave chase. That's when Ramirez tried pulling a 29-year-old Angie De La Torre from her vehicle to make his getaway. Her husband, Manual, came to the rescue and pounded Ramirez with a fence post. Ramirez fled on foot, and the Night Stalker became the hunted.
What followed was a surreal hour, as America's most wanted killer was hotly pursued by a growing crowd of Los Angeles residents. "It seemed like alert citizens were reporting the suspect every step of the way," police commander William Booth told the El Paso Times. As Ramirez desperately fled through side streets and backyards, one man even beat him with barbecue tools. More people emerged from their homes until Ramirez was finally cornered, and the mob began to tear into him. In a plea to save his own skin, Ramirez began shouting in Spanish, "It's me! It's me! It's me! I'm lucky the cops caught me," and police stepped in to make the arrest.
A female juror in the Night Stalker trial was shot to death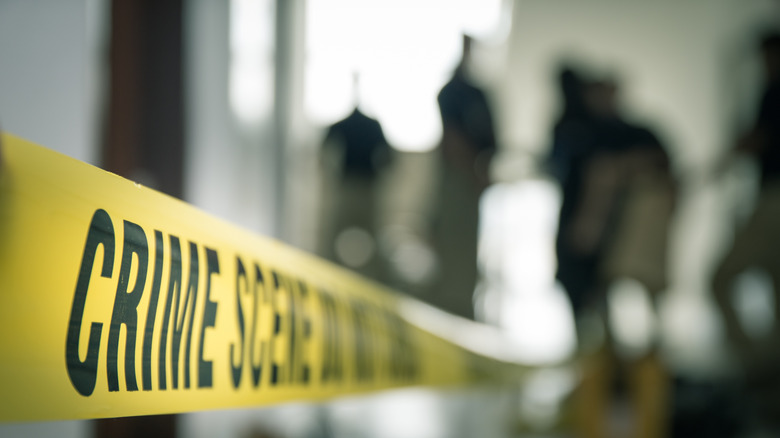 In David Fincher's 1995 noir serial killer masterpiece, "Se7en," the wisened Detective William Somerset (Morgan Freeman) warns his younger partner (Brad Pitt) that nabbing their unidentified deadly-sin-inspired slayer might not be the catharsis they seek: "If we catch John Doe and he turns out to be the devil, I mean if he's Satan himself, that might live up to our expectations, but he's not the devil. He's just a man."
Richard Ramirez, once caught and despite his Satanic antics, was also just a man. But in August 1989, when a 30-year-old juror on his trial named Phyllis Singletary was found shot to death in her home — reminiscent of so many Night Stalker victims — the traumatized public reasonably wondered if the man they'd bottled up had somehow orchestrated this killing.
The disorganized Ramirez was no mastermind, though. Singletary, it turns out, was killed by her live-in boyfriend, 51-year-old James Cecil Melton, after a domestic dispute, according to the AP. Melton would then take his own life. The judge sent the jury home for the day to "recover from the shock," reports the AP, but a replacement was named and deliberations would continue. 
Perhaps surprisingly, Ramirez wasn't interested in using this tragedy to delay justice. "Mr. Ramirez doesn't want a mistrial. He wants to go forward,″ defense attorney Ray Clark said. ″He's like the rest of us. Nobody's happy about this. It's a very sad thing."
If you or someone you know is dealing with domestic abuse, you can call the National Domestic Violence Hotline at 1−800−799−7233. You can also find more information, resources, and support at their website.
If you or anyone you know is having suicidal thoughts, please call the National Suicide Prevention Lifeline​ at​ 1-800-273-TALK (8255)​.

Another female juror fell in love with Richard Ramirez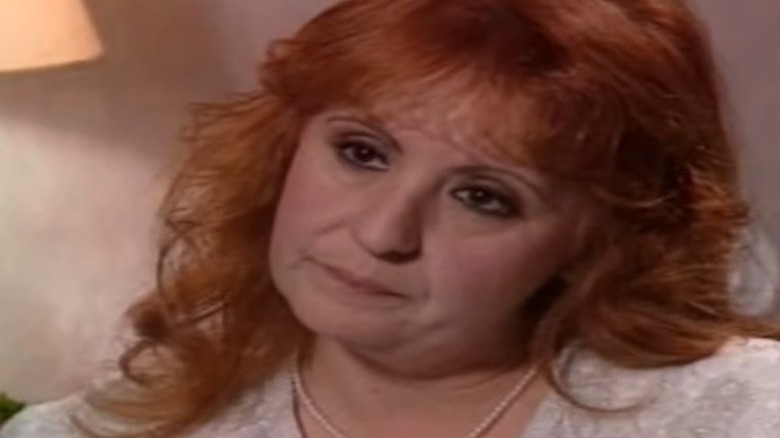 There's been heated public debate about the attractiveness of another famous murderer, Ted Bundy. Netflix even weighed in on Twitter by calling Bundy's hotness "alleged," despite their earlier tweet dubbing him "charming" and "good looking." What's not debatable is that female groupies flocked to Bundy's murder trial. Bundy even married one of these women while behind bars.
Richard Ramirez received a similar gush of female fawning. In another sick twist, it was actually a juror who voted to convict Ramirez who fell in love with this depraved killer. Post-trial, Cynthia Haden admitted to Geraldo Rivera that she cared for Ramirez, calling his murders merely his "job" (via Daily Star) and adding, "That's just one side of him. Everyone has a dreadful side." Haden then said it was love at first sight and that she kept photos of Ramirez on her nightstand.
Haden also sent Ramirez a cupcake on Valentine's Day with the words, "I love you," and brought her parents to meet him on death row. According to the definitive book, Philip Carlo's "The Night Stalker," during one of these meetings, "Richard told Cindy he loved her. She was surprised and taken aback. … There was a long pause … 'Yes, Richard, I do love you.'" In 1996, Ramirez would actually marry another fan, a former magazine editor named Doreen Lioy (pictured above). "They don't know him the way I do," she told KRON 4. However, the couple split in 2009, when DNA confirmed Ramirez had raped and murdered 9-year-old Mei Leung.
If you or someone you know may be the victim of child abuse, please contact the Childhelp National Child Abuse Hotline at 1-800-4-A-Child (1-800-422-4453) or contact their live chat services.
If you or anyone you know has been a victim of sexual assault, help is available. Visit the Rape, Abuse & Incest National Network website or contact RAINN's National Helpline at 1-800-656-HOPE (4673).
Richard Ramirez promised to go to Disneyland post-conviction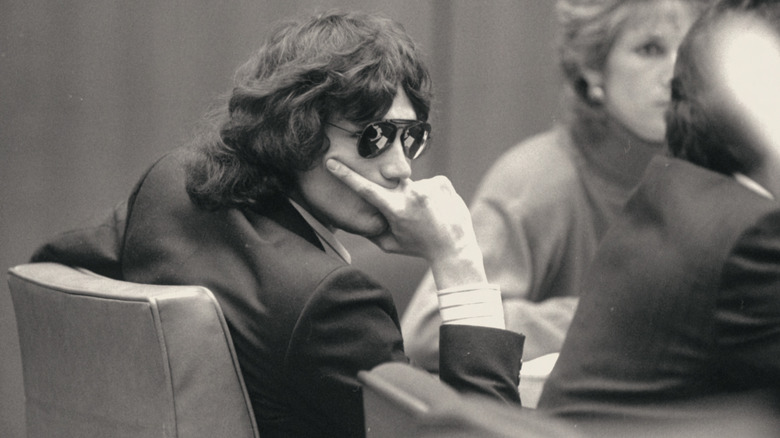 In 1989, Richard Ramirez was convicted of 13 murders — though the true number could be higher. He was also found guilty of 30 felonies, ranging from rape to his numerous assaults. The jury recommended the death penalty after five days of deliberations, and only took so long because of the sheer volume of counts in the case, according to the AP.
In yet another odd twist, the juror who would later confess her love to Ramirez, Cynthia Haden, expressed shock and horror to the media. "I have nightmares all the time about the crimes," Haden explained. "I'll get over it, but I'll never be the same. I'll never look at people the same."
Ramirez was undaunted by his conviction. The man who had brazenly hailed Satan in front of the very people who could and would send him to death row remarked coldly as he learned he was gas-chamber bound, "Big deal, death always went with the territory, see you in Disneyland." This was apparently a callback to his lawyer's earlier plea to the jury that a life sentence would be sufficient in the case, with attorney Ray Clark telling the court, "He will never see Disneyland again." Ramirez's attorney turned out to be correct.
The Night Stalker escaped the death penalty, sort of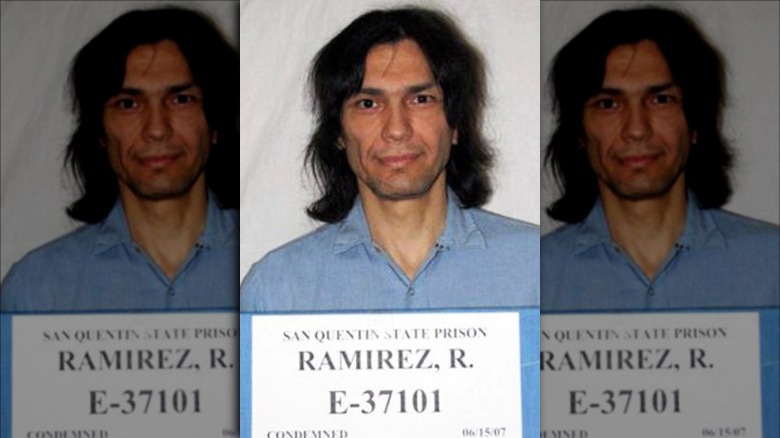 According to some experts, there is no cure for psychopathy or pedophilia, so society's only hope with predators like Richard Ramirez is to catch them and keep them under lock and key. So it's no surprise California's notorious stalker of the night didn't turn over a new leaf while awaiting ultimate justice on death row. "He wasn't necessarily a model inmate," a San Quentin prison official told KRON 4 News in perhaps a wild understatement. Ramirez reportedly "exposed himself" to guards on "many occasions" and had to be isolated from other inmates, with whom he had "physical confrontations."
Ramirez languished on death row from his sentencing in 1989, until he became extremely ill in 2013 and was transferred to a Los Angeles hospital. "He was the color green," a source who'd observed Ramirez claimed the New York Post. "He looked like a green highlighter pen."
But the convicted murderer was ultimately felled by a far deadlier killer: cancer. Ramirez was diagnosed with B-Cell Lymphoma, according to USA Today. He had a slew of other "significant conditions," including hepatitis C (likely contracted from intravenous drug use). Legal challenges had delayed his execution — since 1978, of the hundreds of prisoners put on California's death row, only 13 have actually been executed, according to NPR — and it looks as though nature may have stepped in. Ramirez died, quite horribly, from a combination of liver failure and cancer complications on June 7, 2013. He was only 53 years old.
Source: Read Full Article