The Truth About Barbra Streisand And Liam Neeson's Relationship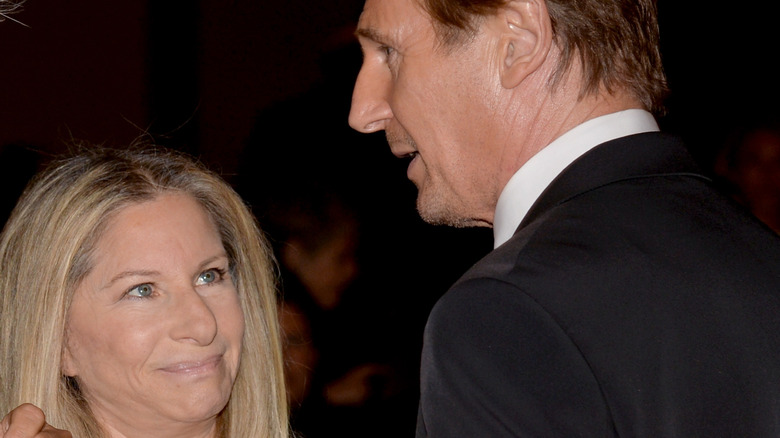 It was a long-ago romance that lasted barely a year and each went on to long and happy marriages after the romance ended. The year was 1991 and both had just broken off relationships with other stars. Barbra Streisand had just had a high-profile relationship with "Miami Vice" star Don Johnson and even recorded a duet with him called "Till I Loved You". Liam Neeson wasn't even an Oscar winner for "Schindler's List" yet and had just been dating superstar Julia Roberts. The two newly single celebrities met and dated briefly before realizing things were never meant to be.
Streisand and Neeson had long histories of dating fellow celebrities before they met one another. Before Roberts, Neeson was in a long-term relationship with Helen Mirren (via Who's Dated Who). Streisand's only other marriage at the time was to Elliot Gould, whom she met when she was just 19 starring in the Broadway show "I Can Get It For You Wholesale." She had also dated her "Funny Girl" co-star Omar Sharif, as well as musician and "A Star Is Born" co-star Kris Kristofferson (via Ranker).
A brief romance for Barbra and Liam sparked a long friendship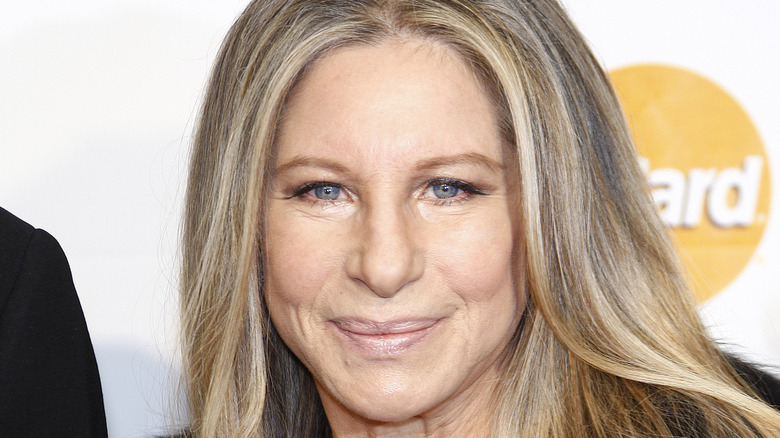 Barbra Streisand and Liam Neeson only dated for about nine months, but according to a publication titled Eighties Kids, the pair remained friends in the ensuing years. 
Streisand was 10 years Neeson's senior as she was born on April 24, 1942 (via Biography) and he was born on June 7, 1952 (via Biography). Their backgrounds were also quite different as Streisand hails from Brooklyn, NY, and Neeson was born in Ireland. Still, that didn't stop them from having a brief early '90s romance.
While their relationship was not fraught with drama like Hollywood romances often are, it was one of the last romances each one had before finding that true love and long-term partnership they'd been searching for. After things ended with Streisand, Neeson briefly dated Brooke Shields before marrying Natasha Richardson in 1994 (via Who's Dated Who). Streisand dated several more men before finally settling down in 1996 when she met James Brolin (via Ranker).
Barbra and Liam both find love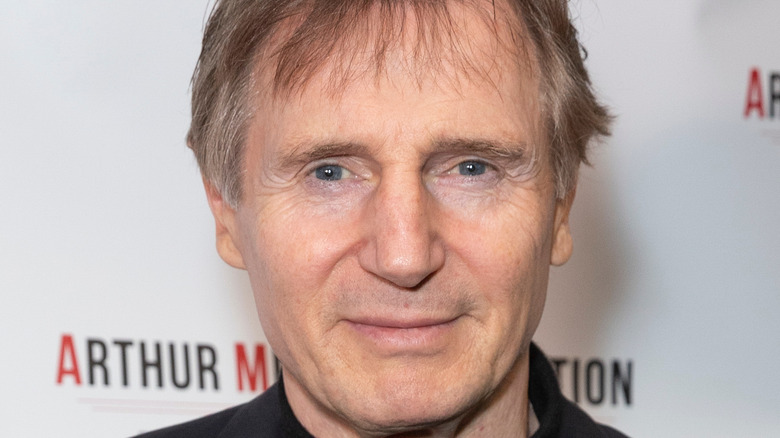 Liam Neeson and Natasha Richardson were married from 1994 until the actress' unexpected and tragic death in 2009 from a skiing accident. Neeson was left to raise the couple's two children, Micheal and Daniel. In 2014, Neeson opened up about the day he learned his wife was gone to Anderson Cooper on "60 Minutes."
"I was told she was brain dead. And seeing this X-ray it was, like, 'Wow.' You know. But obviously, she was on life support and stuff. And I went into her and told her I loved her. Said, "Sweetie, you're not coming back from this. You've banged your head. It's – I don't know if you can hear me, but that's – this is what's gone down. And we're bringing ya back to New York. All your family and friends will come." And that was more or less it. You know?"
As for Streisand, she married James Brolin in 1998 and the pair are still going strong as of this writing, with Brolin telling "The Talk" that being together through the coronavirus pandemic has helped their relationship rather than harm it (via People). "We've literally fallen in love over this period of time, just being stuck together every day and making it work."
Source: Read Full Article