5 Years After Her Death, Zsa Zsa Gabor Was Finally Laid To Rest. Here's What We Know.
The world lost an icon when actor and socialite Zsa Zsa Gabor died. Gabor is most well-known for her movies, such as "A Nightmare on Elm Street" and "Queen of Outer Space," per her IMDb profile. The actor died in 2016 at 99 years old, per USA Today, following a long illness. "She did not suffer fools well," her publicist Edward Lozzi said. "Zsa Zsa Gabor was one tough cookie. Her beautiful lips and mouth would also be her worst enemy when and if she turned on the verbal machine gun. Most of her problems originated from that beautiful mouth."
While Gabor was a great actor, she was also known for her several marriages … nine to be exact. BuzzFeed News highlighted each one of Gabor's marriages and husbands. The first one came in 1937 to Burhan Belge, who was a Turkish diplomat. It only lasted until 1941, and then eight other marriages came through the span of her life. One of the most high-profile marriages was her second, and it was to hotel tycoon Conrad Hilton. Gabor walked down the aisle for the last time in 1986 to Frédéric Prinz von Anhalt. That proved to be her last and longest marriage, and she was still married to von Anghalt at the time of her death, which means that it lasted for 30 years!
Keep scrolling to find out how von Anhalt paid tribute to his wife, five years after her death and why it took so long.
Zsa Zsa Gabor's celebration of life included champagne and caviar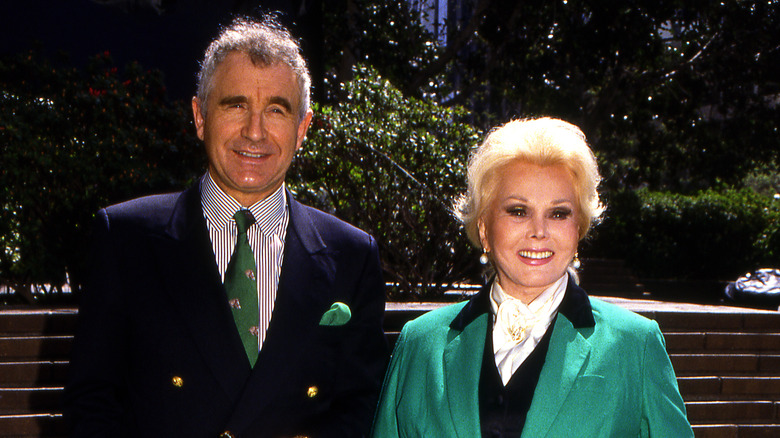 Five years after her death, Zsa Zsa Gabor is finally being laid to rest. While the COVID-19 pandemic caused many funerals to have delays or postponements, that also seems to be the case of Gabor's burial, which took place five years after her death. According to The New York Post, Gabor's ashes arrived at their final resting place in Hungary in mid-July, just after their borders opened following the COVID-19 pandemic. Gabor's ninth husband, Frédéric Prinz von Anhalt, told the outlet that she had one last flight, which included both champagne and caviar because, well, duh.
"She was first class, she had her own seat and she had her passport, everything there. It was her last trip, she always used to go first class, she had her Champagne, caviar," von Anhalt said of the trip to her final resting place. The actor was buried at the capital city cemetery in a celebration of life, rather than a funeral von Anhalt noted. Her husband also shared that Gabor did a lot for the people of Hungary and it wasn't to make headlines, but rather because she genuinely wanted to take care of the people in her birthplace.
But why did Gabor ultimately choose Hungary as the spot where she hoped to be buried, even though she later moved to Los Angeles? "She definitely wanted to be in Budapest because her father is buried here, too," von Anhalt shared, noting that she had requested to be buried in Hungary in her will. May she rest in peace.
Source: Read Full Article