Angelina Jolie's Daughter Shiloh Ditches Boyish Look for Feminine Style at 'Eternals' Premiere
The MCU star's youngest daughter Vivienne also looks grown up in a white dress as the actress takes five of her six children to the special screening of her new movie.
AceShowbiz –Angelina Jolie just turned "Eternals" premiere into a family affair. Attending the special screening of her first Marvel movie in Los Angeles on Monday night, October 18, the actress brought along five of her six kids.
While they all looked stunning in their color-coordinated outfits, Shiloh Jolie-Pitt stood out as she ditched her signature boyish look for a feminine style. The 15-year-old looked chic in a long beige sleeveless dress that appeared to be an altered version of her mother's old dress.
While Shiloh did some recycle with her dress, her sister Zahara also gained attention as she appeared to reuse Angelina's other old dress. The 16-year-old wore the same silver Elie Saab gown that the actress wore to the Oscars back in 2014.
Meanwhile, Angelina herself rocked a strapless brown gown and accessorized with a lot of jewelry, including a gold chin cuff and some bracelets. Her long brunette hair was let loose and styled with some big curls in the end.
The 46-year-old director's youngest daughter Vivienne looked grown up a lot in an off-white dress that had sleeves that reached her elbows along with white sneakers. Her twin Knox and eldest brother Maddox, meanwhile, were matching in black suits. Noticeably missing from pack at the red carpet event was Angelina's second child, Pax.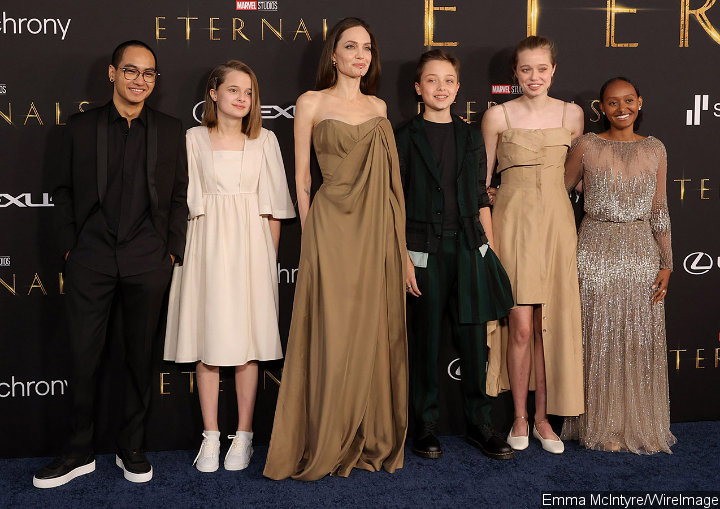 Angelina Jolie and her five children attended 'Eternals' L.A. premiere.
In "Eternals", the Oscar-winning actress plays Thena, an elite warrior Eternal who can form any weapon out of cosmic energy, and develops a close bond with Gilgamesh over the centuries. Of what drew her to take the role, she told EW in an interview published back in August, "I just wanted to be a part of this family. I have a slightly unconventional family myself, so it felt familiar."
The movie, directed by Chloe Zhao, also stars Gemma Chan, Richard Madden, Kumail Nanjiani, Lia McHugh, Brian Tyree Henry, Lauren Ridloff, Barry Keoghan, Don Lee a.k.a. Ma Dong-Seok, Kit Harington and Salma Hayek as the Eternals. It is due out in U.S. theaters on November 5.
Source: Read Full Article