The Transformation Of Leighton Meester From Childhood To 35 Years Old
Leighton Meester's early life was ways away from one normally associated with the success of Hollywood. After being born to a mother who was spending time in federal prison, Meester spent her formative years in Florida acting in a local playhouse and going to the beach, unaware that she was destined for the spotlight. She started working as a model when she was only 10, so hard work just became part of her nature. "If I see a 10-year-old now, I'm like, 'Baby!' But I guess I was ready in a weird way," she told Rolling Stone.
Meester was a successful child model until she became a household name as an actor after snagging the part of Blair Waldorf in the hit CW series "Gossip Girl." Her portrayal of the mean girl socialite earned her critical acclaim, with many considering her the breakout star of the series, as Digital Spy pointed out. For her performance as Blair Waldorf, Meester won two Teen Choice Awards and a series of nominations. In addition to modeling and acting, Meester has also made a name for herself in the music industry as a singer and songwriter, proving her talents know no boundaries.
Given that Meester has been working since she was a child, she has been in the spotlight for most of her life. Now in her mid-30s, Meester still has a lot to offer, but she has given us quite a bit already. Keep scrolling to check out her transformation through the years. 
Leighton Meester was born in a halfway house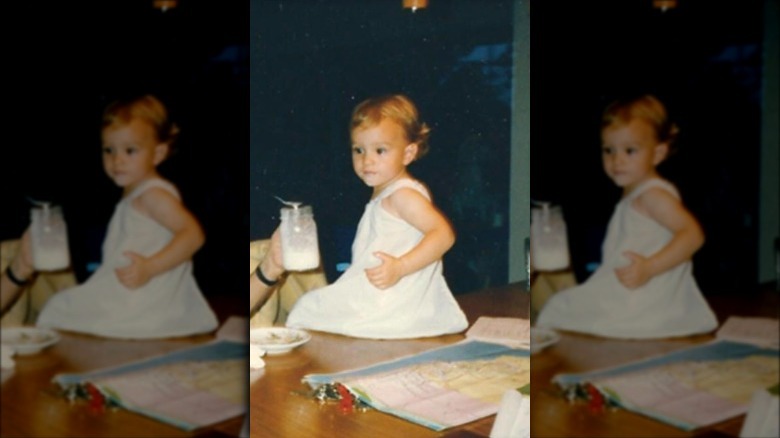 Leighton Meester had a happy childhood, albeit rather unconventional. "My family has a crazy history. Probably the craziest I've heard of," she told Marie Claire in 2012. And she was not exaggerating one bit. Her mother, Constance, was pregnant with Meester when she, along with other family members, were arrested in Texas for attempting to smuggle 1,200 pounds of marijuana from Jamaica, according to Rolling Stone. She served part of her 10-year sentence in federal prison pregnant, but was transferred to a halfway house ahead of her due date, per the publication. Constance gave birth to Meester at a hospital and remained at the halfway house with her baby for three months. 
After those early months, Meester went to live with her grandmother until Constance was released from prison after serving a total of 16 months, according to Rolling Stone. Meester's father, Doug, also served time in federal prison for drug-related offenses, according to Us Magazine. But Leighton does not hold her parents' rap sheet against them. "It made me realize that you can't judge anyone — especially your parents — for what they've done in their past, because people change," she told People in 2009.
Despite the early struggles, Meester had a happy childhood in Marco Island, Florida, according to Marie Claire. "I look back now and I see it in a nice light," shed said. "It wasn't uncomplicated. But I played outside. I went to the beach. There were happy, fun times."
Leighton Meester started modeling professionally when she was 10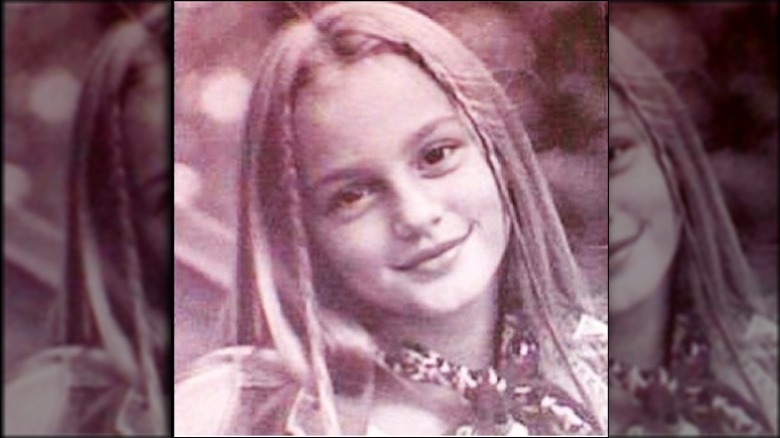 As a child, Leighton Meester was part of a playhouse on Marco Island, Florida, sprucing up her interest in acting, according to Rolling Stone. Over Christmas break when she was 10, Meester's mother took her to a modeling convention in Atlanta, where an agent spotted her and arranged for some work in New York City, she told Marie Claire. She subsequently moved to the city with her mother and two brothers, as her parents had already separated by then, per Rolling Stone. "We moved to a place called Park Terrace. We imagined it was going to be fancy — a park, and a terrace, you know? But it was really scary. There were dead mice. You'd open a closet and you'd be afraid there was a body in there," she told Rolling Stone.
Meester was soon shooting commercials for major labels and stores, including Bloomingdale's, Stern's, the Limited Too, according to Marie Claire. "I worked a lot, even though I was just a kid. It seemed normal to me," she said. Meester attended Catholic school briefly before enrolling in the Professional Children's School, an institution that offers academic education to children in the show biz, per Rolling Stone. Meester also landed a small role in an episode of "Law & Order," released in February 1999, when she was 12. When she was 14 and gearing up for high school, Meester and her family moved to Los Angeles just in time for pilot season.
Leighton Meester shot to stardom as Blair Waldorf in 'Gossip Girl'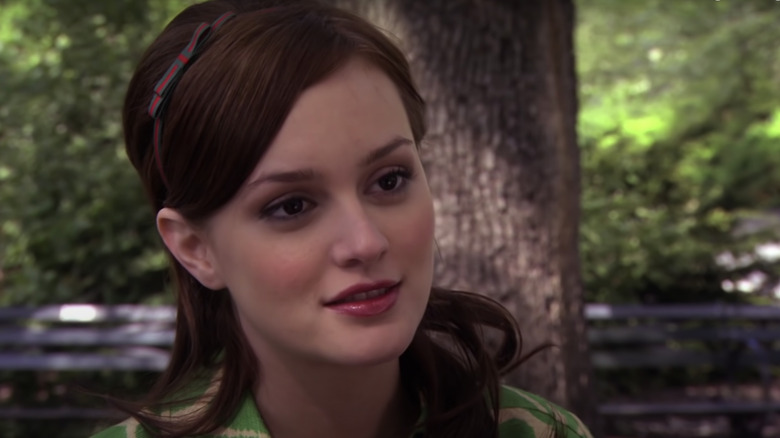 Leighton Meester lived out her teenage years balancing her days at Hollywood High and, later, Beverly Hills High and work. She landed parts in several TV shows, including "Boston Public," "7th Heaven," "24," "House" and "Entourage," in addition to a recurring role as Nicki Porter in The WB's short-lived adaptation of "Tarzan." Her big break, however, came in 2007, when she starred in "Gossip Girl" as the queen bee of Constance Billard, Blair Waldorf. In early 2006, she was called to read the lines for the part of Serena van der Woodsen, but she quickly told producers she could do Blair better, according to Vanity Fair. As we all know, Blake Lively ended up bringing Serena to life. 
Meester is a natural blonde, which was a problem since Blair had to be brunette. "She came in and she was really funny, and really smart and played vulnerable. But there was one problem: she was blonde. And Blake was blonde, obviously; Serena had to be blonde. So, [Leighton] went to the sink and dyed her hair. She wanted it," creator Josh Schwartz told Vanity Fair. Still, producers weren't exactly onboard. There was some resistance, but Meester knew she was the right actor for the role, she told Rolling Stone. "Sometimes, no matter how much energy you put in to get a part, you're not going to get it," she told the publication. "But this was mine. It felt like mine."
Leighton Meester built a music career on the side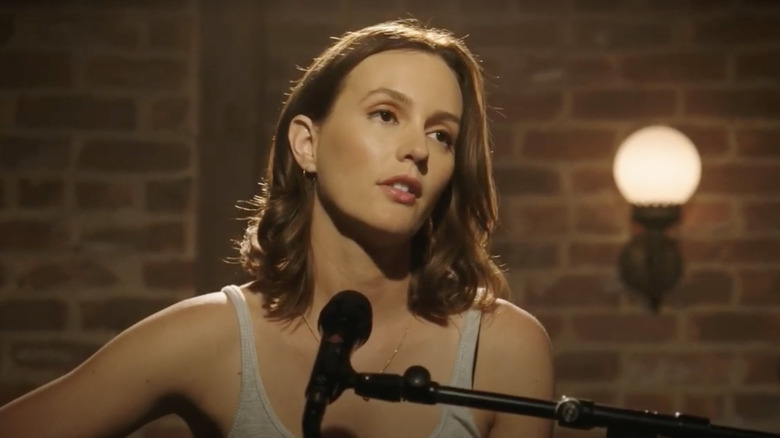 Leighton Meester went on to steal the show. As Rolling Stone noted, "Gossip Girl" initially focused on Blake Lively's Serena van der Woodsen, but Meester's Blair Waldorf emerged as the more complex character and attention was shifted onto her as she became "the show's sharp-edged soul." After six seasons, the hit CW series concluded in 2012. During her time on the show, Meester also began to develop a career in music. In April 2009, she signed a contract with Universal Republic, Billboard reported at the time. The previous year, Meester had impressed audiences with her vocal capabilities when she performed a duet with none other than Tony Bennett in an episode of HBO's "Entourage." 
She was featured on Cobra Starfish's "Good Girls Go Bad," which reached No. 7 on Billboard's Hot 100 in 2009. Later that year, Meester released her first single, "Somebody to Love," featuring Robin Thicke. While she had planned to release an album in late 2010, as Glamour noted, Meester's debut album did not come until 2014, when she released "Heartstrings" independently through her own Hotly Wanting label, according to Billboard.
Meester's music career did not stop her from acting, though. She continued to star in both TV and films and once again showed off her vocals in the 2010 movie "Country Strong," opposite Gwyneth Paltrow, Tim McGraw, and Garrett Hedlund. The Boston Globe ultimately described Meester as "the best thing in the movie." For the role, she won a Hollywood Film Award.
Leighton Meester balances her careers with her growing family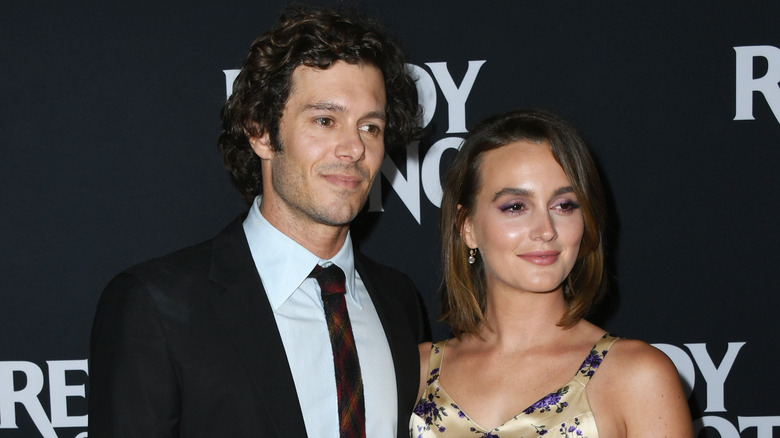 While Leighton Meester has not achieved the same level of recognition from her "Gossip Girl" days, she has found continued success. Her role in the 2011 thriller "The Roommate" earned her another Teen Choice Award nomination, in addition to a nomination for an MTV Movie Award for Best Villain. In 2014, Meester branched out again when she made her Broadway debut in the adaptation of "Of Mice and Men," sharing the stage with James Franco and Chris O'Dowd. Meester impressed critics, showing the depth of her skills. "There's no way to overpraise the nine men and one woman (Leighton Meester, holding her own nicely, thank you, as the femme fatale) in this ensemble who bring Steinbeck's characters to life," Variety's Marilyn Stasio wrote.
Amid it all, Meester also managed to start a family with Adam Brody, also known as Seth Cohen from "The O.C." The two met in 2010 while working in the rom-com "The Oranges," per People. Meester and Brody, who tied the knot in 2014, are known for keeping their relationship out of the limelight, as People noted, a caution that they continue to exercise after expanding their little family. In August 2015, they welcomed their daughter Arlo, followed by a son in September 2020. Though she loves being a mother, she also loves her work, she told Refinery29. "I am very proud of that area of my life. But I'm also really proud of… the work I do."
Source: Read Full Article