Trump Yucks It Up With Putin; 'Fake News Is a Great Term, Isn't It?'
The president also playfully requested Russia doesn't interfere with the 2020 election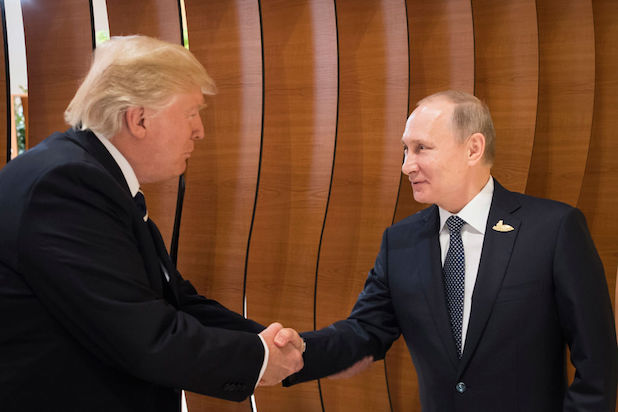 How do you say "bad look" in Russian?
President Trump joked with Russian President Vladimir Putin during a sit down meeting at the G20 Summit in Japan on Friday, saying they should "get rid of" the assembled reporters in the room.
"Fake news is a great term, isn't it?" Trump asked a smiling Putin. "You don't have this problem in Russia, but we do."
Putin didn't necessarily agree with the president's assessment.
"We also have [fake news]," Putin said in English. "It's the same."
The president's latest jab at the media hinted at either a deep misunderstanding of how the news business operates in Russia or an admiration for the country's draconian control of the media. Just this month, investigative journalist Ivan Golunov was arrested on seemingly fabricated drug charges and jailed; he was later released after both Russian citizens and journalists denounced his jailing. The incident was a "rare case of a public outcry in Russia forcing the authorities to backtrack," Steve Rosenberg, the BBC's Moscow correspondent, tweeted.
More ominously, the Associated Press reported in 2018 that "dozens of Russian journalists have been killed or brutally beaten in recent years, in clear retribution for their work. In most cases, their attackers walk free."
President Trump was later asked by an NBC reporter if he'd ask Putin to not interfere with the 2020 presidential election. "Yes, of course I will," Trump said, before adding, "don't meddle in the election, please," while waving his finger at a laughing Putin, according to Mediaite. Last year, Congress shared thousands of Facebook advertisements that were crafted by Kremlin-funded trolls at the Russian Internet Research Agency in an effort to sway voters during the 2016 election. The ads, which often sported clunky English and downright bizarre memes targeted at politicians like President Barack Obama, were ultimately seen by 146 million people on Facebook and Instagram.
The meddling back-and-forth didn't sit well with Democrats on Friday.
"Putin's the only one laughing," Senate Minority Leader Chuck Schumer said. "President Trump is basically giving Putin a green light to interfere in 2020," he tweeted.
Source: Read Full Article