What's Really Going On With Tom Cruise And Hayley Atwell?
Tom Cruise and Hayley Atwell made an appearance together at Wimbledon on Saturday, and it looked like the "Mission: Impossible 7" co-stars were enjoying each other's company.
In photos taken during the event, the pair smiled in the crowd as they watched the matchup between Ashleigh Barty and Karolina Pliskova. Atwell had on a white, floral-print dress and ivory maxi coat, while Cruise wore a blue suit. They both rocked dark sunglasses, but Atwell's had large, octagonal frames, while the "Top Gun" actor opted for a pair of his signature aviators. He was filmed enthusiastically applauding for Pliskova. However, Barty ultimately won the final. 
It was evident that Cruise and Atwell did not mind being seen out in public together. The official Wimbledon Twitter account shared a GIF of Cruise standing up and waving to the crowd, and he even took a small bow. Last December, The Sun reported that he was "secretly" dating Atwell after forming an instant connection with her on the "Mission: Impossible 7" set. A source even claimed that the COVID-19 protocols that caused Cruise so much stress played a role in their supposed romance. "Tom and Hayley hit it off from day one," the insider dished. "Lockdown, and all the difficulties that came with it, brought them even closer and they've become fairly inseparable." So is their tennis outing proof that something really is going on between them?
Tom Cruise and Haley Atwell weren't alone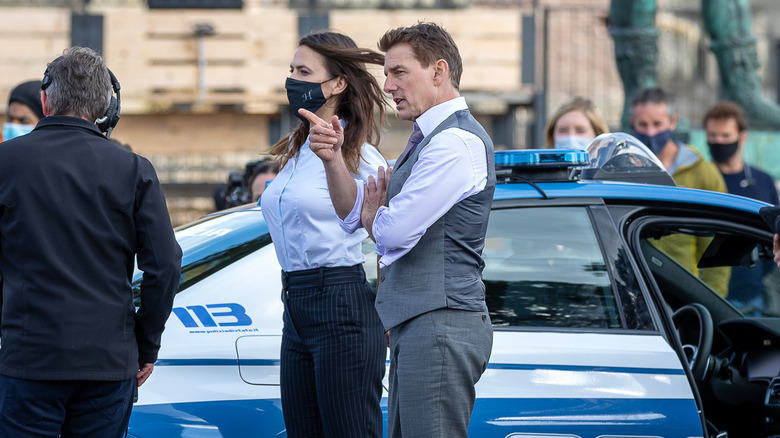 While Tom Cruise and Haley Atwell are clearly comfortable spending time together outside of work, the presence of one of their "Mission: Impossible 7" co-star Pom Klementieff made their outing look like less of a date. Cruise sat sandwiched between the two women, and he said something to Klementieff at one point that made it impossible for her to stifle a laugh.
Cruise certainly does not mind dating fellow A-listers. He has been married to Mimi Rogers, Nicole Kidman, and Katie Holmes, and he dated "Vanilla Sky" co-star Penélope Cruz. However, in December 2020, a source told People that there's no truth to the rumors that Cruise and Atwell are romantically involved, so it's one insider's word against another. Whenever Cruise films a "Mission Impossible" movie, it's not unusual for false romance rumors to blossom. During a 2018 interview with Marie Claire UK, Vanessa Kirby said that friends were texting her boyfriend to make sure that the couple was okay after the tabloids used photos of her and Cruise filming a kissing scene in "Mission: Impossible – Fallout" as evidence that they were romantically involved. "None of it is real," she said.
As for Atwell's romantic history, she and model Evan Jones split in 2015. In 2018, she told Town & Country that she was dating a doctor whom she had known since childhood. She said she does not want to go public with her relationships unless there is "a ring on my finger."
Source: Read Full Article