George Harrison Gave Paul Simon the Ultimate Beatles Fan Gift
George Harrison and Paul Simon weren't best friends, but they did have some beautiful moments together. They had an effortless performance on Saturday Night Live in 1976. Later, they had a nice time exploring George's home, Friar Park.
During his trip to George's home, Simon spotted the ultimate Beatles fan gift. Later, George gave it to Simon, and the singer never forgot the ex-Beatle's generosity.
Paul Simon visited George Harrison at his home
In 2000, Simon and a mutual friend, Jeff Kramer, visited the Harrisons at their home, Friar Park. "The rain had lifted and the October sun was warm enough for us to pull on pairs of galoshes and stroll across the meadow at Friar Park," Simon wrote in the special edition of Rolling Stone, "Remembering George."
"An afternoon with George Harrison and his wife, Olivia, was a treat Jeff Kramer (our mutual friend and manager) and I had promised ourselves to relieve the monotony of airplanes, hotel rooms and sound checks; the everyday humdrum of musicians on the road."
Simon hadn't seen George in years. He was "anxious" to know how George was doing after a deranged fan attacked him and Olivia at home 10 months prior.
"'I'm really happy to see you,' he said as we shook hands and embraced, "and these days, when I say I'm really happy to see someone, I mean I'm really happy.' He looked healthy and his mood was up as we approached a wooden bridge over a pond of waterlilies.
"I'd never been to Friar Park before, but the rhythm of the wind in the leaves and the cluster chords of autumn's orange, gold and evergreen made it easy to understand why he'd chosen to spend the last thirty years gradually planting, pruning, editing and reshaping the land while at the time recasting himself from pop-culture icon to master gardener."
Later, they came to a field of wildflowers where two huge boulders sat atop each other. Simon asked if they were part of a sculpture. George said they weren't, that they came from opposite sides of the property. He put them together, and all of Friar Park's visitors wanted to know about them.
"In fact, when Ringo came round for a visit last summer, he asked about them as well," George told Simon. "I told him that Paul's record company had sent them as a promo for his new album, 'Standing Stone.' Ringo was really miffed that he hadn't gotten his standing stones, but I said they'd probably only posted them to A-list people."
"Liverpool accents always sound to me like a joke is coming, but Harrison's wit was dead-pan and dead-on," Simon said.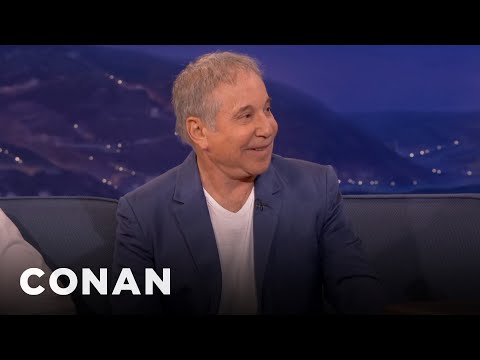 Later, George sent Simon a copy of the new 'Beatles Anthology' book
That night, the group went indoors to sit by a warm fire. They drank tea and ate chocolate biscuits while George gave them a "miniconcert of Hawaiian music on several ukuleles he'd collected on trips to the islands."
"His playing was clean and bouncy, his voice sounding like an exact duplicate of George Harrison," Simon said. "Before we left, George showed us a copy of the new 'Beatles Anthology' book and wrote an inscription to Jeff, deftly adding three perfect forgeries of the other Beatles' signatures.
Simon invited George to his show that night. George said, "Maybe we will. If not, thanks for coming by. I'll see you soon, I hope."
After they left, Simon was disappointed that George hadn't inscribed a book for him. But George had a plan. "On the drive back to London, Kramer told me that George had felt awkward about not offering a copy of the book to me, but he was afraid I might not have great interest in owning one.
"I said I'd never asked for anyone's autograph, but I was actually a little disappointed that he hadn't made the offer. Two months later, the tour ended, I came home to find a copy of 'The Beatles Anthology' sitting on my desk. 'To Paul and Edie,' the inscription read, 'with lots of love from your pal, George Harrison.'"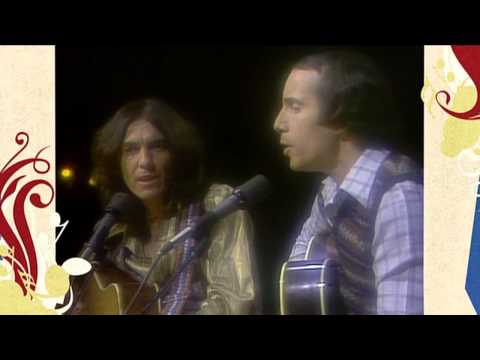 Simon fondly remembers his performance with George on 'SNL'
Besides visiting George at Friar Park, Simon will never forget performing with George on SNL in 1976. George was the musical guest while Simon had hosting duties. Yet, they performed two songs together during one of the most memorable moments of the late-night comedy show.
"The roots of my friendship with George Harrison go back to 1976, when we performed together on Saturday Night Live," Simon said. "Sitting on stools side by side with acoustic guitars, we sang 'Here Comes the Sun,' and 'Homeward Bound.'
"Though we're in the same generation and weaned on Buddy Holly, Elvis and the Everly Brothers, it must have seemed as strange to him to be harmonizing with someone other than Lennon or McCartney as it was for me to blend with someone other than Art Garfunkel.
"Nevertheless, it was an effortless collaboration. The mesh of his guitar and voice with my playing and singing gave our duet an ease and musicality that made me realize how intrinsic and subtle his contribution was to the Beatles' brilliant creative weave. He made musicians sound good without calling attention to himself."
Simon might not have been the closest to George. However, at least the singer recognized what kind of musician George was and that they were kindred spirits.
Source: Read Full Article