Iggy Azalea Announces She's Taking Break From Music for 'Few Years'
Upon the 'Fancy' star's announcement, fans take to Twitter to shower the femcee with supportive messages as one writes to her, 'I am here for you forever.'
AceShowbiz –Iggy Azalea is about to step back from music industry temporarily. Making use of her Twitter account on Thursday, July 15, the "Fancy" hitmaker revealed that she would be taking a break from music for a few years after releasing her upcoming album "End of Era".
" 'End of an Era' is so special to me because after I drop my album next month iam going to take a few years to focus on other creative projects and things I'm feeling passionate and inspired by, beyond music," so she told her followers. "I'm excited for you guys to see different sides to me in the future."
Further explaining her plan, the Australian-born star added, "Shifting my energy and focus to what I'm most excited about is what is right for me and I hope you'll continue to support whatever creative projects I'm out here doing!"
The mom of one concluded her message, "I really love this album and I just want my fans to enjoy this with me. I hope I see so many of you on tour!" As for the said project, Iggy teased in a separate tweet, "Yes! I have the coolest project dropping the week after my album and I can't wait til you guys see it!"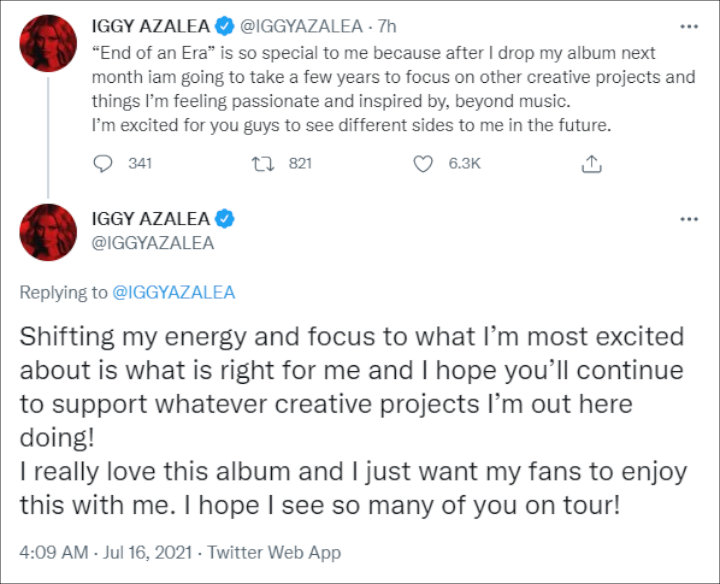 Iggy Azalea announced break from music industry.
Upon the announcement, fans showered the femcee with supportive messages. "I am here for you forever. Supporting your iconic music & merch & watching your iconic music videos & concerts has been a galactic top shelf experience. The Vegas pool party & private performance was epic 2. We ain't goin' nowhere sus. Enjoy your beautiful fam & friends Legend," a fan wrote to Iggy.
"You know us true Azaleans will always support whatever you do Iggy! Hopefully there's still more music in the future though but until then, we're gonna enjoy EOAE and the tour!! Can't wait for the tour and m&g!" another supportive fan added.
Source: Read Full Article