Is Pink Still Married and How Many Kids Does She Have?
The transformation of Pink from experimental pop/R&B artist to one of a caring mother happened under a decade's time. While Pink is still relevant as a pop artist, we see a lot more about her family in the media lately, proving it's still possible to stay sane being a music artist and raise a family at the same time.
As with anyone who becomes a music superstar, it's sometimes near impossible to maintain a healthy marriage. Somehow Pink has, outside of having major rough patches with the same guy.
If you've forgotten who she married and how many kids she has, catch up here as proof of how to mellow out after having children.
Just as Pink became a superstar, she started dating a daredevil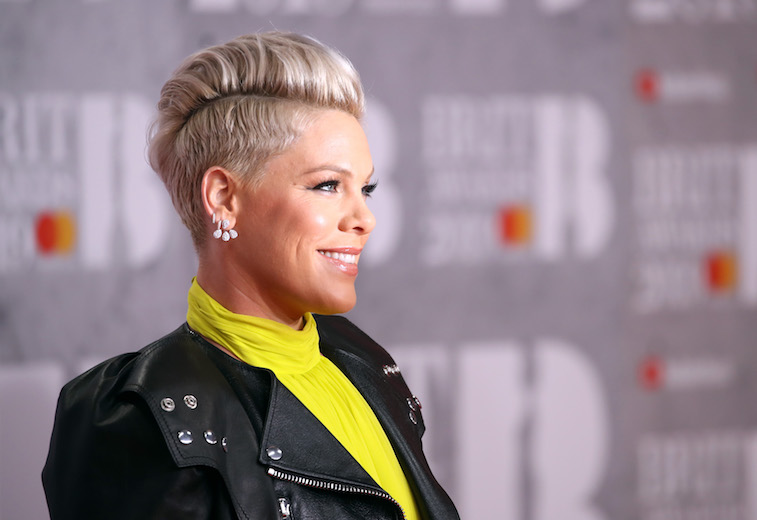 Some Pink fans probably can't remember a time when she was a single and daring new pop star. This is the vision we have of the early Pink when she was blazing trails as an adventurous music stylist, becoming a fashion icon, and promoting independence.
After her debut album released in 2000, the accolades began aplenty. However, only a year into this ascent, she met motocross racer Carey Hart at the X Games in Philadelphia. They hit it off immediately and started dating seriously over the next couple of years.
Pink began to change her sound and showcase her dynamic songwriting skills during this time. No doubt her rise to the top ranks in music between 2001-2003 wreaked havoc on her relationship with Hart.
They did break up briefly in 2003 due to Pink reportedly despising his bad boy lifestyle. Then again, that was what attracted her to him in the first place, making it a "can't live with/can't live without" romance.
Eventual marriage to Carey Hart
During the two years Pink and Hart were apart, former's music stardom only increased. The wild success of her album I'm Not Dead was an almost apropos statement for her romantic life.
Just as this album was becoming a success, she and Hart finally married, despite Pink doing the proposing on a sign during one of his races. Being the independent person she is, having her doing the proposing seemed appropriate in once again breaking the rules of protocol.
Their marriage didn't stay very blissful, though, which isn't surprising considering how much time they were usually apart. Only two years into their marriage, they separated briefly.
At this point, Pink took drastic action to save their marriage by placing them both into marriage therapy. It's a counseling process with a good track record for many showbiz couples.
After numerous miscarriages, finally children
Pink revealed in recent years she went through numerous miscarriages, in some cases before she even met Hart. Others were with Hart before their separation and ultimate reconciliation, leaving her body feeling "broken."
She managed to put all this away when she became pregnant with a daughter in 2010. Willow was their first child in 2011, followed by a son, Jameson Moon, in 2016.
These events changed Pink profoundly, if adding more pressure for her marriage to succeed. As we've seen through her own actions, she works very hard to be a good mom and stay together with Hart.
Her marriage counseling with Hart continues to this day, giving validity to staying passionate and honest in your relationships. In any other scenario, they would have been history a decade ago.
Protecting her children
Only one problem has occurred with Pink having two kids this decade. She's been receiving criticism online about how she raises her kids as other celebrities endure. As a result, she says she's no longer sharing photos of her kids on social media.
As a fiercely protective mom, we see Pink's philosophy she built into her music career play out in her family life. Now it's about railing against the mainstream of anonymous social media members thinking they know more than her.
Source: Read Full Article