Madonna Publicly Calls Out Tory Lanez for 'Illegal Usage' of Her Song 'Into the Groove'
The 'Papa Don't Preach' songstress accuses the 'Say It' spitter of illegally sampling her 1985 classic song for his new track 'Pluto's Last Concert' in a note she leaves in his social media post.
AceShowbiz –Madonna apparently has some beef with rapper Tory Lanez. The "Papa Don't Preach" songstress publicly called out the "Say It" spitter for "illegal usage" of one of her original classic songs.
The Queen of Pop left a note for the 29-year-old rapper in one of his new Instagram posts, indicating that she'd already tried to message him privately regarding his new track "Pluto's Last Comet" sounding like her 1985 song "Into the Groove." In an attempt to get his attention, she wrote, "Read your messages for illegal usage of my song get into the groove!"
However, it's unclear if the pop icon plans on taking legal action against him for sampling her song without her permission. It also remains unclear whether Tory, whose name has been in headlines due to his trial on felony assault and gun charges for allegedly shooting Megan Thee Stallion in 2020, has read Madonna's message or responded to her since she left the comment in his post.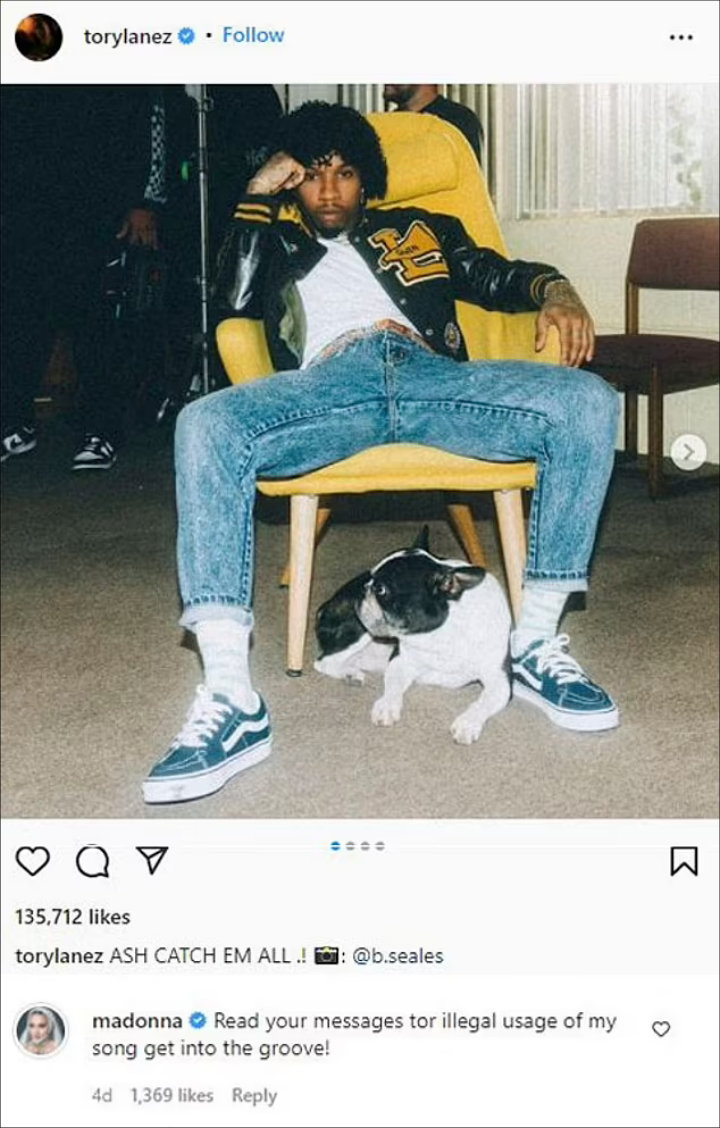 Madonna accused Tory Lanez of illegally using her hit song.
"Pluto's Last Comet" was written by Tory and produced by Orlando Tha Great and Chaz Jackson. The new track was just released this month on Tory's '80s-inspired album titled "Alone at Prom".
Meanwhile, Madonna's "Into the Groove" was released in July 1985 and featured on her big-screen acting debut "Desperately Seeking Susan". The hit song was also featured on the studio re-issue of her second album, 1984's "Like a Virgin". Back in September, Rolling Stone listed "Into the Groove" on its massive list of the 500 Best Songs of All Time list at number 161.
Tory wasn't the only rapper that Madonna has had problems with in recent weeks. The 63-year-old star blasted 50 Cent after he said that she was too old to be posting provocative photos on social media. "That's Madonna under the bed trying to do like a virgin at 63. she shot out, if she don't get her old ass up. LMFAO," so the "In Da Club" spitter wrote. She later labeled his comments "misogynistic, sexist" and "ageist."
Source: Read Full Article