Repair Your Torn-Up Heart With These 25 Facts About 'N Sync
Oct. 1 is the 25th anniversary of the day Lance Bass met his fellow members of 'N Sync, changing the course of pop culture history forever.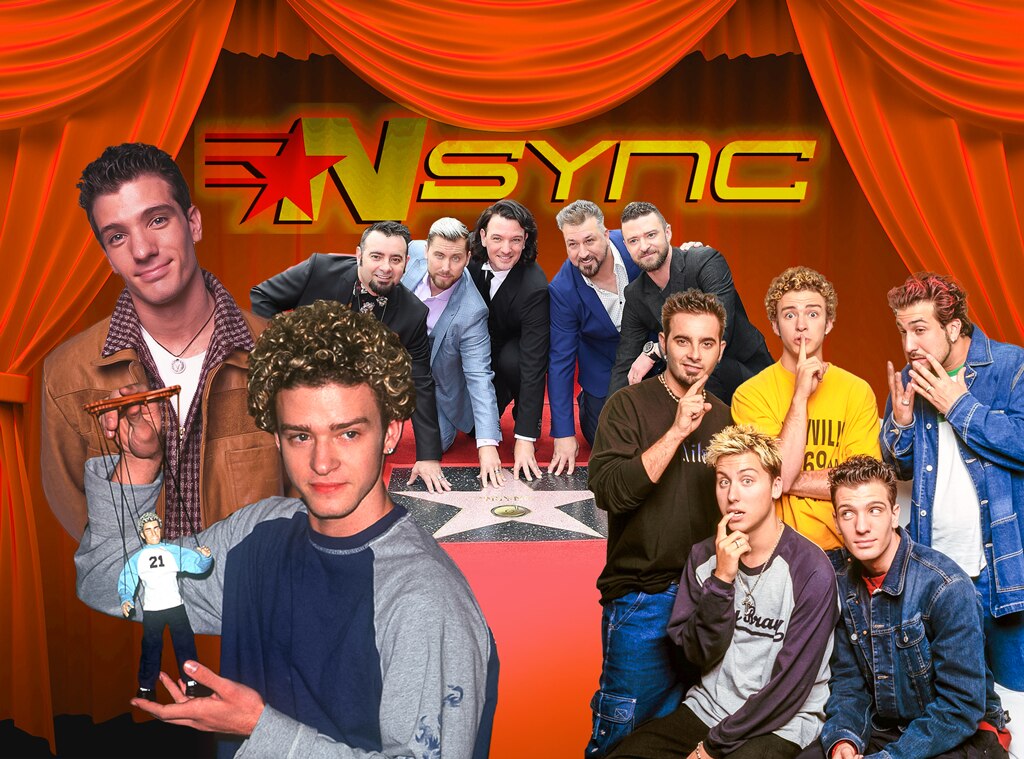 It's been 25 years since Lance Bass met those four "jackasses"—and we don't mean Johnny Knoxville and Steve-O.
Rather, Oct. 1 is the day—back in 1995, when he was 16—that Bass met J.C. Chasez, Joey Fatone, Chris Kirkpatrick and Justin Timberlake in Orlando, Fla., and was accepted into their fledgling boy band right away. As 'N Sync, the five lads would embark on one hell of a ride that resulted in not only global fame, fortune, eight Grammy nominations and millions of records sold, but which also altered the course of pop music history forever.
And all in just a few short years—though, obviously, it feels as if 'N Sync has always been a part of the fabric of our lives.
"It changed my life," Bass told EW.com in 2015, recalling the fateful day he got the call from Timberlake (who got Bass' name from his voice coach). In 21 days he went from putting the finishing touches on the homecoming float at his Mississippi high school to performing at Disney World's Pleasure Island, 'N Sync's first real gig, on Oct. 22, 1995.
Not that global superstardom happened overnight.
"Every record exec out there turned us down," Bass recalled last year on ABC News' 20/20. "They were like, 'Nothing like this would ever work in America. This is way too cheesy.'"
So, he told EW, "We were a German band the first two years for our career and immediately in Germany we were an overnight sensation. It was crazy because we would have thousands of fans chasing us down the street and we'd be on the cover of every magazine, but we would come back home to America and no one knew who we were at all."
Eventually, the entertainer added, he knew they'd made it when they performed on The Rosie O'Donnell Show, which was all the rage at the turn of the century.
Never mind that 'N Sync had already performed at the Super Bowl by then, but… the heart wants what it wants.
"I was obsessed with her show, it was my favorite show," Bass explained. "Finally, she invited us on and I was like, 'We've made it.'"
But you could drive yourself crazy thinking too much about what 'N Sync did and when, and how it all came about, so we've done the heavy lifting for you, no strings attached.
Just sit back and enjoy 'N Sync Day with these 25 facts about your favorite boy band:
Trending Stories
Chrissy Teigen Suffers Pregnancy Loss Following Hospitalization
The Biggest Bombshells from The Meaning of Mariah Carey
The Masked Singer's Gremlin Unmasks Himself
After Chris Kirkpatrick, who was 23 at the time, was passed over for the Backstreet Boys—the first instance of shady impresario Lou Pearlman capturing boy band lightning in a bottle—he dusted himself off and told Pearlman he was still interested in being in a group.
Pearlman agreed to put up the money if Kirkpatrick would do the work of actually finding other talented guys to join him, and so the sifting through demos and watching countless hours of tapes began. They eventually happened upon The All New-Mickey Mouse Club alumn and aspiring singer Justin Timberlake, 14, who recommended fellow former Mouseketeer JC Chasez, 19. ("JC was the cool older guy, and Justin wanted to be just like him," co-star Christina Aguilera remembered fondly to Rolling Stone.) 
They continued the search in Orlando, and Kirkpatrick thought of Joey Fatone, 18, whom he knew from his days performing at Universal Studios—and who Chasez knew from his time living in Florida when he was working for Disney. But they still needed a deeper voice.
Timberlake's vocal coach advised them to check out this kid from Mississippi, Lance Bass, who flew down to Florida on Oct. 1, 1995. Pearlman and Timberlake picked the appropriately named 16-year-old up at the airport in the former's black Rolls Royce.
Backstreet Boy Howie Dorough, who knew Kirkpatrick way back when, gave himself a little pat on the back later on for all this serendipity, telling Pop Crush in 2015 that BSB asked Pearlman "to help [Chris] out in any way that he could and still fulfill his dream. He went back with Chris and formed a group and little by little that spun off to eventually be 'N Sync."
But wait, Lance wasn't the first fifth member of 'N Sync!
That role was originally played by Jason Galasso, who had known Fatone from choir in their high school days and was dabbling in the singing-group arts when he got a page (1990s, FTW) out of nowhere from his old acquaintance. Coincidentally, he also knew Chasez because, as Galasso explained on The Digital Get Down podcast in 2019, he "used to kind of hang out with The Mickey Mouse Club" stars like Chase Hampton and Keri Russell.
After they "locked in perfectly" on a rendition of Boyz II Men's "End of the Road," that was it, he was in the as-yet unnamed group with Fatone, Chasez and those other two cats, Timberlake and Kirkpatrick. "I remember I'm like, 'Dang, Justin's young!'" he recalled. "But then I heard him sing, I'm like 'Oh, it doesn't matter how old he is, he can sing his butt off."
At the same time, however, the bass singer was also in a three-man group called Unreal, "so I'm still trying to decide, you know, what I want to do, what direction I want to go in as far as which group I want to go with," Galasso, who's in the mortgage loan business these days, recalled. "Because I remember, the first time Lou Pearlman brought over some music, he was thinking about the type of music that we would be doing, and I come from an R&B, hip-hop background. That's my love, my heart, my soul."
So when Pearlman came over with "this European-style techno, I was just like, 'Hmm, okay.'" So, he went ahead and traveled with the other guys in Unreal to Atlanta to cut a demo, which he thought turned out great.
Meanwhile, 'N Sync was starting to fashion a look and they were talking about putting a showcase together for Disney's Pleasure Island. They even took a field trip to Shaquille O'Neal's house to check out his home studio in Orlando, but they had not yet recorded any music. And, more consequentially for Galasso, they hadn't yet signed any contracts.
Pretty soon, both groups were trying to get him to sign. Galasso said he took the dueling contracts to a lawyer and, while the deal with the trio was pretty standard issue, Pearlman had himself written into the 'N Sync contract as a sixth member, and that contract was "thick as a phone book." He felt that the other members of 'N Sync were more gung-ho than he was about the deal—which was true, because they all proceeded to sign it, whether they truly understood what it entailed or not (more on that later).
So Galasso ultimately went with the group that wasn't 'N Sync.
Aside from Justin's mom complimenting that they sounded so "in sync," the group's name—sometimes NSYNC, other times *NSYNC, but for our purposes, 'N Sync—incorporates the last letter of their first names: Justin, Chris, Joey, Jason and JC.
Oh, wait…
The guys asked Lance if he wouldn't mind tweaking his name a bit to make the whole 'N Sync thing still work. And so, Lanceton was born.
"They did call me Lanceton for a good year, just basically as a joke," Bass told EW.com in 2015. "I think it was Justin who first was like, 'Okay, Lanceton.' Then it kinda faded out once we got a deal and then came out. It didn't stick very long. It was either Lanceton or Landon."
After a couple of years in which their biggest following was in Germany, ahead-of-their time fans of the Max Martin-penned "I Want You Back" and "Tearing Up My Heart" ("In Europe, we were on the cover of every magazine," Bass recalled), 'N Sync finally got its big break in the U.S. when the Backstreet Boys turned down a "Disney Channel in Concert" gig.
Instead, NSYNC in Concert came out in 1998 and—thank you, cable—Disney Channel aired it over and over again.
"The Disney Channel concert really changed our career," Bass told 20/20. "It was incredible, and that one gig right there, to me, is what made us in America."
While they were all in Miami to play in their Challenge for the Children charity basketball game, the guys ordered room service to their hotel room not long before they were due at a press call. Fatone showed up at least 15 minutes late because, as it turned out, he had been waiting for a fresh burger—because the one on his plate had a bite taken out of it!
But it wasn't delivered that way, Bass recently recalled on the Inside of You With Michael Rosenbaum podcast. Timberlake had totally taken a bite out of it to screw with his pal.
"It was so funny. I've never seen Joey get so upset about something like that," Bass said. He "was probably tired or something," but "we make fun of him all the time for that outburst. All the time."
Fatone may have blown up over a partially eaten burger, but Bass admits he wasn't always the picture of patience.
He told Rosenbaum that he sometimes lost his cool when Kirkpatrick would take his resident funnyman persona too far during interviews. "Chris, you know, he's very animated," Bass said, "and he's funny and he's always cracking a joke. But when someone is always cracking the joke in every single interview, and you do like 20 a day and there's five guys, your days get long and long and long.
"So, there have been many times I'm like, 'Shut up. Just answer the question so we can move on because we are so tired right now.' So, he would always make all our interviews at least double the time."
At one point they were too busy to even stop by a barbershop for haircuts (or bleach jobs), so, Bass said, "that's when I started just kind of getting this bleach and putting it in my hair and just putting my fingertips in it, and that's how the frosted tips were born."
Now you know.
In 2000, to celebrate the diamond-selling status of their 1997 debut 'N Sync, meaning 10 million copies sold, their manager Johnny Wright (who had previously been the road manager for New Kids on the Block along with his wife Donna) gifted the five with diamond-and-platinum pendants.
"We are diamond," Timberlake announced, mostly facetiously, according to Rolling Stone. "Screw all of you. I'm done. Forget this boy-band thing."
The members of 'N Sync did get rich—but not right away, and not until they took matters into their own hands.
As it turned out, Pearlman, who died in prison in 2016 while serving a 25-year sentence for money laundering and other crimes committed in the running of a Ponzi scheme, was screwing them and the Backstreet Boys (and O-Town for that matter) out of money that a court would later agree they were rightly owed.
Talking to ABC News' 20/20 in 2019, Bass recalled Pearlman flying the members of 'N Sync and their families to Los Angeles in 1998 for a promised check-presentation party after what had already been two years of touring, appearances and the release of their self-titled debut album for Pearlman's indie label, TransContinental Records (TransContinental later being the name of Pearlman's so-called empire that turned out to be a house of cards).
The amount: $10,000 apiece.
"I was in the biggest band in the world and selling millions of records…but I can't even afford my apartment in Orlando. I couldn't even get a car," said Bass, who tried to be polite but then ripped up his check when he got back to his hotel room. Added Kirkpatrick, "With all the success you would think that we were making hand-over-fist money and we were printing money and whatever, and it just wasn't the case."
After realizing their contracts, like the members of BSB, treated Pearlman as a sixth member, meaning he got one-sixth of the group's profits as well as management fees, 'N Sync jumped ship for Jive Records—and were promptly sued by TransContinental Records and RCA parent BMG Entertainment, which had distributed their first album. It was a $150 million lawsuit, but Pearlman's big goal was to prevent them from continuing to use the name 'N Sync. They countersued for $25 million and settled for an undisclosed amount in 1999—and, most importantly perhaps, Justin, Chris, Joey, J.C. and Lance retained the right to press on with their name intact.
When he heard Pearlman had died, Bass said, "I was so confused on exactly how to feel. I'm like, 'How could you die right now when we don't have this closure? You need to apologize.'" At the end of the day, though, he didn't want to hold a grudge. "There's so many life lessons that you learn from everyone else's mistakes—from your mistakes," Bass said. "He helped start my career. He funded it…I don't know where I'd be without him. So you have to give him that credit."
No Strings Attached, their smash-hit sophomore album released in March 2000, was metaphorical AF.
"'No Strings Attached' just became the theme," Kirkpatrick, who thought of the concept after "I've Got No Strings" from Disney's Pinocchio popped into his head in the days after the settlement, told 20/20. "It became our battle cry of, 'We don't owe anybody anymore…we have no ties to anything but each other…and our fans."
Chasez, who won a talent show in the seventh grade singing Richard Marx's "Right Here Waiting" only to have Marx write and produce "I Promise You" for No Strings, told Rolling Stone, "This album is really in your face. Nothing is sang passively; everything is chopped and punched. You can definitely hear a Michael Jackson influence in the way the words chop off—that's the way Michael delivers a line."
Added Timberlake, "We're pissed off now—that's what it is. We're angry white boys who didn't get our props. No, I'm kidding—I'm kidding."
Moreover, they were musically homeless for most of the time they were making it, unhappy with TransContinental and not yet ensconced at Jive, whose artists included Timberlake's then-secret (albeit a poorly kept one) girlfriend Britney Spears and the Backstreet Boys.
No Strings Attached sold 2.4 million copies in its first week out, including 1.1 million on day one.
A year later, Jackson was delivering on stage with them—first at the 2001 MTV Video Music Awards, appearing just as 'N Sync was winding down its performance of "Pop" and sending the crowd into a frenzy even though he didn't sing—and then for real all together days later on "Dancing Machine" at the Michael Jackson: 30th Anniversary Celebration. The two-day concert event held at Madison Square Garden aired on CBS that November.
In 2016, Bass revealed on The Meredith Vieira Show that Jackson didn't speak to him for a year after the MSG show because, when Jackson insisted that Bass and Fatone (who had a movie premiere to attend) stay until the end for a group rendition of "Heal the World," saying it was "for the children," Bass giggled, not realizing the King of Pop was perfectly serious.
Once they all had more money in the bank, naturally they started spending it. In March 2000, Timberlake had bought a Mercedes jeep (his first big purchase) and a BMW M Roadster, and would add a Dodge Viper, an Audi TT, a Porsche 911 and a Cadillac Escalade to his collection by the following year. Fatone treated himself to a black Cadillac truck and homes and cars for his parents and siblings. Several of them purchased homes in Orlando, and Kirkpatrick bought a house for his mom, too. Bass got a house in Orlando, one in his home state of Mississippi, and one in the border area known as Floribama.
"There's a white grand piano, a white couch and a tapestry of knights on horses, and I have this beautiful acrylic statue of a nude man and woman that my friend got me," Timberlake described the decor in his Orlando bachelor pad to Rolling Stone. "It's a beautiful piece: You shine a light on it and it shines right through. I've got a game room that we call the Jimmy Buffett room, because it's Orlando tropical, and I have a country kitchen to remind me of where I grew up. The bedroom is a whole safari motif, with a Japanese screen and a big sleigh bed."
The following year, Chasez revealed he'd become a red wine aficionado, and had sprung for a $2,500 book of Helmut Newton photographs.
In 2000, just before No Strings Attached came out, Kirkpatrick was dating the girlfriend he'd had for about a year before 'N Sync became a global phenomenon. They weren't meant to be, as he married Karly Skladany in 2013 after three years together, with all of his former bandmates in attendance. 
Timberlake was still playing coy about whether he and Britney Spears were actually dating ("Britney's a good friend of mine"), informing Rolling Stone, "If I do decide to have a personal relationship with someone, I think it's best to keep it that—personal."
Bass had previously dated Boy Meets World Star Danielle Fishel, even accompanying her to her high school prom. He'd choose to wait until 2006 to publicly come out as gay, and he's now been married to Michael Turchin since 2014.
Fatone had been on and off with high school sweetheart Kelly Baldwin since 1993—but they were decidedly back on when they welcomed daughter Briahna in March of 2001. They got married in 2004 and had second daughter Kloey Alexandra in 2010, but as of 2019 they were divorcing and Fatone was dating Izabel Araujo.
Chasez, meanwhile, usually had girlfriends around (in 2001 he was dating Bobbie Thomas, who was inspired to start her own blog when she saw how the media treated Spears), but he has kept an impressively tight lid on his private life.
By 2000, Bass had started Freelance Management, hoping to develop country artists. Timberlake launched his eponymous foundation to benefit music and arts education in public schools. Chasez was producing music for girl group Wild Orchid and Kirkpatrick had started his own fashion and music production company called Fuman Skeeto.
Legions of screaming tween fans aside, they weren't trying to be extra adorable to appeal to as many kids (and their moms) as possible.
"We don't try to make ourselves do cute, we just are who we are," Timberlake told Rolling Stone in 2000. "We're boys. We burp and fart, just like boys."
Kirkpatrick considered himself the stereotypical guy's guy among them, telling Rolling Stone in 2001, "I'm like a bunch of college guys got together and said, 'Let's make a dude, a crazy dude.' And they made me."
The writer described Bass as a "supernice, humble, patient guy who's so pretty he almost looks like a girl, and who never, ever stops smiling." Chasez was said to be the one whose offstage personality was furthest from his onstage persona, "the one most likely to meander right past you so silently you wouldn't even notice him."
Fatone was "a giant wild boy with a rambunctious electricity bubbling constantly beneath his skin, as if he's about to make a party break out anytime, anywhere." 
During rehearsal in New Orleans in 2001, a platform shot up too early and Fatone's lower leg was caught between it and the stage, somehow not breaking the bone but exposing a lot of the interior of his leg.
"There was a hole," Bass told Rolling Stone. "You could see the bone, you could see everything. So we applied pressure on it, and the fat was coming out, and it was not good. He can take pain good, but he was in pain. Oh, he screamed. It looked like a bullet went through his leg."
Added Chasez, "He ended up going to the hospital and they cut a piece of his leg out and had to rinse the metal out because his leg was caught between two pieces of metal. I don't know how it didn't break. He's a tough kid."
A few weeks later, Fatone, who had been using a cane to get around, was back on stage dancing. "He's in pain," Chasez observed. "But Joey's got great showmanship. He knows how to cover his steps 'cause he's been onstage longer than any of us."
When you think about it, 'N Sync had a relatively tame run. They're first to admit they had their fun, but they were not troublemakers, nor did trouble have a habit of "finding them."
Bass liked a Jack and Coke, but would more likely volunteer to be the evening's designated driver. 
"If some twelve-year-old sees on the news that I got arrested for cocaine, that affects a lot of people," he told Rolling Stone. "I remember when I was ten and I caught my sister drinking. It was so devastating to me." He added, "I can have water and feel like I'm getting drunk."
Fame hadn't come overnight, but once it did, it was a whole new world.
"You realize what hard work it is and that it's not glamorous," Bass told Rolling Stone. "It's like going to Disney World, going into the tunnels and seeing Cinderella smoking a cigarette. The whole magic is gone."
Timberlake admitted, "It's been a little tough There's definitely been times when I was totally depressed. But, you know, my spirituality helped me through that. I just feel like there's two of me: the public-eye me and the guy-who-brushes-his-teeth-twice-a-day me. They're getting along all right now. Sometimes brush-his-teeth doesn't get enough attention, but it's worth it."
"You don't want to say or do too much," acknowledged Fatone. "You know, it's like breaking the fans' hearts if there's something out there that they don't know about and might get upset about."
In case anyone was under the impression that 'N Sync was composed of five disparate parts who just got lucky, they'd be wrong.
"We started out as best friends, and you know, I think it shows—it shows in everything we do," Kirkpatrick, sitting down on CNN's Larry King Live with the rest of the group, said in January 2001. "From when we're on stage, when we're clowning around, we do, like, so many shows that each show is so different because of the interaction amongst each other. And we'll goof around with each other. We do little things to each other on stage that a lot of people that come to a lot of the different shows go, 'oh, that's funny,' or 'I know he's messing with him there.' And it's just, I think, when we start as friends and we've grown as a group…"
In response to King's observation that a lot of band members don't really get along behind the scenes, Timberlake added, "Well, the chemistry we have is unreal. I can't tell you, you know even with this tour last summer, I could just look at Chris and it could say 10 things at the same time, and he would know exactly what I meant just by looking at him, because we've been together…Even before everything took off, we were together, some of us working 9:00 to 5:00. But every day, singing, and you know, trying to get our act together."
The channeled their misgivings about living life in a fish bowl to varying effect with their third album, 2001's Celebrity.
By then, Timberlake was openly dating Spears ("When we get together, that's just my girl, and I love her, and that's it. I don't think about what everybody's thinkin' about. She makes me happy. She's like salvation," he told Rolling Stone; Bass added, "They're so perfect for each other, it's scary") and the group was making a reported $2.5 million a night on their PopOdyssey stadium tour.
In 2000, Timberlake told Rolling Stone, talking about the influx of boy bands onto the music scene, "I think the next couple of years will separate the boys from the men. What worries me is the oversaturation of the market."
Well, the other boy bands wouldn't have to worry about it for long.
'N Sync went on so-called "temporary hiatus" in 2002 after wrapping up their Celebrity Tour, mainly so Timberlake could focus on his solo career, and that turned out to be it. Though no one came right out and said it and the group never officially announced that they were disbanding. One Direction fans know the concept well.
"After you do something for a certain amount of time, you get into a rhythm of it and then new things spark your curiosity; you need new brain food," Chasez, who had a solo hit that year with "Blowin' Me Up (With Her Love)," a single on the Drumline soundtrack, reflected to Huffington Post in 2019. "At that time, we just felt like we had exhausted every kind of idea for what we were doing and we just felt like, 'OK, let's do something different.' So, that's what we did." His debut solo album, Schizophrenic, came out in 2004.
"Me and the guys were never on bad terms at all," Bass told Rosenbaum. "It's just, you know, life goes on and you have more interests and you have to focus on your careers and it's great. The thing I was most disappointed in was not just Justin leaving the band. It's that our whole team, our record label, our management, everything like that, they all knew. They all knew it was over for three years before they told me.
"So, for three years, I'm sitting there getting ready for a new album as everyone else knows we're moving on."
The fellows from 'N Sync pretty much went their separate ways as they embarked on their solo aspirations and Timberlake became a superstar in their own right (though that's not why none of them went to JT's wedding in Italy when he married Jessica Biel in 2012), having released Justified in November 2002 and never really looking back.
So could their reunion performance at the 2013 MTV Video Music Awards have been more hyped?!
It was short but sweet, and their moves were intact.
Reflecting on why he didn't come out while he was in 'N Sync, Bass said at the group's Hollywood Walk of Fame induction in 2018 that "at the time, I thought that I would never be able to tell anyone because not only was I terrified of the lasting rejection—I was certain that that would happen—but more than that I didn't want to jeopardize the careers of these guys up here, much less the hundreds of amazing people who worked tirelessly to bring 'N Sync to the world."
Bass continued, "I thought if I had come out, 'N Sync would be over. So I kept my secret. And our wildest dreams were coming true and we were so incredibly thankful—and I still am. But so many nights onstage, I'd see so many young, gay fans singing their hearts out and I wanted so badly to let you know, I was you. I just didn't have the strength then. But I do today and so let me say loud and proud to all my LGBT brothers and sisters, who embrace me and show me the way to be who I am, thank you so much."
We can only imagine he's gained plenty of new fans since going public with his true self. And if he lost any, those people never deserved him in the first place.
"When our fans go off to college, I don't think they'll have our posters on the wall, but that's not to say they won't like our music," Chasez, apparently not having been in a college dorm room in quite some time (though that was probably a good thing), told Rolling Stone in 2000. "We'll be older, too, and talking about different things. Grunge was mad in six years ago, but Pearl Jam is still making and selling records."
He paused before adding, "You know, the good groups stick around, and the other stuff fades away."
'N Sync stopped making music together, but the image of them never went away, their six years in existence and three-year reign as princes of pop having left an indelible mark. 
Cue the excitement when four of them backed up Ariana Grande at Coachella in 2019 ("You guys killed it last night," the absent Timberlake wrote on Instagram), or check out the response to four members of the Seattle Seahawks—burly grown men—celebrated a touchdown last season by doing the "Bye Bye Bye" dance on the sideline.
And there was no time like mid-pandemic to find out that they were all having Zoom happy hours in quarantine—because perhaps it's simply easier for everyone to get together when no one is going anywhere.
Even Timberlake, generally the most reluctant of the bunch to rehash the old days, is starting to feel the siren's song of the chance to set the record straight.
"This isn't a click-bait conversation, this is two friends talking over a crazy experience that we had and I really appreciate it man," he told Bass during a May appearance on the latter's podcast, The Daily Popcast. "You've got to figure out a way to get all four of us in a room with you."
Um, yes, please. They know we want 'em back.
Source: Read Full Article