Taylor Swift and Katy Perry Might Be Collaborating on a New Song: Here's What We Know
Admit it: Taylor Swift might just be the ultimate musical team player. Like, "ME!" featuring Brendon Urie of Panic! At The Disco? Sheer Genius. And "Bad Blood" with Kendrick Lamar? Classic. And now, based on some digital clues, it seems like she could have another major collaboration on the way — this time, featuring former nemesis Katy Perry.
Here's what we know about the potential project.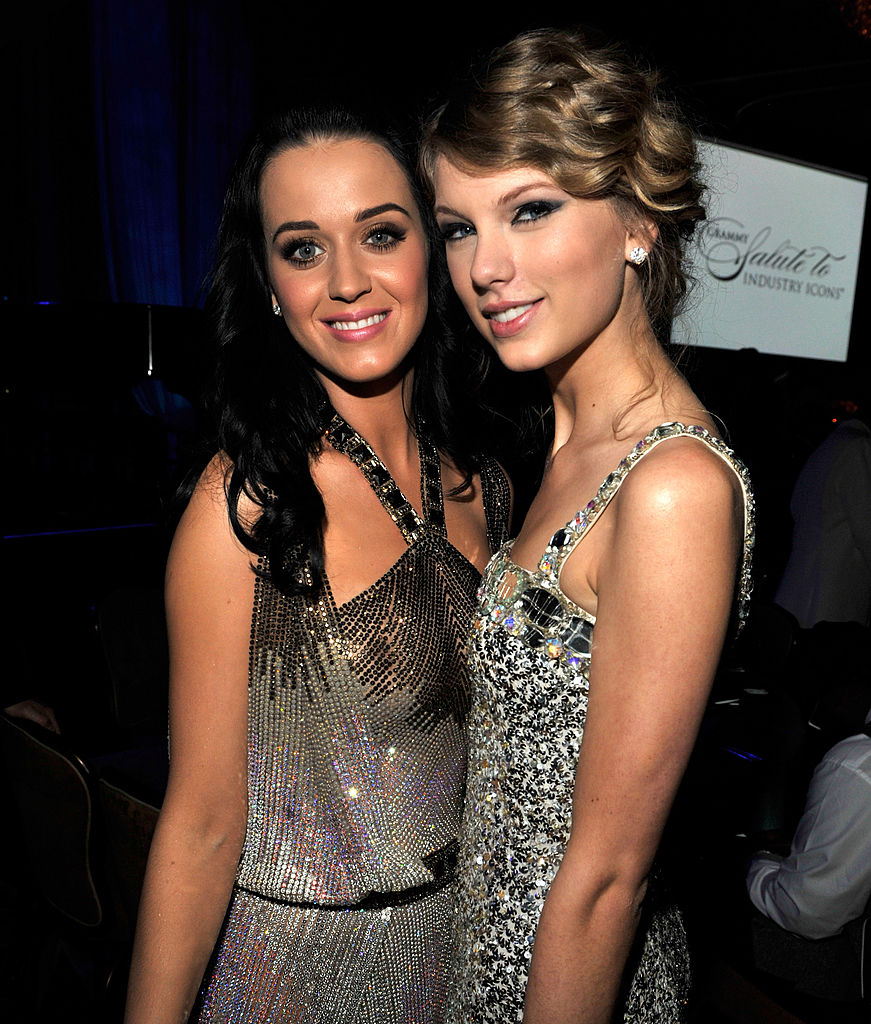 Taylor Swift and Katy Perry's relationship has been… interesting

If Swift and Perry were to make music, it would definitely be a groundbreaking moment. For years, the pop stars shaded each other in music, interviews, social media posts, and more. The drama started after Swift said in a 2014 Rolling Stone interview that she questioned her friendship with one singer in particular.
"For years, I was never sure if we were friends or not," she told the outlet. "She would come up to me at awards shows and say something and walk away, and I would think, 'Are we friends, or did she just give me the harshest insult of my life?'"
In response, Perry posted a cryptic tweet just a day later, urging her fans to, "Watch out for the Regina George in sheep's clothing."
After a bunch of back-and-forth that included several diss records and more than a few shady comments, Perry sent Swift a literal olive branch in 2018, which finally put an end to the years-long feud.
Katy Perry's appearance in Taylor Swift's 'You Need To Calm Down' video makes you wonder

Swift's "You Need To Calm Down" video suggests that things are going really good between the two. While there are so many fun moments in the video (like the gaggle of Drag Race alumni sporting their best pop star drag) the breakout moment happens at the very end when Perry and Swift come into contact with each other.
Perry shows up wearing the burger costume that she wore to the 2019 Met Gala and hugs it out with Swift, who is donning a french fries costume. Both are practically smiling from ear-to -ear. It appears to be a total confirmation that they have made amends — and it definitely had fans speculating the pair is up to something.
So are Taylor Swift and Katy Perry collaborating on music?

As of writing, Swift hasn't commented on the subject, but Perry once opened up about working with Swift. Though she didn't confirm or deny anything, she smiled while telling Entertainment Tonight in March 2019, "I mean, I'm making music with Zedd, [so] I'm open."
There are signs that suggest they could indeed be working on it now, too.
In June 2019, Perry posted what appears to be a plate of homemade cookies on Instagram. Written in red icing on the plate are the words "Peace At Last." She tagged Swift in the post, writing, "feels good." Swift, in turn, left more than a dozen heart emojis on the post — so you know it's real.
Considering the two had already made amends, why would Perry give Swift such a gift if it were not to suggest that they're working on something major? We'll see what happens.
Source: Read Full Article