Taylor Swift FINALLY Gave Us Some Information About Her New Album, 'Lover'
If you're one of the millions of people not-so-patiently waiting for Taylor Swift to drop her seventh album, I have good news for you. It's coming really freaking soon. Taylor has finally broken her silence on TS7, so here's literally everything you could ever want to know about it. Spoiler alert: It's basically just one big rainbow unicorn explosion.
What is Taylor's new album called?
TS7 is officially called Lover! And no, this isn't some wild fan theory. She actually announced it in an Instagram Live that Lindsay Lohan epically chimed in on to tell the world that her mom "was in cats." Interesting.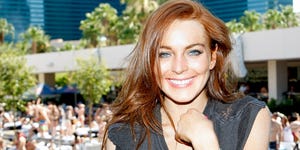 What's the release date?
Well, according to Swiftie math, 8 + 2 + 3 = 13, which is Taylor's favorite number. So…August 23. Okay, that's not officially the reason she chose that date, but we all know Tay loves the number 13, so it was probably intentional. Taylor confirmed that date on Instagram too.
Lover, album out August 23. Cover shot by the artistic genius that is @valheria123 💗 Pre-add, pre-save, pre-order (all the pre stuff you feel like doing) Can't wait for you to hear this.
A post shared by Taylor Swift (@taylorswift) on
You can preorder a physical copy of the CD pre-save Lover on Apple Music or Spotify.
Which songs are being released as singles?
You definitely already know about "ME!," Taylor's collab with Panic! at the Disco frontman Brendon Urie. I mean…how could anyone have missed that snake that explodes into a bajillion butterflies in the music video? She's truly putting Frozen to shame with these vids, huh?
Taylor also dropped another single shortly after announcing the album news. This one is called "You Need to Calm Down" and definitely gives us a better idea of what the rest of Lover might be about. TS is finally done keeping her political views private, and this song is a synth-y protest in support of the Equality Act and LGBTQ+ rights.
Is Taylor Swift trolling Donald Trump?
The short answer is: Yes, probably. In "You Need to Calm Down," Taylor literally says, "Control your urges to scream about all the people you hate. 'Cause shade never made anybody less gay!" Fans think this is a thinly veiled callout to Trump, especially because it was released on his birthday. I mean…she truly is the queen of throwing shade in her lyrics, so it makes total sense.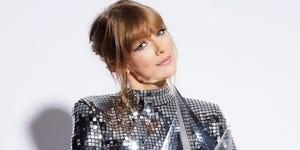 What about the "You Need to Calm Down" music video?
Keeping the rainbow-unicorn-glitter-explosion brand strong, Taylor announced she'll be dropping a "You Need to Calm Down" music video June 17. If the cover art is any indication of what the video will look like, we can probably expect a trailer-park-chic aesthetic? It's very Simple Life. I'm into it.
Gxgjxkhdkdkydkhdkhfjvjfj
A post shared by Taylor Swift (@taylorswift) on
This post will be updated as we learn more information about Taylor Swift's new album, Lover.
Source: Read Full Article