The 10 Most Extravagant Outfits Taylor Swift Has Ever Worn
Taylor Swift was introduced to the world as a lanky, teen country star who frequented frilly dress shops. Thirteen years later, she's morphed into a pop bombshell who's come a long way from the sundresses and cowboy boots she used to flaunt.
RELATED: Taylor Swift's Versace Dress Took 800 Hours To Make
Like most young women who've finally come into her own, Taylor Swift has played with many different looks over the years. Some have been hits, some have been misses. This list is for the hits. Here are ten of Taylor Swift's most extravagant looks of all time.
Click the button below to start this article in quick view
10

Pink Fluffy Dress From "ME!"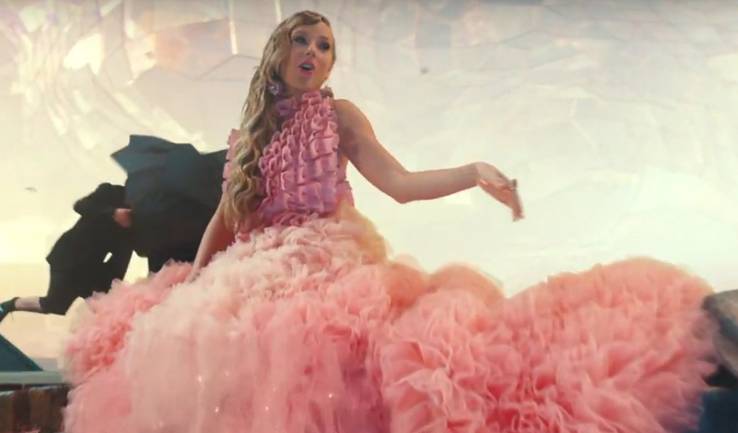 Taylor Swift made her very colorful return to music this year with "ME!", a duet single with Brendon Urie. The video, an upbeat anthem about celebrating one's awesomeness, is appropriately filled with bright, neon looks.
Of them all, this pink, frilly ball gown that Swift wore, seated on top of a CGI unicorn, is definitely the most extravagant. The designer appears to be unknown, but with a high ruffled neckline, bodice, and floor length frilly train, it's safe to say that their work speaks for itself.
9

 2016 Vanity Fair Oscar Party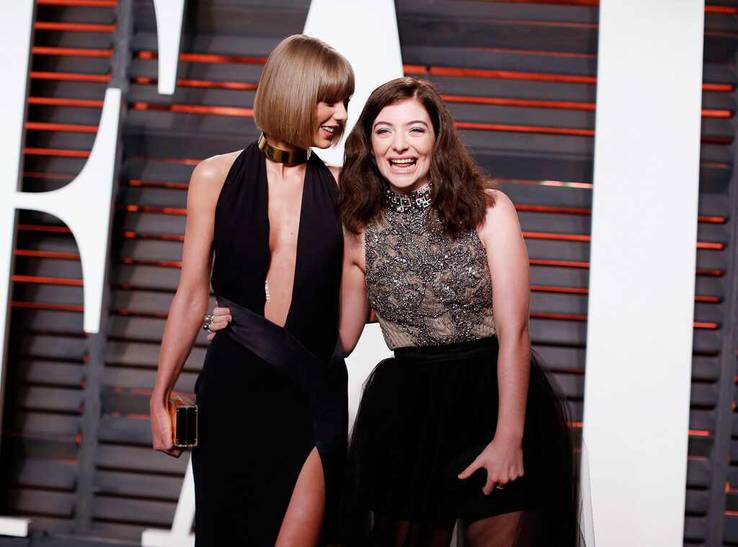 When Taylor Swift debuted a short, blunt bob with bangs at Vanity Fair's 2016 Oscar Party, she was immediately compared to Vogue's Editor-In-Chief, Anna Wintour. The comparison did not come kindly since Anna's signature look is seen as outdated by the fashion community.
What can be considered, by some, as a hair faux pas did nothing to distract the body-baring black dress Taylor wore. From the plunging neckline to the floor-length train and high side split, every stitch of this dress screamed "extravagant."
8

2012 Grammys Red Carpet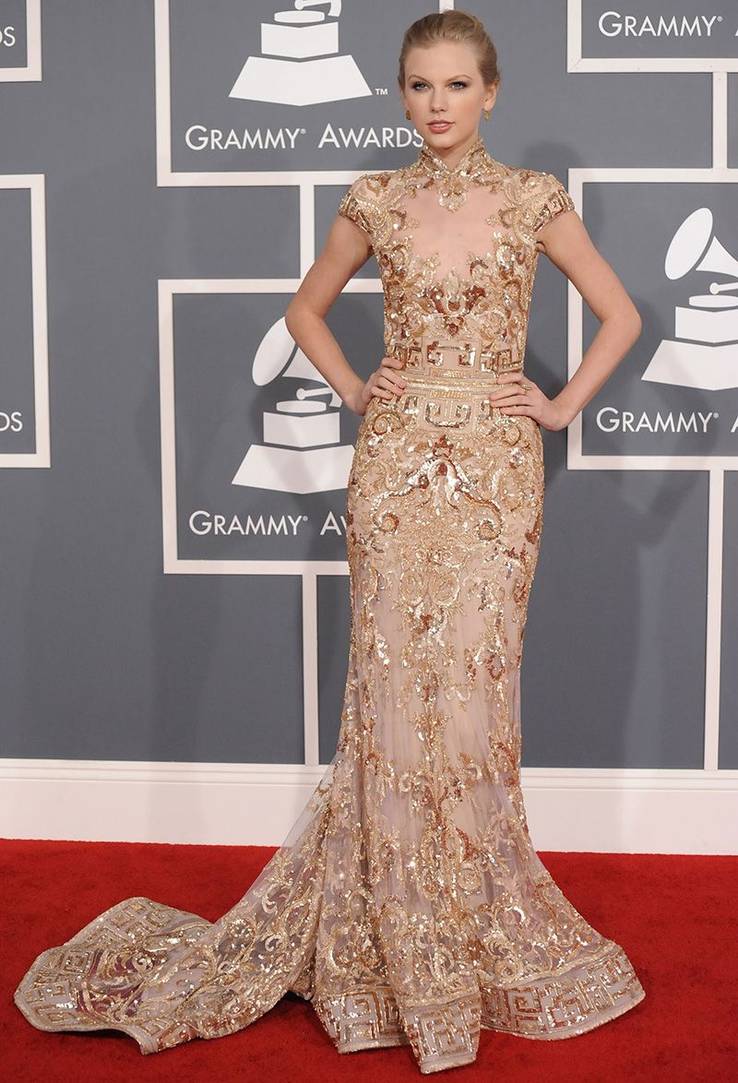 2012 was a huge year for Taylor Swift. She released Red, one of her most successful albums to date. Earlier that year, she attended the Grammys, wearing one of her most beautiful looks up until that point.
The gorgeous Zuhair Murad Couture gown that she wore featured a high neckline, a mini-train, and gold emblems over a nude slip. Taylor's choice of a soft and chic up-do helped to keep most of the attention on the dress and its gorgeous designs.
7

Chaos To Couture Met Gala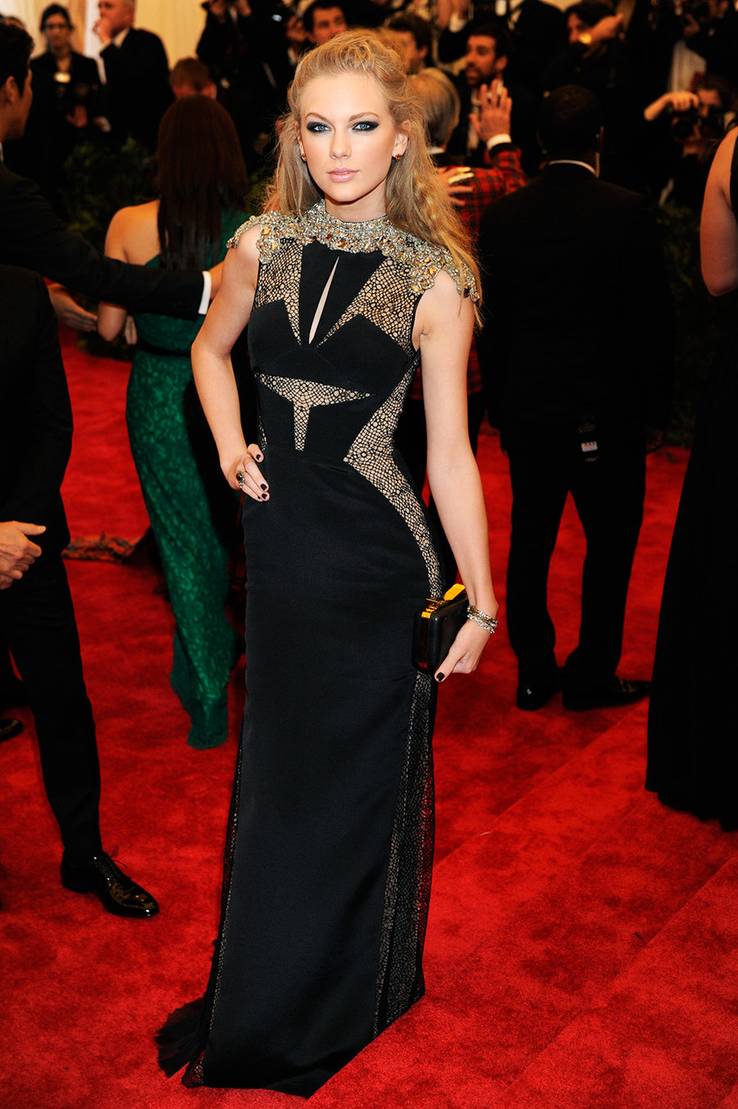 Taylor Swift's "Chaotic To Couture" Met Gala look might have missed the mark on being either chaotic or couture, but that's okay. If you ignore Taylor's punk-inspired hair, then the dress is just perfect for a fancy evening out on the town.
RELATED: 18 Photos Of Taylor Swift's Best Red Carpet Fashion And Beauty Looks
Everything from the classic black color of the dress to the cutouts to the intricate beading just screams high fashion. J. Mendel is the lucky designer who styled Taylor for the event.
6

2016 Met Gala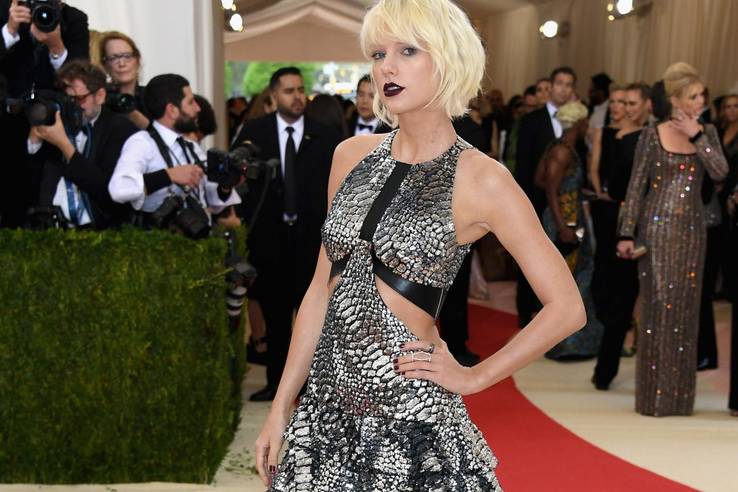 Taylor Swift's bleach blonde bob stole the show at the 2016 Met Gala, but her snake print dress, likely a nod to her very public feud with Kim Kardashian and Kanye West at the time, was also an attention grabber.
Similar to the mini-dresses Taylor sometimes rocks on stage, the frilly-cut out dress flattered her wonderfully by putting her best assets, her killer legs, on display. We're not sure if it screams "extravagant" so much as "daring" (especially for Taylor), but it was just too amazing to leave off this list.
5

2018 Billboard Music Awards Red Carpet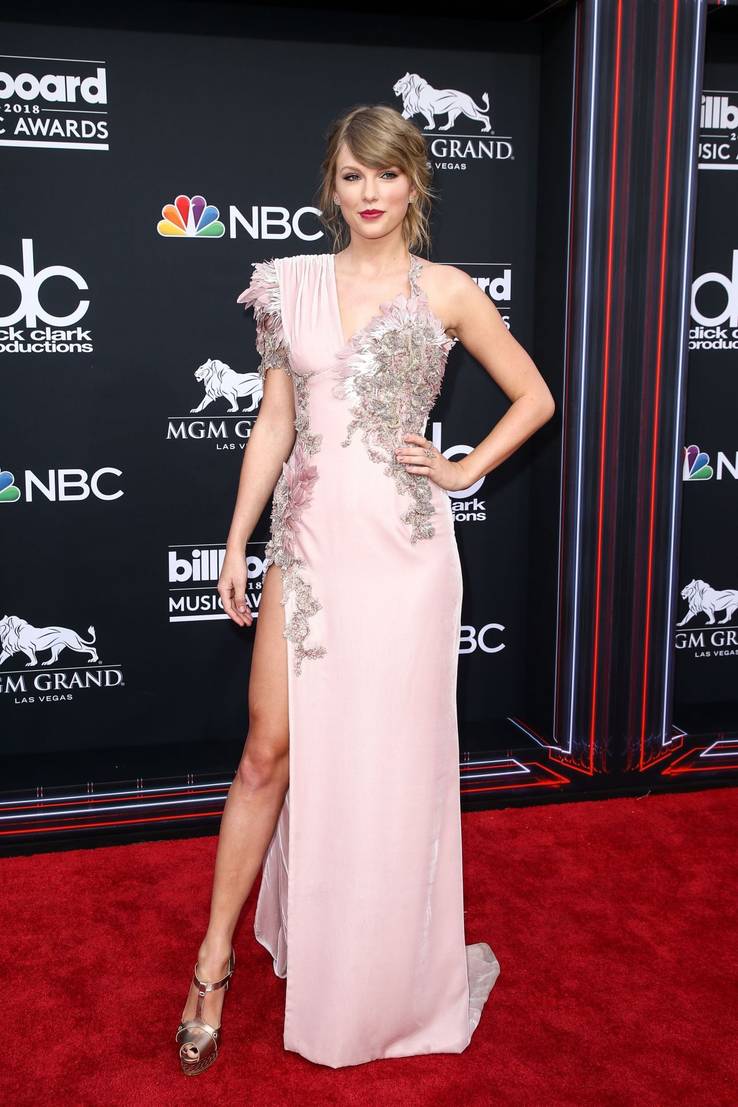 It doesn't really matter how much Taylor Swift experiments with fashion—her sweet spot will always be the soft, muted looks she seems to favor. One example is the beautiful baby pink Versace gown she wore to the 2018 Billboard Music Awards.
It was decorated in metallic feathers and beads, and it also had a cool dual-strapped thing going on. Despite all of that detail, the look as a whole is very elegant. Taylor did push boundaries a little with a thigh-high split, but overall, she still kept things quaint and tasteful.
4

2018 American Music Awards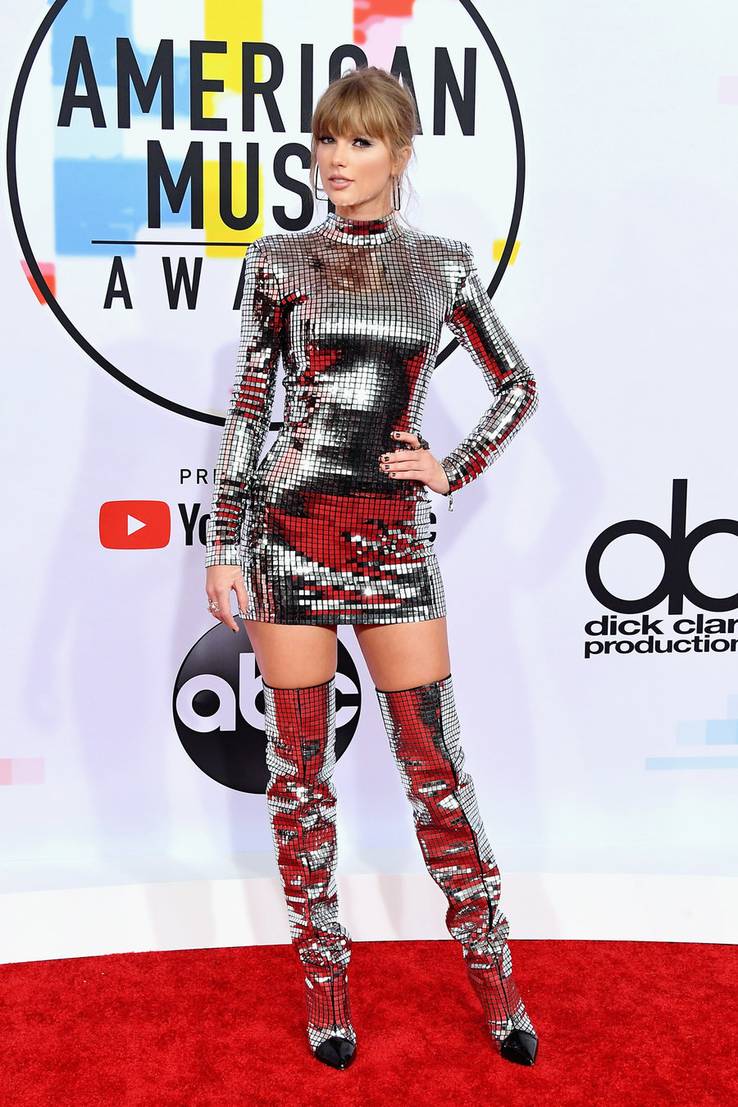 Taylor Swift shined bright at the 2018 American Music Awards. Possibly the brightest of them all! Despite the casual nature of the award show, Taylor went all out with a short, silver mini-dress and matching thigh-high boots.
RELATED: Taylor Swift & Katy Perry: A Timeline Of Their Friendship, Feud, & Forgiveness
Both the dress and the boots were imprinted with the same cool geometric design. Taylor kept her accessories to a minimum, probably to keep the attention on her futuristic look. Mission definitely accomplished.
3

Black Lacy Dress From "Blank Space"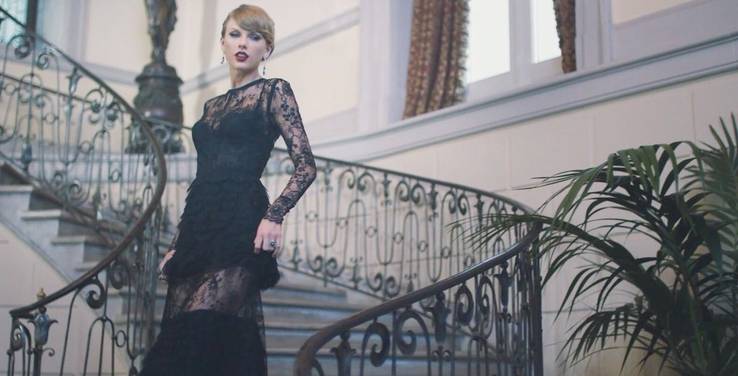 Taylor Swift played a crazy, love-struck socialite in her video for "Blank Space." None of her looks embodied that more perfectly than the black lacy number that Taylor donned as she descended the stairs.
Floor length, lacy, and disjointed, it was dramatic enough to warn of the possibility of a spontaneous meltdown. But it wasn't so out there that it overpowered her or distracted viewers from that really, really expensive staircase. If it doesn't say extravagant, then what does?
2

Floral Dress From "Blank Space"
An entire article could have been built just from the looks in Taylor's "Blank Space" video, but instead, we've narrowed it down to only two.
The second look is the floral-coated strapless gown that Swift frolicked in during the middle of the video. It fully encompassed Taylor's mindset during the early part of her relationship when everything was light and carefree. Unfortunately, things soon took a sour turn where Taylor and her date were concerned, but at least she still looked amazing!
1

2014 Victoria Secret's Fashion Show Red Carpet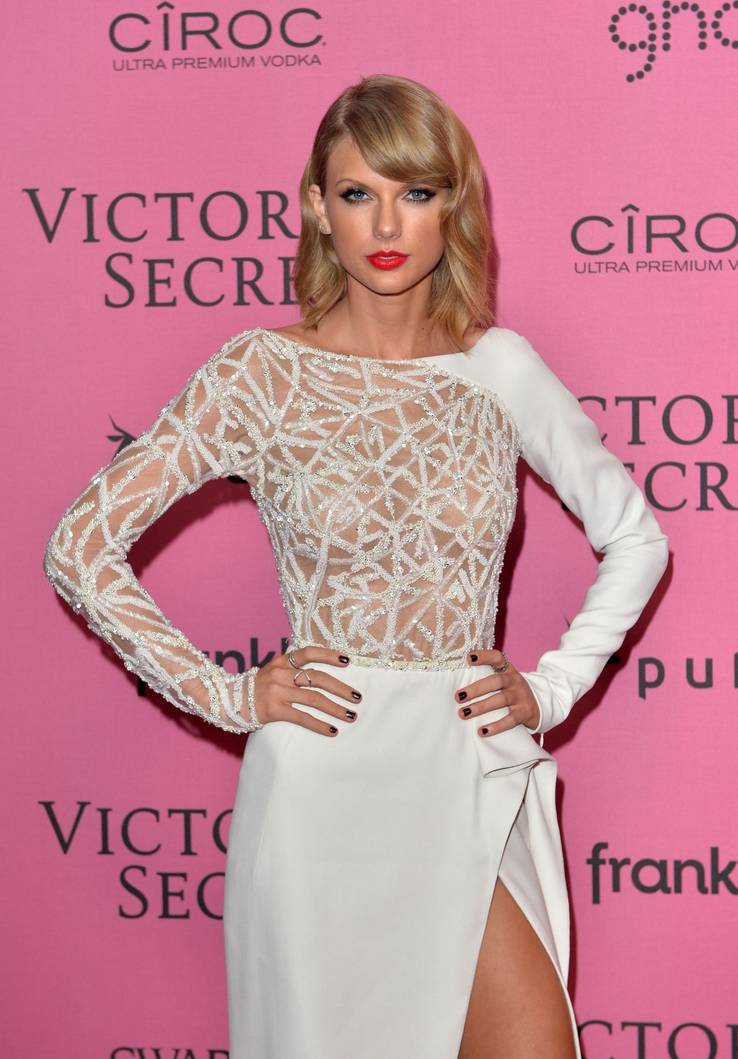 Taylor Swift killed her set at the 2014 Victoria Secret's fashion show. On stage, Swift wore tasteful, yet sexy lingerie that allowed her to fit right in with the paid fashion models who strutted down the runway during her performance.
Yet, it was one of two looks that Taylor graced the aptly-named pink carpet with that really stole the show: a floor-length white gown—fully equipped with a sheer, shimmer bodice and thigh-high split—designed by Zuhair Muhad. You would have to look far and wide to find any look of Taylor's to top this one, which is why it's claimed the top spot as her most extravagant look.
NEXT: 15 Of Taylor Swift's Biggest Fashion Fails
Tags:Taylor Swift,celebrity fashion
Source: Read Full Article