The Tragic Real-Life Story Of T-Pain
The following article references mental health issues and domestic abuse.
T-Pain has had his share of ups and downs, both in his family life and in his work life. After becoming a household name thanks to his unique use of Auto-Tune on smash hits like 2007's "Buy U A Drank," his love of the pitch-fixing technology began to work against him. Fellow celebs, including Jay-Z (who's made quite a few A-list enemies over the years), began to openly mock him, pushing him to question his whole career. So when his comedy track with The Lonely Island, "I'm on a Boat," was nominated for a Grammy in 2010, T-Pain couldn't help but focus on the fact that the nod wasn't for his actual music but for a "mockery of the art" he made, per The New Yorker. 
The Florida native eventually stopped making music and even lost all of his money at one point before deciding to make a comeback with 2014's "Up Down (Do This All Day)." Today, the "Masked Singer" Season 1 winner is worth a cool $10 million but the dark times he's experienced still weigh on him. This is the tragic real-life story of T-Pain.
T-Pain lost four teeth in a freak accident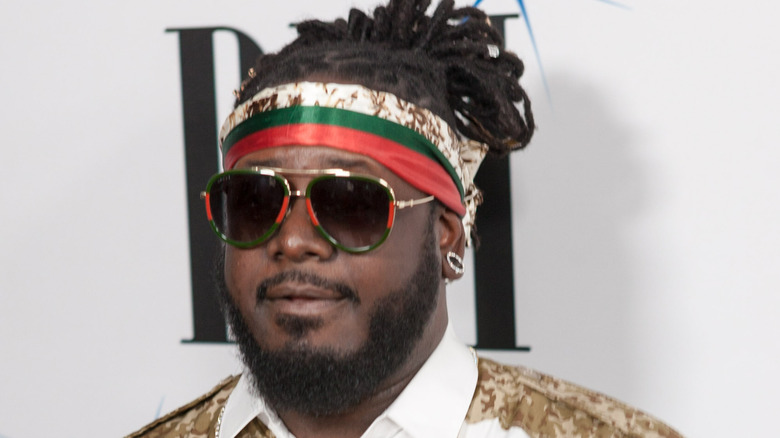 In March 2009, Rap-Up.com reported that a 23-year-old T-Pain had been involved in a freak golf cart accident that cost him four teeth. The incident reportedly took place in San Antonio, Texas, during Lil Wayne's "I Am Music" tour and sent him into dental surgery while also leaving him with "abrasions and bruises to his face." The timing of the incident forced the rapper to miss one concert and to skip out on the filming of Lil' Kim's "Download" video, but the diva was quick to make it known that she wasn't cutting T-Pain out of the clip. "He's gonna be in the video, but we've got to wait until he heals and gets better," she assured HipHollywood.com, per MTV, adding, per The Boombox, "To my boy T-Peezy, 'Get better baby. We can't wait to see you.'"
Just days later, Rap-Up.com confirmed that T-Pain had made a quick recovery and returned to the "I Am Music" tour. In fact, he even used his opportunity on-stage at the Gibson Amphitheatre in Universal City, California, to give fans an update on the accident, saying, "There's a lot of talk that I flipped over in a golf cart. That's f****** true," he confirmed. 
"It did happen like three days ago. My a** is on fire right now. My side hurt, my mouth hurt. I bust my a**. I'd show you the marks, but I don't wanna pull my pants down right now," he joked with the audience, adding, "If I was any less of a showman tonight, I apologize."
T-Pain faced 'legitimate' death and kidnapping threats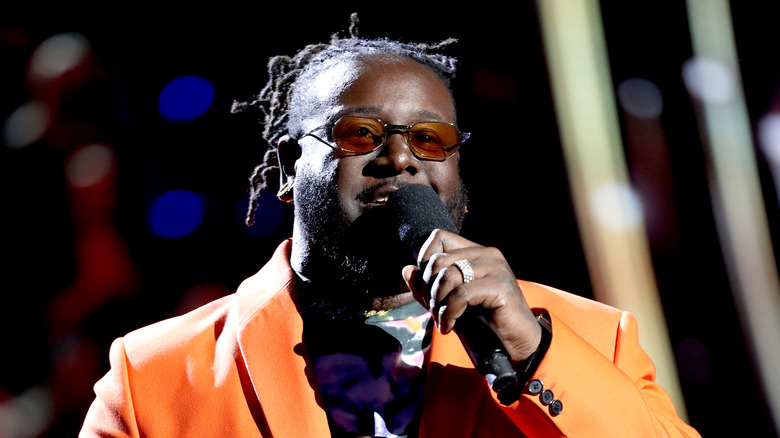 T-Pain was supposed to be the biggest name performing at Guyana's annual Mashramani festival in February 2009, but that all changed after the show's promoter, Kerwin Bollers, said "credible death and kidnapping threats" were made against the Florida native, per the Associated Press (via CTV). According to Bollers, "email and phone threats from an unidentified source" were received. Authorities told reporters that they were investigating the matter, and Bollers canceled the show in the interest of safety. But the drama wasn't over for T-Pain because the following month, he faced a $5 million breach of contract lawsuit, along with his Nappy Boy Touring company and his management company, Chase Entertainment, according to The Boombox.
The outlet also reported that Hits And Jams Entertainment, a local Guyanese promotion company, claimed that they had paid the rapper a $75,000 advance and fulfilled a number of other lavish requests including, according to HipHopDX, "more than 10 airline tickets, booking a four-star hotel, and 24-hour room service." David Abram, a rep for Chase Entertainment, was quick to respond that they had offered to return all of the $75,000, adding that the cancelation was caused by "a legitimate security threat" and noting, "We feel horrible about not being able to play the concert. We are going to do what needs to be done to make this right with the promoters. They're a good company. We're a good company." Hits And Jams Entertainment wasn't satisfied, however, responding that a refund could not "remedy the disappointment to the Guyanese fans."
T-Pain's niece was killed at her place of work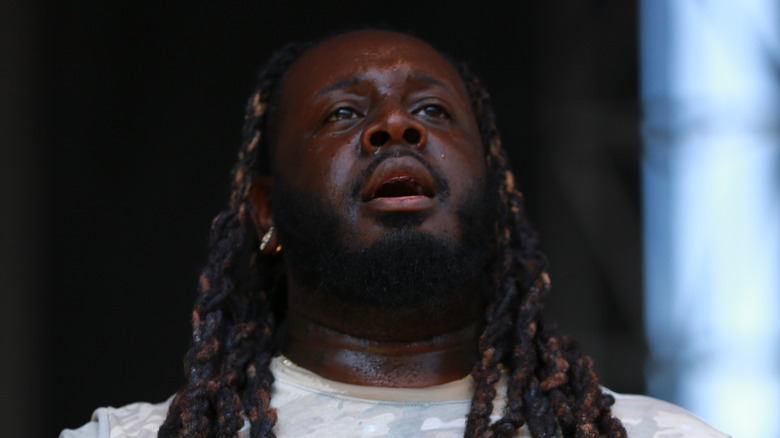 T-Pain's family was rocked by tragedy in August 2016 when his 23-year-old niece, Javona Glover, was fatally stabbed, according to the AP (via Global News). The incident took place in the rapper's native Tallahassee, Florida. As USA Today reported, authorities arrived at the Walgreens where Glover worked around 10:15 a.m. to find "a female victim was bleeding heavily." She died from her injuries before she was transported to hospital.
T-Pain took to Twitter on his fans to help in tracking down the suspect, who was identified as a "5-foot, 9-inch black male weighing about 160 pounds," per USA Today. "If you got info [please] help us out!" he asked his million-plus followers. He also asked that the press respect his and his family's privacy, tweeting, "To all the media/news outlets and bloggers in Tallahassee: pls leave my family the f*** alone. We're not here for your story. Let us be [please]."
It took a year to track down his niece's killer but no justice was served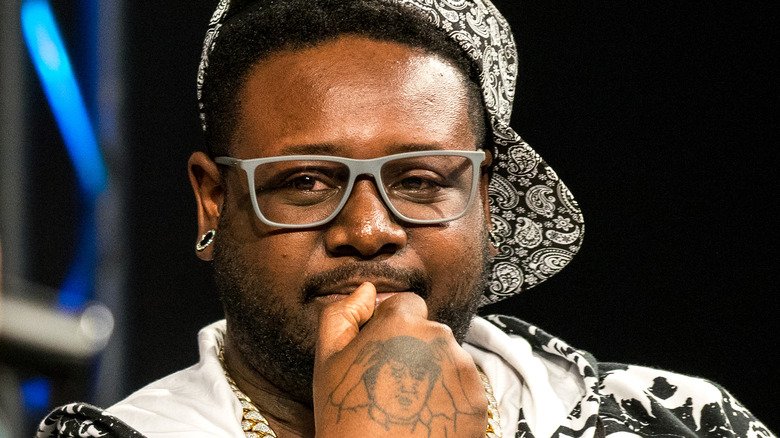 While details of the suspect were initially held back, it was later revealed that Javona Glover's suspected killer was her ex, Tavon Jackson, and the father of her 2-year-old daughter. Speaking with the Tallahassee Democrat in September 2016, Glover's mother, Jennifer Battles, said that T-Pain's niece was murdered "for loving the wrong person." Noting that Jackson "treated her nice at first," she opened up about how he became physically abusive towards his daughter and revealed that Glover had tried to break things off with Jackson and had told him she was seeing someone else the day before she was slain. Jackson then allegedly showed up at her work and stabbed her and was captured fleeing the scene on Walgreens security cameras.
Despite T-Pain's public pleas for help in tracking down the suspect, including sharing photos of Jackson on his Instagram, per NME, no arrest was made and authorities weren't able to identify his whereabouts for a year. It wasn't until February 2017 that TMZ confirmed that authorities had found his body in a wooded area near the original crime scene while working on an unrelated case. They concluded that his cause of death was most likely suicide.
If you or someone you know is dealing with domestic abuse, you can call the National Domestic Violence Hotline at 1−800−799−7233. You can also find more information, resources, and support at their website.
Is everyone out to steal T-Pain's money?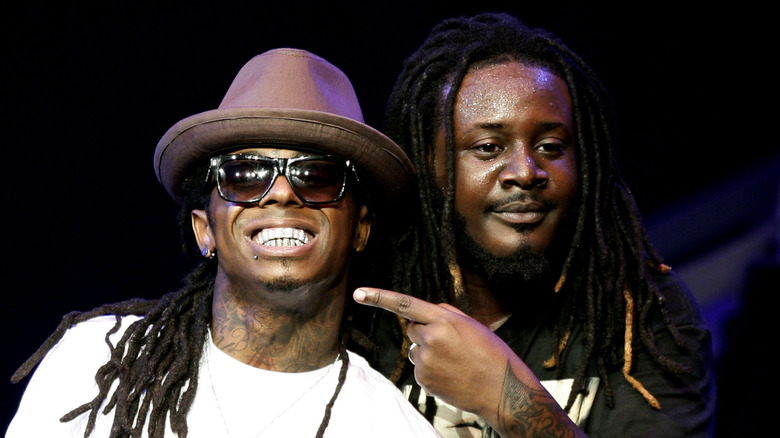 Making hits may come easily to T-Pain but cashing in on his checks hasn't been so simple. Over the years, the "Buy U A Drank" hitmaker has had to fight for his money. In February 2017, he sued Cash Money Records for $500,000 in unpaid royalties, according to TMZ, alleging that Weezy failed to pay him for producing the track "Got Money" off "Tha Carter III" and that he also snubbed one of T-Pain's artists, Young Fyre, who produced "How to Hate" off "Tha Carter IV." Both "Tha Carter III" and "Tha Carter IV" debuted at No. 1 on the Billboard 200 chart and went triple-platinum, per Billboard, which would explain T-Pain's claims that he was owed a whopping half a million dollars in royalties.
Then, in June 2018, he sued his record label, Konvict Kartel, for failing to pay for his fifth album, 2017's "Oblivion," according to The Atlanta Journal-Constitution. In the lawsuit, the rapper said he was owed at least $200,000 in advance payment, another $200,000 for delivering the album, plus "semi-annual royalty accountings and payments." Jump to December and T-Pain sued his former management company, Chase Entertainment Corporation, for over "$1 million in damages and for the return of all commissions he paid since 2005," according to The Blast, after learning they never had a talent license and had been "concealing […] the true nature and details of the financial agreements related to his music career." In June 2019, they reached an agreement and he dropped all charges.
Trolls blamed T-Pain for his brother's death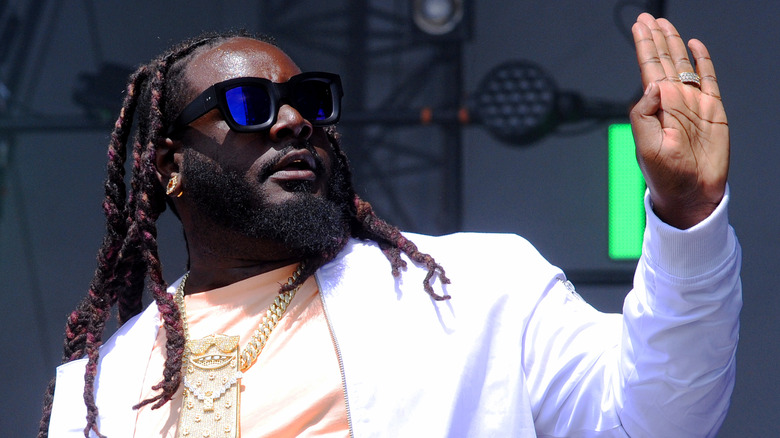 T-Pain once again endured family tragedy when his brother's (unidentified) illness sent him to "two hospitals for a total of a month and some change" and racked up a whopping $1,402,977 bill. While the rapper didn't share many details of the ordeal, he did tell fans on Instagram (via Page Six) in December 2018 that he paid the bills, adding, "I first wanna say thank you to all the [people] that were involved in keeping my brother alive. I can't express enough gratitude to the medical staff that kept my family whole," he wrote. Sadly, he died that February. And if that wasn't difficult enough, a troll accused T-Pain of being the reason for his brother's death.
Getting candid with Plugged Soundz, T-Pain shared, "This man just told me I let my brother die because of the hospital bills. After I paid $2.2 million in the hospital. And he told me if I would have paid more money, then my brother would still be alive," he said, becoming emotional. Noting that "money don't fix everything," he shared, "I paid $2.2 million, he got out the hospital, he was livin' his life. He had just got back to walking." He went on to say that his brother "slipped up, his leg gave out" while on a walker at their mom's house "and he hit his head on the f****** kitchen counter and his brain started bleeding and he went braindead and then he died. How can money fix that?" 
Criticism from T-Pain's peers sparked a years-long depression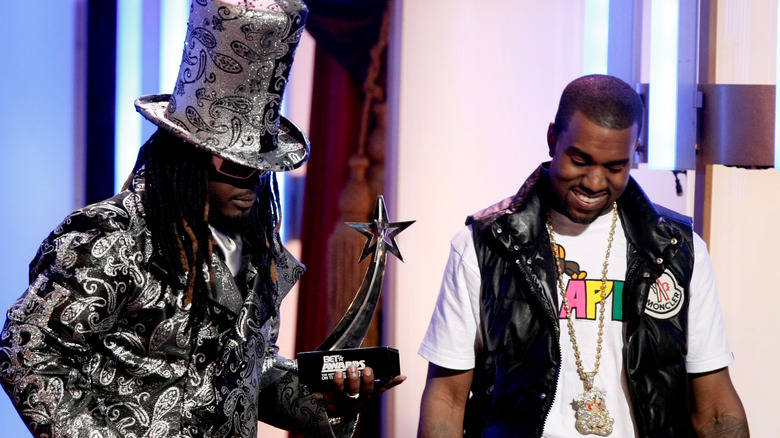 T-Pain may have an impressive net worth, multiple Grammy wins, and a slew of hits, but ridicule surrounding his use of Auto-Tune drove him away from music in the early 2010s. As he told The New Yorker, "I wasn't getting the credit I felt like I deserved. I was getting s****** on. So I was just like, 'Well, I'm not gonna keep doing this if that's all I'm gonna get.'"
Among his most famous critics was Kanye West, who he worked with on "808s and Heartbreaks." Speaking with VladTV in 2014, T-Pain said Ye wrote a diss track about him and made "everybody in the studio join in with him to sing, like, 'T-Pain's s*** is weak.'" Then there was the time Jay-Z dropped a song called "D.O.A. (Death of Auto-Tune)" and the moment when Usher shared some harsh criticism. T-Pain recalled the interaction in Netflix's "This Is Pop" (via Entertainment Weekly), saying, "Usher was my friend. I really respect Usher. And he was like, 'Man, I'm gonna tell you something, man. You kinda f***** up music.'" Admitting that he "thought he was joking at first," T-Pain shared, "I don't even think I realized this for a long time, that's the very moment that started like a four-year depression for me." 
In a followup tweet, T-Pain said he still had "love and respect" for Usher. "Ppl talk s*** about me 24/7 but when it comes from someone you truly respect it hits very different," he wrote.
If you or someone you know is struggling with mental health, please contact the Crisis Text Line by texting HOME to 741741, call the National Alliance on Mental Illness helpline at 1-800-950-NAMI (6264), or visit the National Institute of Mental Health website.
Source: Read Full Article