This Is How R. Kelly Lost All Of His Money
The following article includes allegations of sexual harassment and sexual assault.
For years, R&B legend R. Kelly faced innumerable accusations of sexual assault and misconduct, all of which he had denied. Eventually, the life and career of the one-time superstar came to a screeching halt when, in February 2019, he was arrested and charged with "10 counts of aggravated criminal sexual abuse" (via BBC). Troubles worsened for the embattled singer when he was arrested again in June that year and was hit with federal charges of "kidnapping, forced labor and sending child pornography across state lines" (via NPR).
Throughout the 1990s and 2000s, R. Kelly dominated airwaves with tracks such as "I Believe I Can Fly," "Bump N' Grind," and "Ignition (Remix)." Kelly's music often revolved around sexual themes, with his sultry delivery and a not-so-subtle erotic tinge. As accusations of his sexual wrongdoings further came to light, songs of this ilk proved to be major red flags against the singer — with Oxygen even pondering if Kelly was "Hiding in Plain Sight [sic]?"
And throughout his illustrious career, Kelly ultimately became a multimillionaire in the process, potentially topping $50-100 million in his prime, according to Celebrity Net Worth. Yet, while it was his hits that earned him those millions, it was the misses in his personal life that eventually cost the singer all of his money. So, how exactly did R. Kelly lose all of his money? Scroll down to learn more!
R. Kelly's legal woes drained his bank account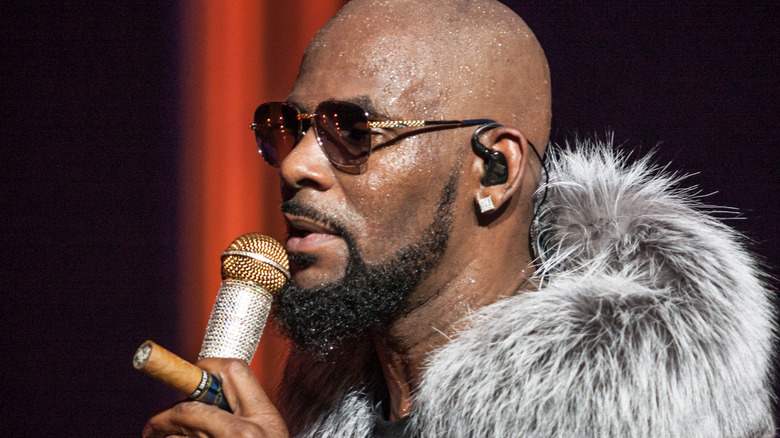 R. Kelly was once a multimillionaire prior to his multiple charges regarding sexual abuse. However, all of that came undone as more details came to light regarding Kelly's mysterious past. Per ABC, the singer was hit with a lawsuit from Tiffany Hawkins, who alleged "intentional sexual battery and sexual harassment while she was a minor." According to the report, the suit was settled for $250,000 amidst a plethora of other lawsuits.
Another major chink in Kelly's financial armor came in the form of his divorce settlement with ex-wife Andrea Kelly. In the divorce agreement, it was revealed that Andrea received "a one-time $1 million payment, $250,000 a year in child support and $10,000 a month in alimony," though the alimony payments expired following her remarriage.
And, though $1 million-plus is a lot of money, these were only the tip of the iceberg regarding Kelly's legal woes. In 2018, the singer dropped the 19-minute confessional track "I Admit," in which he revealed he owed a $20 million debt to the IRS. On the track, Kelly poignantly notes he "[borrowed] a couple of [millions] from the label," "couldn't put food on the table," and "was told I had to sell my cars … couldn't get a loan" on top of owing the IRS $20 million while they "were coming to get my home" (via Genius). 
With all of these massive blows, one can't help but wonder: Did R. Kelly ever financially recover?
R. Kelly did not financially recover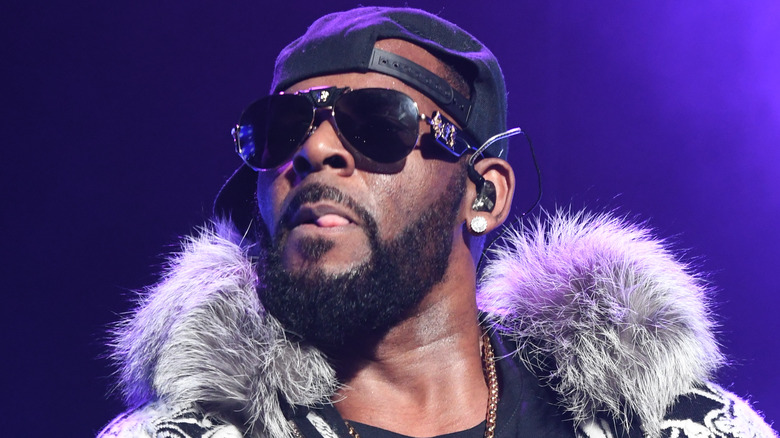 Despite being one of the most recognizable faces in all of music, R. Kelly's actions did not make him impervious to financial despair. The R&B singer went from a multimillionaire to struggling to make rent. Per ABC, the outlet noted that the singer was "evicted from two Atlanta-area homes [with] over more than $31,000 owed in unpaid rent" in 2018. In 2013, ABC also mentioned that Kelly's former mansion, originally "valued at more than $5 million," sold "for $950,000 in a foreclosure auction."
Following the bombshell Lifetime documentary "Surviving R. Kelly," which outed the singer's wrongdoings (to put it mildly), he was also dropped by his record label, Sony Music (via Revolt), effectively putting a massive dent in the singer's pockets as RCA/Sony retained his records. And as it stands, R. Kelly is currently sitting at a net worth of negative $2 million, per Celebrity Net Worth. Yes, negative $2 million. A stunning fall from grace from the man who once believed he could fly.
If you or anyone you know has been a victim of sexual assault, help is available. Visit the Rape, Abuse & Incest National Network website or contact RAINN's National Helpline at 1-800-656-HOPE (4673).
Source: Read Full Article