What Is Ed Sheeran's Most Famous Song?
Since the release of his first album, + (plus), Ed Sheeran has been wooing audiences with his melodic voice. Although he only came onto the scene in 2011, he has released three hit albums, Collaborated with some of the top musicians in the business, and even had a cameo in Game of Thrones. Not bad, if you ask us.
Fans have been waiting for his fourth record for a while now. He teased a couple of years ago that he has been working on it for years, but that he wanted to do other things. Sheerios are already speculating this next one will be the last of his "math" collection. Meaning that because his first record was called + (plus), then the second x (multiply), and the third called ÷ (divide). The last of this collection is expected to be called – (minus).
Of course, he could surprise us all. He is one of the few artists out there that seems to want to try everything. You can even hear it in his music.
Ed Sheeran is always trying something new. That got us thinking. What is his most famous song? We listened through them all and put together a top five list.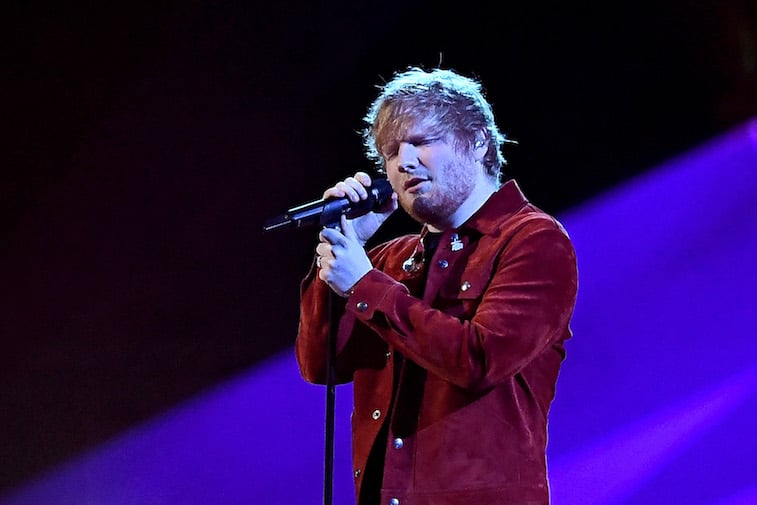 5. 'Don't'
With the release of x, his second studio album, came the song Don't. This one flew to the top of the charts due to its catchy pop beat. It's the kind of song that makes you want to get up and dance. On top of having mass commercial success, this one also comes with a little celebrity drama.
If the rumors are true, the lyrics of this Ed Sheeran hit are inspired by his ex-girlfriend, Ellie Goulding. That's right, when he says, "Don't f—- with my love," he may have been talking about her. It kind of makes you want to listen to the words carefully next time this song plays on your radio.
4. 'Lego House'
While "Lego House" was not as commercial or successful as the next song on the list, it still hit the top 10 charts in Australia and New Zealand. It was also a big hit here in the States. For the music video, Ed Sheeran got Rupert Grint, best known as Ron Weasley from Harry Potter, to play his biggest fan. It's a little creepy at the end.
If you can get past Ron Weasley as a stocker and only focus on the lyrics, it's a pretty sweet song. The creative message flows beautifully, and even though it was from his first album, it remains one of his best.
3. 'The A Team'
Another top song that came from +, his first album, is "The A Team." This was his first lead single, and it helped shoot him into stardom. He got the inspiration for the song after visiting a homeless shelter. Although some people questioned why his debut single was about a drug-addicted prostitute, it kind of makes sense.
Right about the time this song hit the airwaves, the public was starting to get a better understanding of the drug epidemic. The song and the video hit a cord for a lot of people, making this song climb the charts, and won him several awards.
2. 'Thinking Out Loud'
From the first time "Thinking Out Loud" hit the airwaves, it was destined to be played at every wedding. Why has this song become so huge? Because deep down inside, everyone wants to find someone that will love them a little more every day.
This song almost made it to No. 1, because of how popular it is with brides and grooms. It's no wonder they want "Thinking Out Loud" to be the first song they dance to as a married couple. With poetic verses like, "Cause honey, your soul could Never grow old; it's evergreen." Everyone dreams of soulmates and happily ever after. This song makes people believe it's possible.
1. 'Shape of You'
We saved the best for last. You might be thinking this song was the obvious pick for the No. 1 spot of Ed Sheeran's most famous songs, but hear us out. "Shape of You" basically put Sheeran on the map. Not only did it smash a ton of top 10 charts, in several countries, but it was a sort of crossover hit.
Most of his previous hit singles were somewhat genre specific. Once it hit the airwaves, Sheeran gained more fans that didn't even know who he was. This song also made its way to clubs, and probably some weddings too.
We can only wait to see when, and if – comes out. If he does decide to release it, we're sure it will be everything Sheerios have been waiting for.
Source: Read Full Article