Celebrity Game Face Season 2 Release Date, Contestants, And More Information
"Celebrity Game Face" was the show we didn't know we needed during the pandemic. It reminded viewers that the stars were stuck at home like the rest of us, and they managed to make it look like loads of fun. Necessity breeds invention, and the new, socially distanced game show format was born last summer in the wake of Hollywood's unprecedented production shutdown.
The E! show was initially conceived as a one-off television event. Comedy giant Kevin Hart hosted it from the comfort of his own couch, and his wife, Eniko, served as his co-host. The "Jumanji: The Next Level" star provided viewers with some much-needed laughs by exchanging virtual banter with the show's contestants and presenting them with wacky challenges to complete, like saying words with their mouths stuffed with marshmallows and slurping up spaghetti using tiny plastic hands. The first contestants — who were also filming from their homes — were "Community" star Joel McHale and wife Sarah Williams, "Modern Family" actor Sarah Hyland and her fiance Wells Adams, and "America's Got Talent" host Terry Crews and his wife Rebecca King-Crews.
The winners were presented with a golden "Hart of a Champion" trophy shaped like a baby Hart — complete with facial hair — and a donation to a charity of their choosing. E! ordered additional episodes of the show, and it was such a hit that it was picked up for a second season. We've got all the details about it below.
Celebrity Game Face Season 2 is coming soon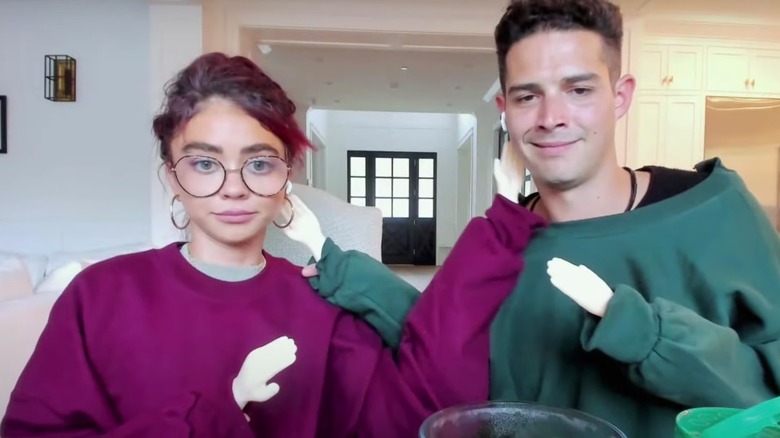 Fans will be laughing along with "Ride Along" star Kevin Hart before they know it. According to E! News, hilarity will ensue when new celebrities compete in another series of absurd events on August 31. So mark your calendar and get ready to start taking notes if your family is looking for some fun alternatives to board games for game night. The first episode of "Celebrity Game Face" Season 2 premieres at 10:00 p.m. ET/PT on E!.
After viewers root for their favorite celeb teams, they might want to stick around and check out another E! game show. "American Pie" star Jason Biggs cooked up the concept for "Jason Biggs' Cash at Your Door" with some help from the "Cash Cab" producers. Instead of more famous faces, fans will see regular families compete for cash after being surprised at home. Its first episode airs at 11:00 p.m. ET/PT.
Fans who want to catch up on the first season of "Celebrity Game Face" can check it out for free on Peacock. It consists of a total of 13 episodes and an impressive batch of celebrity contestants that includes Raven Symoné, Cheryl Hines, Tamera Mowry, Jim Gaffigan, Mario Lopez, Mayim Bialik, Sherri Shepherd, Meghan Trainor, and many more.
Who will be on Celebrity Game Face Season 2?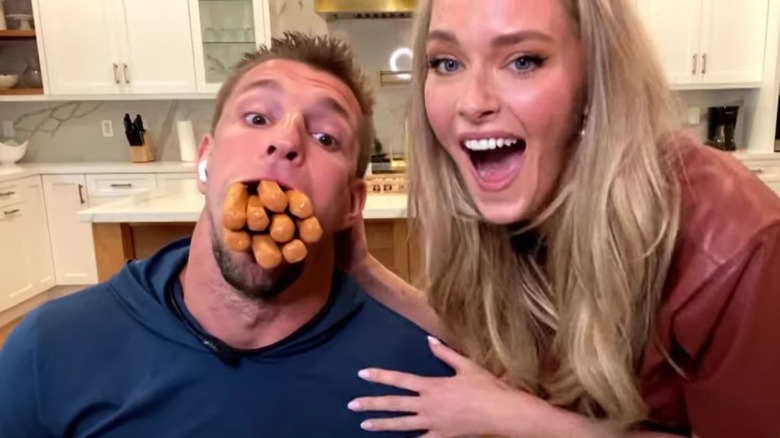 Kevin Hart will be back to host the second season of "Celebrity Game Face." The comedian also produces the show, and his star power probably comes in handy when he's trying to find famous folk who are willing to risk humiliating themselves for the sake of entertainment. The stars getting their game faces on this time around include rappers Nelly, T-Pain, and Ludacris, who will surely "lick" the competition if there's a lollipop challenge.
While Hart is usually the show's comedy MVP, he'll have some competition when "Saturday Night Live" cast member Kenan Thompson, comedian Wanda Sykes, and "In Living Color" star Damon Wayans are contestants. "This Is Us" co-stars Chrissy Metz and Susan Kelechi Watson will both get the opportunity to show off their sillier sides, while "The Good Place" actor D'Arcy Carden will see if she's good enough to take down her A-list adversaries. 
Jason Biggs will compete with his wife Jenny Mollen in an episode airing ahead of his own game show, so even if he loses, getting a free plug will be a pretty sweet consolation prize. Tampa Bay Buccaneers tight end Rob Gronkowski and Sports Illustrated Swimsuit model Camille Kostek are another funny power couple who will have a chance at taking home a "magnificent" painting of Hart. And these are just a handful of the singers, actors, and athletes that viewers will see this season.
What games will the Celebrity Game Face contestants play?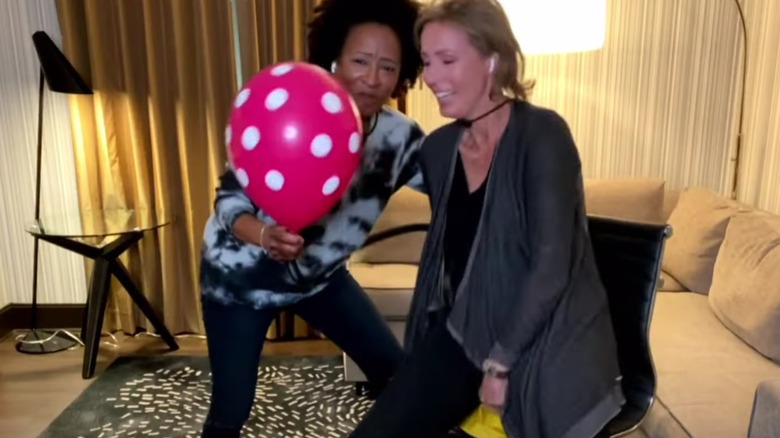 Kevin Hart has promised that Season 2 of "Celebrity Game Face" will be "crazier than ever" with games that are even "wilder." One of the zaniest past challenges was the "T.P. Takedown," which required one contestant to wear a plunger with a roll of toilet paper on the handle strapped to their head. Their partner had to unravel the roll using their teeth. Then there was "Get In My Mouth," where contestants tried to eat a marshmallow hanging from the line of a fishing rod on their head without using their hands.
The imaginative names of this season's games will certainly have some minds in the gutter. According to E! News, they include "Blow Hard," "Pardon My Pecker," and "Cookie Face." In the trailer, Rob Gronkowski competes in a challenge that calls for him to stuff his mouth with nine hot dog wieners, and Shantel Jackson tries to blow out candles on a birthday cake while wearing a contraption that forces her to keep her mouth wide open. Jason Biggs is shown wearing a big yellow box with an opening for his head, while Wanda Sykes and her wife Alex try to inflate a balloon attached to a whoopee cushion. 
Other props that appear in the preview include a blow-up doll, basketballs, and party horns. We have a feeling some celebs will be questioning their decision to appear on the show, and we can't wait to watch them in action.
Source: Read Full Article