'Evil' Season 2 Finale Leaves Major Questions for Season 3
Talk about spiraling. Oh Kristen! For months, Evil viewers have watched Kristen hide dark secrets from her friends, family, and herself. David — on the path to ordination — clung to his faith while contending with Leland and other villainous forces. And Ben's non-believer tendencies have been tested several times thanks to the succubus and his dating life.
But after the finale "C Is for Cannibal," the sigil mysteries, Sheryl's icky alliance, priestly drama, and dangerous supernatural encounters only created more loose threads. It's a good thing Evil Season 3 is happening, because we have so many questions for the TV show to answer.
[Spoiler Alert: This article contains spoilers for the Evil Season 2 finale]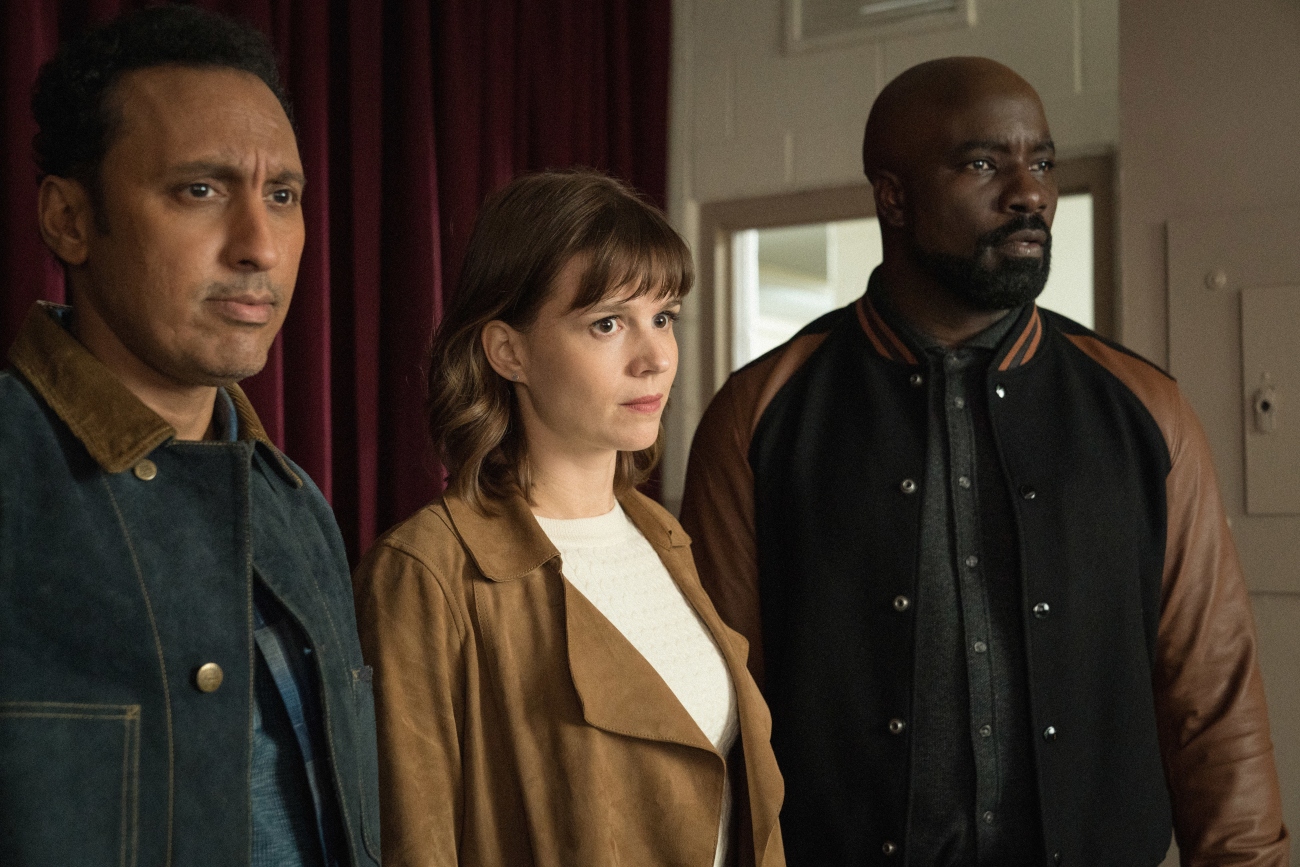 Will Kristen and David proceed as friends or um… lovers?
All the lusty tension that spilled over from season 1 finally erupted into a kiss. Moments before that, Kristen delivered an emotional confession in David's room about killing LeRoux. Some fans believe she did all that to comply with Leland's demand to seduce David in exchange for leaving her kids alone, but she genuinely seemed ready to kill Leland too. And she seemed remorseful about getting away with murder.
Running to David to steer her away from temptation places them both in a precarious position. He's now an ordained priest and Kristen's married, but will the pair engage in a full-blown sexual relationship?  Perhaps no one should rush to give them a cutesy couple's moniker just yet.
In an interview with TV Line, Katja Herbers dished on her character and David. "I don't know where it's going to go in the third season, but this is clearly not them flirting in this scene," she said. "This is actually her showing everything that she is and that she has done, and him accepting her for who she is. I find it very beautiful. We're not playing around with the chemistry that they've had."
What's 'Evil' really doing with Leland, Sheryl, and Edward?
Thanks to Sister Andrea, the riddle of the 60 demon families starts to come together. Leland and Edward obviously have something to do with a demonic takeover, and this involves overseeing David and Kristen's investigations. But how does all this connect to Sheryl?
Are they using her or is she using them? It's unclear, but Leland will continue with his games in season 3 now that the church accepted him as a "consultant." Actor Michael Emerson knows that the team is on high alert, so Leland will need to get creative.
"It just means he's going to have more disguises. He's going to have to pretend and have more layers with more people. But he seems to delight in that in a way. He's an actor. He pretends a lot," he told Inverse.
Will Dr. Boggs make it through season 3 in one piece?
Kristen's psychiatrist really had no idea what he got himself into with her work. Now that he's seen a demon and spoken to Sister Andrea, things can go two ways. He can come back from his break and stay out of the Catholic Church's business, or he can dive deeper into the mess. It can get dangerous for him. Boop!
Who's looking out for Lexi in 'Evil' Season 3?
One of the most disturbing aspects of season 2 is Lexi's development. Her teeth, her real or imagined tail, and the "daffodil" code word Leland passed her point to something sinister. She's just a kid, and Kristen — along with the audience — learned that he's been secretly visiting her at school. She also has that book in her possession. All of it's scary.
Lexi is afraid to tell anyone about what's happening to her, and coupled with self-image issues, it's hard not to worry about her. It seems she's part of Leland's overall agenda, and no one knows if Kristen, Ben, David, or Sheryl are going to protect her. And we can forget about absentee Andy for now.
Evil Season 3 is a go for Paramount+, and viewers will have to wait and see if any of these loose ends will make sense when the series returns.
Source: Read Full Article