Here's Absolutely Everything We Know About 'Bachelor in Paradise' Star Demi Burnett's Girlfriend
[This post contains spoilers for the Bachelor in Paradise season six premiere.]
Demi Burnett is about to be one half of the first same-sex relationship to ever be featured on one of the Bachelor franchise shows, and I just have four words: it's about damn time. After appearing on Colton's season, Demi is now one of the contestants on Bachelor in Paradise. But, she's not taking the traditional BiP route and looking for love. Apparently, she just straight up brings it along with her.
Demi's relationship has been teased in this season's promos, and in the premiere, she told Hannah Brown that she was seeing a woman before coming onto the show. But, Reality Steve did some investigating, and has reported that Demi isn't going to find love with another contestant. She is actually going to "bring" her girlfriend onto the show. I'm pretty sure this is another Bachelor first. Here's everything we know so far.
Demi's Girlfriend is Kristian Haggerty
Demi's gf's identity hasn't technically been confirmed by anyone besides Reality Steve yet. They're not even really Instagram official, but there IS this one photo.
The one thing missing to complete a perfect weekend ❤️
A post shared by KRISTIAN HAGGERTY (@kristianhaggerty) on
Kristian's profile says that she works in video production and is an ordained minister. We stan a talented love interest!
Shout out to the wonderful @jwade_studio – thanks for your kindness and this fresh hair ❤️
A post shared by KRISTIAN HAGGERTY (@kristianhaggerty) on
She's friends with another 'Bachelor' alum.
It looks like Kristian and her sister have been friends with Catherine Agro and her twin for a long time. You know Catherine as the one who brought her Pomeranian to Colton's season of The Bachelor, LOL. Apparently she's the one who introduced Kristian and Demi?
🖤🖤🖤
A post shared by C A I T L I N H A G G E R T Y (@caitlinkhaggerty) on
Demi says they aren't exclusive.
While Demi was chatting with Hannah during the premiere, she said that the relationship was not exclusive. Buuuut, she also said that they "fell head over heels" for each other so, I guess take that with a grain of salt? She added that she went to Paradise to figure out what she wants.
Demi makes out with Derek.
Uh…this got messy, fast. Obviously, Demi and Derek's make out sesh happened before Kristian gets to the island, but there's no way that's not going to be a little awkward.
Derek: I could definitely be Demi's man.
Audience, knowing that Demi is bi/LGBTQIA+ and her first scene on #BachelorInParadise was telling Hannah B about that: pic.twitter.com/vOcrpO0gvP
Big Spoiler Alert
According to Reality Steve, three couples are getting engaged this season, and one of them is Kristian and Demi. Uh, sounds like she's about to make up her damn mind!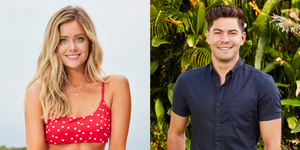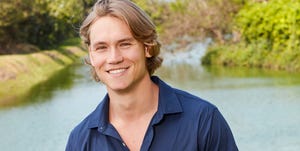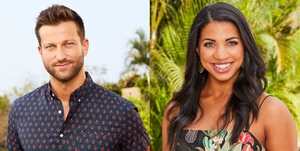 Source: Read Full Article