Is 'Bachelorette' Host Chris Harrison in a Relationship? Here's Everything You Need to Know
I've definitely spent this season of The Bachelorette drooling over Tyler C., but I can't speak for you. Maybe there's a different guy who's caught your eye? Maybe someone who isn't in the running to be Hannah Brown's future husband? No, I'm not talking about the hot producer, I'm talking about everyone's favorite host, Chris Harrison.
Chris Harrison has had a longer relationship with The Bachelor franchise than any of the actual on-screen couples, and he's certainly not shy about dolling out plenty of love advice. So, what's the actual deal with this romance guru's love life IRL? It's been kinda complicated, honestly.
Chris gave his first impression rose to Gwen Jones.
Chris met his now ex-wife, Gwen, when he was just 18 at Oklahoma City University, by literally whistling at her from across the lawn. Although this unfortunately means that I can no longer say, "who actually likes that?!" as a retort to being whistled at, the two tied the knot after graduating.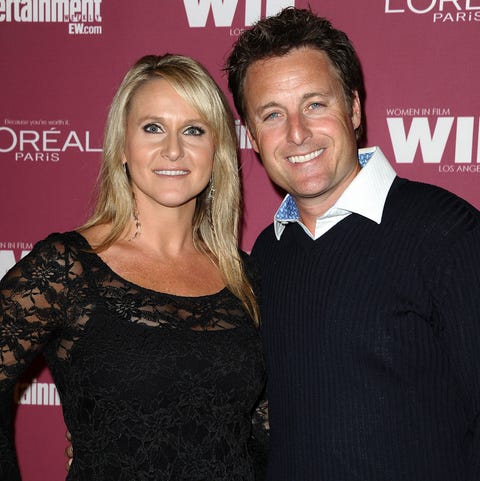 She was an accountant, he was a sportscaster. However, as we all know, it wouldn't be too long before Chris was commenting on a different kind of scoring. LOL, get it?
Vanilla Ice and I happy to support National #collegesigningday I'll never forget how signing with @oklahomacityuniversity changed my life Congrats to all graduating seniors choosing their path!
A post shared by Chris Harrison (@chrisbharrison) on
Nine years later, Chris started his gig on The Bachelor and a pop culture icon was born. There was also the literal birth of his son, Josh, who was just six weeks old when the show first premiered. Gwen and Chris also have a daughter, Taylor. Both of their children are now teenagers, and living reminders that damn, The Bachelor franchise has been going on for a while.
Chris and Gwen had a VERY amicable split
After 18 years of marriage, Chris became a bachelor, himself. In an interview with GQ where he described the split as "amicable" about a zillion times, he explained, "as we started to grow apart and hit hard times, we just weren't equipped to handle it." He also confessed that the dating-thirty-people-at-once style of The Bachelor probably isn't for him, saying that the ol' get-under-someone-new approach to heartbreak wasn't working. Oh, and he discussed the possibility of Gwen as the new Bachelorette, which would be simultaneously painful and unbelievably addictive.
In the years since, it seems like split really was amicable. Chris still spends plenty of time with the kiddos, and he's even taken them to Mexico during Bachelor In Paradise filming.
It just doesn't get any better than this. Grateful that these two made me a dad. Happy Father's Day to all the loving dads out there
A post shared by Chris Harrison (@chrisbharrison) on
He's dipped into the Bachelor Nation dating pool.
After Gwen, Chris reportedly dated a (not Bachelor Nation connected) woman named Kelly Sarac. After, he was linked to Bachelor alumni Andi Dorfman and AshLee Frazier. V scandalous, Chris!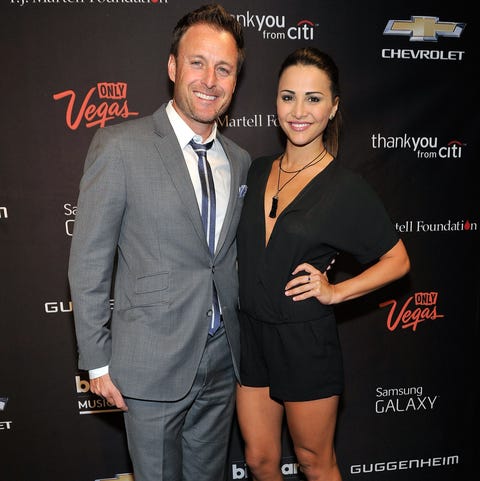 He's taken now, though.
Chris isn't actively seeking out anymore roses, as he's now dating Entertainment Tonight's Lauren Zima. Apparently, Chris did miss the couple's first Valentine's Day due to work, but Lauren seems to be a firm resident of Bachelor Nation—so there are definitely worse reasons for bae to bail on V Day.
The two most important men in my life, TBH. All the latest #TheBachelor exclusives up at etonline.com: @chrisbharrison talks #coltonunderwood's reveal that is unlike anything the show has seen before.🌹❤️🍷
A post shared by Lauren Zima (@laurenzima) on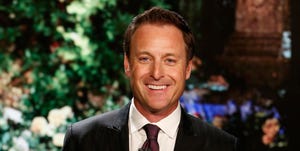 Source: Read Full Article