The Staggering Amount Of Money Bella Thorne Made From OnlyFans
When famous figures like actors, singers, models, and athletes want to branch out and make money in other ways, they tend to write a book or launch a line of cosmetics. Maybe they'll even invest in a restaurant or launch a brand of tequila. As for Bella Thorne — who isn't afraid to make controversial choices — in August 2020, she decided to set up an account on OnlyFans, according to The Guardian.
What is OnlyFans? Well, it happens to be a platform that allows creators and performers to share their content specifically with subscribers. Those on OF can make money through the subscription fees as well as by offering additional content for additional payments and accepting tips. As for the content itself, many sex workers have used it to earn money by posting NSFW pics and X-rated videos, but you can use it to share any type of content you want.
When Thorne signed up for the platform, she faced backlash for not posting as seductive content as she was promising, as well as taking potential profits away from other less-famous creators — specifically, sex workers who had been earning a great deal of money from the app — because she was making so much money that OF had to instate a cap on profits.
Bella Thorne made millions on OnlyFans in just a few days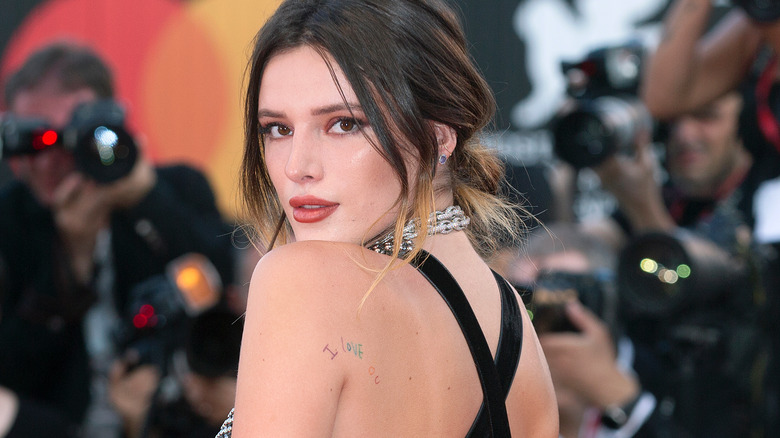 When Bella Thorne signed up for OnlyFans in August 2020, were you one of the first subscribers to eagerly hand their money over to the star in order to see what she was posting? If so, then you might have helped her break a record! That's because Variety reported that the performer had "officially earned over $1 million through revenue on the platform in the first 24 hours after debuting her account…" Whoa. The clearly popular celeb continued to bank on OF in the following week and took in a total of around $2 million in under seven days, according to the Los Angeles Times. Again, whoa!
What was Thorne planning to do with all of that money? She apparently wasn't going to keep (all of?) it for herself. Instead, the Los Angeles Times explained that she was "planning on putting the earnings into her production company and toward charity." So, that's both responsible and noble.
We wonder how the other stars who are on OnlyFans are spending their earnings…
Everyone from Cardi B to the 'Real Housewives' are OnlyFans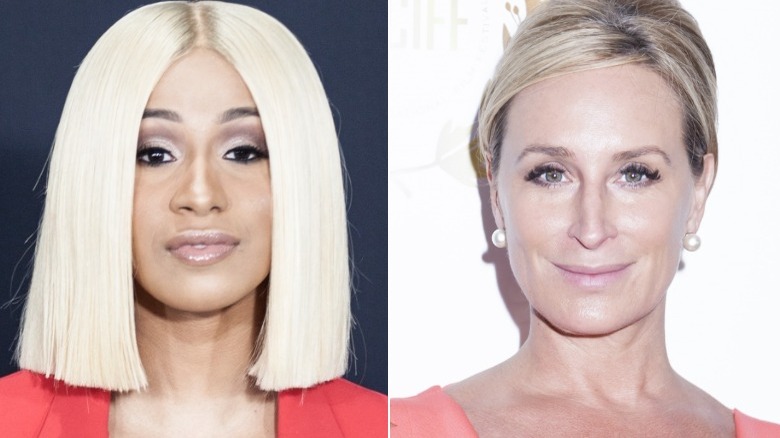 While Bella Thorne certainly found herself at the center of opinionated buzz due to her decision to join OnlyFans, she's not the only star who signed up for and uses the platform. While some celebrities choose to share innocent yet sought-after exclusives and others go all-in with spicy content, you might be surprised by who you'll find on OF.
Frankly, the Los Angeles Times noted that OnlyFans "hosts pages" by everyone from Cardi B to "some members of Bravo's 'Real Housewives.'" Indeed, Page Six points out that both Sonja Morgan and Dorinda Medley from "The Real Housewives of New York City" have set up OnlyFan pages. On top of that, you can also find various kinds of content from Jordyn Woods, Tyga, Amber Rose, and Blac Chyna, as well as Aaron Carter and Bhad Bhabie. If you're a fan of "RuPaul's Drag Race All Stars," then you might also be interested in what Season 5 winner Shea Couleé is posting about on OF.
For those who are surely curious, the stars' fees range from free subscriptions and $4.99 monthly subs to $200 tips. Thorne herself was charging $20 per month, according to Variety, as well as "a limited-time 20% discount for a one-month subscription, and 15% off if fans purchase three-or six-month access." Also, FYI: she would only be earning 80% of what's made through fees because OF takes a percentage.
If you haven't already signed up, are you willing to pay?
Source: Read Full Article