The Truth Behind Wentworth Miller's Autism Diagnosis As An Adult
On July 26, actor Wentworth Miller, best known for his Golden Globe-nominated breakout role for the Fox show "Prison Break" and his work on the CW show "Legends of Tomorrow," announced in an Instagram post that he had been diagnosed with autism exactly one year ago. Miller, who is also multiracial and openly gay, posted the news on Instagram, stating he is "re-examining 5 decades of lived experience thru a new lens."
For the uninitiated, autism — or rather, Autism spectrum disorder (ASD), as it is now widely called — is, per the Mayo Clinic, a "condition related to brain development that impacts how a person perceives and socializes with others, causing problems in social interaction and communication. It ranges from mild to severe diagnoses. 
So, how does Miller feel about his diagnosis? And did he have anything to say to others who are also on the ASD spectrum? Keep on scrolling to find out. 
Wentworth Miller said "being autistic is central to who I am"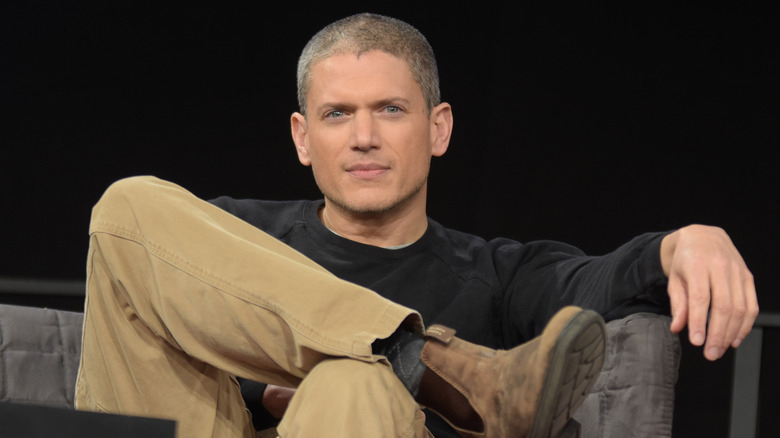 As People noted, Wentworth Miller revealed in an Instagram post exactly how he feels about his ASD diagnosis — and, in his own words, it's a core part of his identity. "This isn't something I'd change," Miller wrote, adding that "being autistic is central to who I am. To everything I've achieved/articulated." 
The actor also noted that he'd suspected he had autism before his diagnosis. "This fall marks 1 year since I received my informal autism diagnosis," stated Miller, who described the hard road he had taken to get it. "Preceded by a self-diagnosis. Followed by a formal diagnosis. It was a long, flawed process in need of updating."
Miller stated that "access to a diagnosis is a privilege many do not enjoy" and that he still has a lot to learn about ASD. "I don't know enough about autism. (There's a lot to know.)," continued Miller. "I don't want to run the risk of suddenly being a loud, ill-informed voice in the room. The #autistic community (this I do know) has historically been talked over … I don't wish to do additional harm. Only to raise my hand, say, 'I am here. Have been (w/o realizing it)." He proceeded to champion a younger generation of social media influencers with ASD, along with ASD activists, for "fighting stigma" surrounding ASD. 
Source: Read Full Article