Ummm…You Need to Watch the Trailer for 'Transparent's Bonkers MUSICAL Finale
Can we just start by saying thank god for Judith Light? This living legend deserves all the screen time in the world, and Jill Soloway and Amazon Studios are about to deliver with a Jeffrey Tambor–free series finale of Transparent. Sure, we've known for a while that Maura Pfefferman would be dead in season 5, but now we finally got our first look at the "dazzling two-hour movie musical fantasia." You read that right. Transparent is coming to a close with a TWO-HOUR MUSICAL STARRING JUDITH (and others).
Okay, here's everything we know:
No, Jeffrey is not returning
The lead actor exited the show following accusations of sexual misconduct and harassment from Transparent costars Trace Lysette and Alexandra Billings and his assistant, Van Barnes.
In an interview with the L.A. Times, Soloway said that Maura will die offscreen, with the two-hour send-off focused on the Pfefferman family's grieving process. "We were all in mourning in many ways, and we all had to process together," Soloway says. "The show has always been a reflection of who we were, and we were mourning our own narrative."
Listen, who needs Jeffrey? Although the show began by telling Maura's journey of self-discovery as a trans woman and embracing her truth late in life, there are plenty of other people to watch for.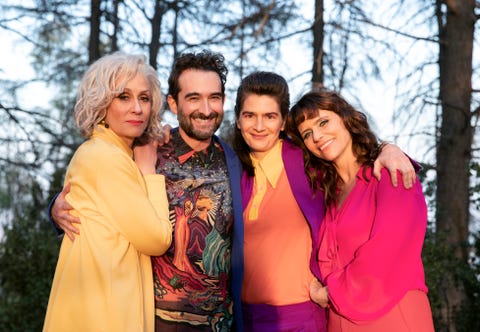 Like who?
Judith, for starters, who has shined as Maura's wife, Shelly Pfefferman, since the beginning. Furthermore, Gaby Hoffmann's Ali has definitely become the show's true star. This also means more screen time for Josh Duplass and Amy Landecker.
The series finale will also feature Trace, Alexandra, Kathryn Hahn, Shakina Nayfack, Cherry Jones, Tig Notaro, Melora Hardin, Rob Huebel, and "a number of fan-favorite characters returning for this special send-off," according to the press release.
So, what's this musical all about?
Check the trailer for yourself:
The release also revealed that the two-hour Transparent musical finale is "inspired by the classic musicals that shaped a culture. When the Pfeffermans face a life-changing loss, they begin a journey hilarious and melancholy, brazen and bold. As they face this new transition, they confront grief and come together to celebrate connection, joy, and transformation." This is so my sh*t.
Back in October 2018, Soloway told the New York Times that they have been working with their sister, Faith, on music, along with trans actress Nayfack, who you may know as Lola on Difficult People. "It will hopefully feel like Jesus Christ Superstar mixed with La La Land mixed with Flight of the Conchords with something more Jewish thrown in," Soloway says.
Yes. Yes. Yes.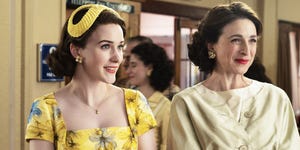 Source: Read Full Article